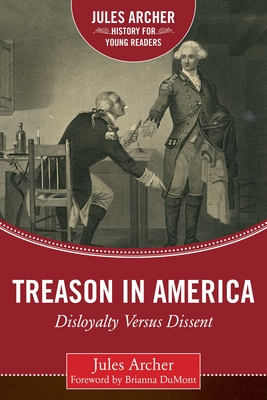 Treason in America (Hardcover)
Disloyalty Versus Dissent (Jules Archer History for Young Readers)
Sky Pony, 9781634506281, 208pp.
Publication Date: June 14, 2016
* Individual store prices may vary.
Description
Treason can be defined as "the breach of the allegiance which a person owes to the state under whose protection he lives." But what exactly does it mean to be guilty of a "breach of the allegiance" owed to your country? In a country that guarantees freedom of speech and dissent tp all citizens, the extent to which dissent becomes unlawful may not always be clear. Treason is punishable by the death penalty, underscoring the importance of the question: How do we go about proving that someone is indeed an enemy of his country—a traitor?

In this book, renowned historian Jules Archer explores different cases of treason throughout our history, while encouraging young readers to really question the definition of treason and how it should be treated. He asks readers to consider the similarities between disloyalty and dissent and ultimately urges this generation to take it into their own hands to redefine American duties and liberties for our time.
About the Author
Brianna DuMont is author of the Changed History series, which makes history come alive by exposing its murky underbelly. The first book in the series, Famous Phonies: Legends, Fakes, and Frauds Who Changed History, includes gems about "I-must-not-tell-a-lie" George Washington and schoolless Shakespeare. When she's not writing quirky books, Brianna travels the world in search of great museums and historical sites. When she's at home, she is a full-time writer and researcher who is quickly becoming best friends with her local librarian. She and her family live in Chicago, Illinois.
or
Not Currently Available for Direct Purchase