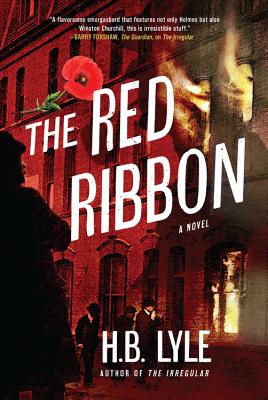 The Red Ribbon (The Irregular #2) (Hardcover)
Quercus, 9781635060041, 368pp.
Publication Date: November 13, 2018
Other Editions of This Title:
Paperback (10/1/2019)
* Individual store prices may vary.
Description
"OUR MOST TALENTED HISTORICAL MYSTERY WRITER TODAY." --ANDREW GULLI, STRAND MAGAZINE
"THE GAME IS MOST DEFINITELY AFOOT." --MICK HERRON

In 1910 London, Captain Vernon Kell's fledgling secret intelligence service faces being shut down before it has even begun its job of saving the British Empire from German and Russian spies.
Harassed by politicians like the ambitious Winston Churchill, bullied by Special Branch, undermined by his colleague's ill-advised foreign ventures, and alarmed at his wife's involvement with militant suffragettes, Kell is making no progress in tracking high-profile leaks from the government. To make matters worse, his best (and only) agent, Wiggins, would rather be working cases of his own.
Wiggins grew up on the streets of London, one of the urchins trained in surveillance by Sherlock Holmes and known as the Baker Street Irregulars. He has promised to avenge the death of his best friend, and to track down a missing girl from the East End.
But when his search takes him to an embassy in Belgravia--an embassy that's actually a high-class brothel presided over by the fearsome "Big T," one of his fellow Irregulars--Wiggins is drawn into a conspiracy that will test both his personal and professional resolve.
About the Author
H.B. Lyle lives in South London with his partner and their twin daughters. After a career in feature film development, he took an MA in creative writing--and then a PhD--at the University of East Anglia, an experience that led to the creation of The Irregular, his first novel. He also writes screenplays and teaches undergraduates.
Praise For The Red Ribbon (The Irregular #2)…
"Entertaining...scenes between the irrepressible but infallible Wiggins and Constance, who shares his remarkable gift for detection, are clever and witty. Readers will hope to see plenty more of Wiggins."
—
Publishers Weekly
"
The Red Ribbon
is a spy novel, a mystery, a study of social change, and an examination of personal relationships...Lyle demonstrates that a thoroughly entertaining story can also subtly encourage reflection on larger themes."
—
New York Journal of Books
"A thriller that harkens back to England in the days before the Great War...An engrossing story that leaves time for a sequel or two before war breaks out."
—
Kirkus Reviews
"A good espionage adventure which reminds us that Edwardian England was not a golden age of peace and harmony."
—
Historical Novel Society
"A smorgasbord of Edwardian vignettes."
—
Don Crinklaw, Booklist
H.B. Lyle has a knack for historical accuracy...the tumultuous times roil with competing societal forces. The working class (some just one generation away from dire poverty), the emerging middle class, and the ruling classes, long accustomed to the corridors of power, all vie for their slice of the pie. Lyle melds mystery and history with a delicate touch: readers will look forward to Kell and Wiggins next adventure."
—
Criminal Element
Praise for The Irregular
"With so many books set in the wide world of Sherlock Holmes, it is difficult to come up with a new story that is both original and compelling, but H.B. Lyle has managed it beautifully with The Irregular."

—
Otto Penzler, ed., The Big Book of Sherlock Holmes Stories
"An inventive espionage thriller set before World War I...A twist-filled adventure that proves far from elementary."
—
Tom Nolan, The Wall Street Journal
"A thrilling story of espionage, murder, and the creation of the Secret Service."—
Charles Cumming, author of A Divided Spy
"A fine first entry in what promises to be a great new series. Wiggins is a captivating hero, and Lyle draws his Edwardian backstreets in convincing color. The game is most definitely afoot."—
Mick Herron, author of the Slough House series
"A flavorsome smorgasbord that features not only Holmes but also Winston Churchill, this is irresistible stuff."—
Barry Forshaw, The Guardian
"H.B. Lyle has found the golden thread between Holmes and Bond in a thriller that engages on every page."
—
Giles Foden, author, The Last King of Scotland
"Fans of Arthur Conan Doyle's stories will remember young Wiggins as the leader of the Baker Street Irregulars . . . Though Lyle's debut novel is certainly an homage, it's not a flat-footed imitation but a crisp, stylish spinoff."—
Kirkus Reviews
"I think H.B. Lyle is probably our most talented historical mystery writer today. An author who writes like a veteran but instead brings a fresh new perspective."—
Andrew Gulli, Strand Magazine
"It is hard to generate something new in such an avalanche of well-worn tropes, but H.B. Lyle has managed to do that quite cleverly in
The Irregular
."—
Crime Time
"A fast-moving, hugely enjoyable story with interesting characters and authentic background . . . It is the first of a series, and I look forward to the sequels."—
Historical Novel Society