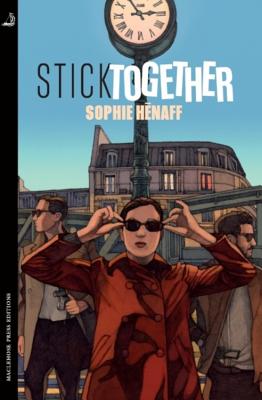 Stick Together (The Awkward Squad #2) (Hardcover)
MacLehose Press, 9781635060157, 320pp.
Publication Date: April 2, 2019
Other Editions of This Title:
Paperback (3/3/2020)
* Individual store prices may vary.
Description
Officer Anne Capestan and her squad of misfits must turn their attention to a more personal case--the murder of Capestan's ex-husband's father, a lifelong member of the Paris police force who had no shortage of enemies.

After their successful solving of three cold cases and exposing corruption at the very highest levels of the Paris police force, Officer Anne Capestan's team of oddballs and no-hopers should be in a celebratory mood. However, now despised by their colleagues at 36, quai des Orfevres and worried for their future, morale has never been lower among the members of the Awkward Squad.
Capestan is doing her best to motivate the team, but even she cannot maintain a cheerful facade when she has been assigned to investigate the murder of Officer Serge Rufus, the father of her ex-husband. Worse, it soon appears that his murder is linked to two other victims, both of whom were warned by the killer before they struck.
Can Capestan marshal the forces to solve another hopeless mystery, or will her team's previous success be proven just a fluke?

About the Author
Sophie Hénaff is a journalist, author, and former Lyonnaise bar owner. She began her journalism career as a critic at Lyon Poche, before moving to Paris to write for Cosmopolitan, where she established her own humor column, "La Cosmolite." Her first novel was The Awkward Squad.
Praise For Stick Together (The Awkward Squad #2)…
"Sterling sequel to 2018's
The Awkward Squad
... Full of heart, wit, and lovable characters, Henaff's quirky procedural is a winner."—
Publishers Weekly, (starred review)
"Author Henaff is a humor writer for
Cosmopolitan
, and she brings her keen wit to this chic, quirky, and quasi-noir visit to the City of Lights. There is strong appeal here to fans of Chris Ewan's
Good Thief
and Jussi Adler-Olsen's Department Q series."
—
Booklist
"A highly entertaining police procedural that balances pathos with hilarity...
Stick Together
builds upon the terrific foundation of its predecessor to present a truly engaging contemporary crime novel that will move you as much as make you laugh."
—
Criminal Element
"
Stick Together
- as well as the first book in the series - can be read as mysteries, but if you're the type of crime fiction reader who likes a bit of humor and a character-driven story, author Sophie Henaff should really be your cup of tea...If you think about it, Henaff's series about an improbable group of police officers follows Harry Bosch's rule: Everybody Counts or Nobody Counts."
—
Kittling: Books Blog
"Do you like a strong dose of humor with your mystery reads? If so, look no further than Sophie Henaff's Awkward Squad series...It's laugh out loud hilarious."
—
Book Loons
"Commissaire Anne Capestan and her Merry Band of Misfits return in a rollicking end-run around the establishment of the Paris police...Henaff creates the most eccentric, most humorous characters who also reveal an unexpected pathos.
Stick Together
is an absolutely wonderful book equal to any of Donald Westbrook's.""
—
New York Journal of Books Review
Praise for The Awkward Squad
"Hénaff's debut, an amusingly literal Parisian version of Jussi Adler-Olsen's tales about Copenhagen's equally marginal Department Q, combines conscientious mystery mongering with good, somewhat clean fun."—
Kirkus Reviews
"Readers who appreciate quirky and interesting characters with their mysteries will find much to savor in this series launch, which is as much about a crew of police rejects as the crimes they investigate."—
Library Journal
"Hénaff's fun first novel offers a wry look at Parisian policing and the infinite twists of the bureaucracy . . . Commissaire Anne Capestan, her career on tenterhooks for her role in the shooting of a suspect, takes charge of a cold-case squad populated by departmental castoffs who can't be fired but refuse to quit. Starting with a sense of wounded pragmatism that gives way to an increasingly focused joy of the hunt, Capestan marshals [the] team."—
Publishers Weekly
"A marvelous French police procedural laced with subtle--and sometimes, not so subtle--humor about a squad of assorted losers who cannot be fired . . . An absorbing, sometimes laugh-out-loud, mystery laced with some graphic scenes of violence's aftermath. One can only sincerely hope that this is the first title in a very long series."—
D.R. Meredith, New York Journal of Books
"A ragtag group of cops whom nobody else wants get their own squad. Could be a sitcom. Could be noir. Could be the first entry in this smart Parisian mystery series."—
Booklist
"Capestan is a delightful creation, the members of her team amusing and the book lively."—
Marcel Berlins, The Times
"Amusing and interesting . . . This very enjoyable tale has deservingly won several French literary prizes."—
Jessica Mann, Literary Review
"Original and amusing, it's French noir with a sly smile."—
The Times Crime Club
"You will not want to tear yourself away . . . Extremely original."—
Le Point