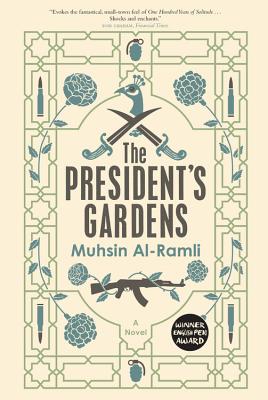 The President's Gardens (Hardcover)
MacLehose Press, 9781635060362, 352pp.
Publication Date: May 1, 2018
Other Editions of This Title:
Paperback (5/28/2019)
* Individual store prices may vary.
Description
In this extraordinary novel by heralded Iraqi author Muhsin Al-Ramli, One Hundred Years of Solitude meets The Kite Runner against the backdrop of Saddam Hussein's Iraq.
"A profoundly moving investigation of love, death, and injustice." --The Guardian
"A standard in contemporary Middle Eastern literature." --Booklist
"A stunning achievement." --The National

On the third day of Ramadan, a small village in Iraq wakes to find the severed heads of nine of its sons stacked in banana crates by the bus stop. One of them belonged to one of the most wanted men in Iraq, known to his friends as Ibrahim the Fated. How did this good and humble man earn the enmity of so many? What did he do to deserve such a death?
The answer lies in his lifelong friendship with Abdullah Kafka and Tariq the Befuddled, who each have their own remarkable stories to tell. It lies on the scarred, irradiated battlefields of the Gulf War and in the ashes of a revolution strangled in its cradle. It lies in the steadfast love of his wife and the festering scorn of his daughter.
And, above all, it lies behind the locked gates of the President's gardens, buried alongside the countless victims of a pitiless reign of terror.
About the Author
Muhsin Al-Ramli is an expatriate Iraqi poet, playwright, short-story writer, novelist, and translator of several classics of Spanish literature. He is also the cofounder and editor of Alwah, a magazine of Arabic literature. Born in northern Iraq in 1967, Al-Ramli has lived and taught in Madrid since 1995. Published in Arabic in 2012, The President's Gardens was longlisted for the International Prize for Arabic Fiction (IPAF), known as the "Arabic Booker," the following year.

Luke Leafgren received his PhD in comparative literature in 2012 from Harvard University, where he teaches Arabic and serves as the Allston Burr Resident Dean of Mather House. He has translated several Arabic novels into English, including Dates on My Fingers, also by Muhsin Al-Ramli.

Praise For The President's Gardens…
Named one of the Best Fiction Novels of 2017 by The Guardian

"[An] important work . . . Individual stories offer personal perspectives on the history of Iraq, which has been in a constant state of war or conflict since 1980, and surreal and brutal descriptions of war atrocities are conveyed. Family secrets offer another window onto the past as relatives struggle to find peace despite news of the dead and missing. Al-Ramli's poignant tale is a standard in contemporary Middle Eastern literature."
—Booklist

"Though firmly rooted in its context, The President's Gardens' concerns are universal. It is a profoundly moving investigation of love, death, and injustice, and an affirmation of the importance of dignity, friendship, and meaning amid oppression. The novel is undoubtedly a tragedy, but its light touch and persistent humor make it an enormous pleasure to read."—Robin Yassin Kassab, Guardian

"A story buffeted by the wider ties of history: the bloody churn of dictatorship, invasion, and occupation . . . The President's Gardens evokes the fantastical, small-town feel of One Hundred Years of Solitude . . . Shocks and enchants."—Tom Graham, Financial Times

"This compelling novel's many strands and contradictions fill the reader with a range of intense and complex emotions: anger at the war, sorrow for the people of Iraq, deep humility in the face of such suffering and endurance. Like Gabriel García Márquez, with whom he is often compared, Al-Ramli has created a specific village that manages to be universal and a story that is rooted in history while reaching forward into the present day."—Kathy Watson, The Tablet

"Al-Ramli is an author who can sum up feelings in just a few words. His characters you may only meet for a moment, but they will stay with you forever. He is an important and insightful storyteller and a writer whose work adds a unique dimension to the many stories that make up our literary world."—Arab News

"A beautiful novel . . . In writing about ordinary Iraqis who pay the cost of wars waged by remote, autocratic leaders, Al-Ramli touches on deep and timeless themes . . . Consistently compelling."—Alastair Mabbott, Glasgow Herald

"Deeply painful and satirical, The President's Gardens is a contemporary tragedy of epic proportions. No author is better placed than Muhsin Al-Ramli, already a star in the Arabic literary scene, to tell this story. I read it in one sitting."—Hassan Blasim, winner of the Independent Foreign Fiction Prize

"One of the most important contemporary Iraqi novelists and writers."—El Mundo

"A stunning achievement . . . Abdullah's journey gives the book its title: he ends up tending the Iraqi president's sumptuous garden--but of course digging holes in the earth is not as innocuous a task as it might seem under his rule. [Yet] Saddam Hussein's name is never mentioned, which has the effect of allowing The President's Gardens to work as a comment on any totalitarian regime."—Ben East, The National

"A novel filled with details . . . with passion, homeland, revolution, and grief. It represents a landmark in the progression of Iraqi literature."—Miral Al-Tahawy, author of Brooklyn Heights

"Masterful . . . In The President's Gardens, the dead have already suffered enough; it is the living who do not come away unscathed."—Malu Halasa, co-author and editor of Syria Speaks

"This extraordinary portrait of three friends growing up in Saddam Hussein's Iraq uses a range of storytelling traditions, infusing tragedy with comedy, the epic with the intimate, and the real with the surreal . . . By the time the book reaches the elaborate gardens where many of Saddam's victims are buried, it has taken the reader through tragedy, imprisonment, and war. Yet the overwhelming impression left is of the indefatigability of the human spirit. A tour de force."—Rachel Halliburton, Prospect

"How do you preserve dignity amidst the relentless carnage and multination of modern Iraq? Told with a fresh transparency and tender insight, The President's Gardens draws on the unfathomable resilience of the Iraqi people, leaving me speechless and humbled."—Paul MacAlindin, author of Upbeat: The Story of the National Youth Orchestra of Iraq
or
Not Currently Available for Direct Purchase