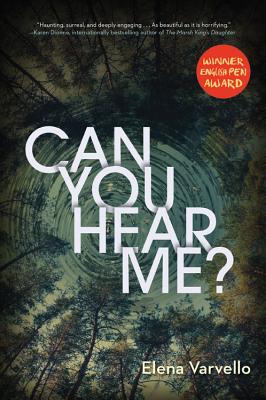 Can You Hear Me? (Hardcover)
Quercus, 9781635060515, 272pp.
Publication Date: June 5, 2018
Other Editions of This Title:
Paperback (5/7/2019)
* Individual store prices may vary.
Description
A riveting coming-of-age story with the precision of a Hitchcock noir by a masterful new voice in Italian literature.
"Suspenseful and elegiac, as beautiful as it is horrifying." --Karen Dionne
"A densely layered psychological mystery." --Chicago Tribune
"Reads like a collaboration between Daphne du Maurier and Megan Abbott." --The Irish Times

Over the course of one oppressively hot summer in the small town of Ponte, in northern Italy, one family's secrets are revealed and the community is torn apart by a terrible crime.
Sixteen-year-old Elia Furenti lives with his parents in a secluded house, a tight-knit family whose rhythms are dictated by the shifts in his father's emotional state. When the closure of the nearby factory leaves Elia's father without a job, however, home becomes an increasingly fraught environment. With the summer heat pressing down, Elia's father begins to spiral, his moods becoming increasingly dark and erratic, while Elia's mother refuses to acknowledge that anything has changed.
Meanwhile, a forbidden relationship blossoms, as Elia seeks refuge from the silence and tension at home. Events reach a breaking point one moonlit night, when a young woman climbs into a van and is taken into the deep, dark woods . . .
About the Author
Elena Varvello was born in Turin, Italy, in 1971. She has published two collections of poetry, Perseveranza è salutare and Atlanti; a collection of short stories, L'Economia delle cose (nominated for the Premio Strega, the Italian equivalent of the Man Booker Prize); and a novel, La Luce Perfetta del Giorno. She teaches creative writing at the Scuola Holden in Turin. Can You Hear Me? is her first novel to be published in English.
Praise For Can You Hear Me?…
Longlisted for the CWA International Dagger Award, 2018




Winner of the English PEN Award

"[A] densely layered psychological mystery, which is part twisted serial killer novel and part 'Summer of '42' . . . With its rich atmosphere, claustrophobic sense of place, and haunting poetry,

Can You Hear Me?

creates mysteries within mysteries."—

Lloyd Sachs, Chicago Tribune


"Psychologically gripping . . . The reader will find it difficult to resist the urge to reach into the plot and stop the dominoes from falling."

—

Crime Reads


"Set in Northern Italy, this almost unbearably sad, psychologically acute coming-of-age novel is told in Elia's first-person voice . . . Engenders deep emotion on the part of the reader."

—

Booklist


"A claustrophobic psychological thriller that deftly explores a young man's coming of age even as his father begins to lose himself in the darkest recesses of his mind. Elena Varvello's

prose is spare, suiting the layered narrative well as its shifts in time and imagining while Elia tries to make sense of everything happening around him--especially his unfathomable father . . . Captures that important transitional period in any young person's life while adding the greater pressures of a mentally unstable father and the circumstances of unexplained violence."—

Criminal Element

"Haunting, surreal, and deeply engaging, Elena Varvello's

Can You Hear Me?

is at once suspenseful and elegiac, as beautiful as it is horrifying, as Varvello takes us deep inside the mind and heart of sixteen-year-old Elia Furenti during his summer of change. Readers will devour this novel in one sitting as I did, then chew it over long after the book is done."—

Karen Dionne, internationally bestselling author of The Marsh King's Daughter

"A dark and uncomfortable story . . . Those who are fascinated by the psychology of bipolar or psychotic personalities and their impact on individuals and on family life will find this novel compelling."

—

D.R. Meredith, New York Journal of Books


"

Can You Hear Me

? is a claustrophobic read. Marrying the unsettling feelings of a coming-of-age tale with a panic-inducing abduction story, Varvello explores the psychological impacts of fear, love, and mental illness in pared-back prose."—

The Daily Express

"A beautiful, stark, poignant account of fear, love, and loss."—

Emma Flint, author of Little Deaths

"A wonderfully anxiety-inducing read, where everyone is bubbling uneasily just below the surface."—

Claire Fuller, author of Our Endless Numbered Days

"Reads like a collaboration between Daphne du Maurier and Megan Abbott, a superb psychological study marinated in a teenage boy's simmering hormones."—

The Irish Times

"Elena Varvello's

Can You Hear Me?

is riveting and luminous. It's a gorgeous heartrending novel that you want to finish in one sitting--and few readers will be able to resist the exquisite gravity of such a temptation--but it's also a novel that you long to savor, to make last, to draw out, because there won't be another one this rich, this compelling, this extraordinarily satisfying for a long, long time."—

Bret Anthony Johnston, internationally bestselling author of Remember Me Like This

"The novel is carried by both the brilliance of its setting and by a scattering of emotional truths."—

The Guardian

"A taut, smart, viciously gripping noir about family and the destructive force of unconditional love.

Can You Hear Me?

took my breath away and kept me glued to the page until its heartbreaking end: a phenomenal achievement."—

Kristy Wark, author of The Legacy of Elizabeth Pringle

"

Can You Hear Me?

is one of the most beautiful, intense, and original books I have encountered in my life . . . A beautifully written book that brings to mind Cormac McCarthy."—

Huffington Post Italy

"Holds a magnifying glass to a family spiraling into darkness while simultaneously casting a net that ensnares the poignancy of the end of adolescence. We are swept away by the vivid characters as their dark and broken places are deftly revealed. Varvello's command of her story and yet delicate delivery makes for stunning writing. A smart, dark page-turner that lingers long after the last page."—

Kate Mayfield, author of The Undertaker's Daughter

"The bleakness and menace of this 'Hitchcockian' novel owe much to its brevity and starkness of prose. A raw and heartrending portrayal of masculinity and loneliness."—

Isabel Costello, The Literary Sofa - Summer Reads 2017"Can You Hear Me?

shines a light on one family's black heart, a place where opposites coexist: tenderness and fear; happiness and pain; unfaltering faith and ugly suspicions. A book to get lost in."—

Paolo Giordano, internationally bestselling author of The Solitude of Prime Numbers

"Reading

Can You Hear Me?

is like being swept away by a powerful current. The best Italian novel of the year."—

Fabio Geda, internationally bestselling author of In The Sea There Are Crocodiles

"One of the best Italian novels of 2016. A book that doesn't shy away from pain--it shines a light on it. And it does so beautifully, page by page."—

Alessandro Baricco, internationally bestselling author of Silk

"Halfway between noir and coming-of-age,

Can You Hear Me?

is an utterly original new type of novel. I'm sure it will stay with me for a long time."—

Maria Lomunno, Foyles Bookseller

"A noir that reminded me of great Italian literature: the atmosphere found in Nicollo Ammaniti's

I'm Not Scared

, mixed with images that someone like Bassani can create with such accuracy."—

Dafne Martino, Waterstones bookseller

"Elena Varvello is a skilled and able narrator; her strong prose belongs to a new vein that has sprung out of modern Italy: women writers revel in imagination that used to belong to the male world but with an added dose of poetry that is altogether feminine."—

Gaia Servadio

"A dark and painful novel, constructed with great wisdom and written with rare restraint."—

Nicola Lagioia, author of Ferocity, winner of the Strega Prize 2015

"Varvello has written both a noir and a coming-of-age novel . . . revealing the widening cracks slowly, perceptively, as one family scene unfurls from another, telling the story through omissions that become enigmas."—

Il Messaggero

"This novel will grab you instantly and force you to read with a growing sense of panic, something tight in your throat: like a noir of ordinary life, bloodless and thus even more ruthless."—

La Stampa

"A coming-of-age story of friendship and passion that keeps the reader glued to the page."—

Repubblica

"Magnificent."—

Il Manifesto

"With her ability to capture the fragmented rhythm of life, the clockwork eruption of a drama foretold, Elena Varvello hooks the reader."—

Corrier della Sera

"An acutely perceptive account of adolescence, friendship, and loss, this dark thriller is a must for your summer TBR piles."—

Book Riot (Best Italian Novels of 2017)
or
Not Currently Available for Direct Purchase