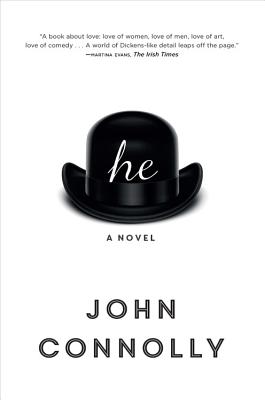 He
Paperback

* Individual store prices may vary.
Other Editions of This Title:
Hardcover (5/1/2018)
Description
John Connolly conjures the Golden Age of Hollywood in this moving, literary portrait of Laurel & Hardy--two men who found their true selves in a comedic partnership.

"AMBITIOUS . . . EVOKES THE STYLE OF SAMUEL BECKETT." --NEW YORK TIMES
"BRILLIANT." --SEATTLE BOOK REVIEW
"EXTRAORDINARY." --LIBRARY JOURNAL (STARRED REVIEW)

An unforgettable testament to the redemptive power of love, as experienced by one of the twentieth century's greatest performers.
When Stan Laurel is paired with Oliver Hardy, affectionately known as Babe, the history of comedy--not to mention their personal and professional lives--is altered forever. Yet Laurel's simple screen persona masks a complex human being, one who endures rejection and intense loss; who struggles to build a character from the dying stages of vaudeville to the seedy and often volatile movie studios of Los Angeles in the early years of cinema; and who is haunted by the figure of another comic genius, the brilliant, driven, and cruel Charlie Chaplin.

Eventually, Laurel becomes one of the greatest screen comedians the world has ever known: a man who enjoys both adoration and humiliation; who loves, and is loved in turn; who betrays, and is betrayed; who never seeks to cause pain to anyone else, yet leaves a trail of affairs and broken marriages in his wake. But Laurel's life is ultimately defined by one relationship of such astonishing tenderness and devotion that only death could sever this profound connection: his love for Babe.

Praise For He…
"Ambitious . . . Written in spare, fractured prose from the perspective of a narrator who seems to be reporting from inside Laurel's mind . . . Evoke[s] the style of Samuel Beckett."—Jason Zinoman, The New York Times

"John Connolly's he is a brilliant view of a comic's life. It is a biographical look at Laurel and Hardy, warts and all, with liberties taken. The first chapter seizes the reader by the end of the first page and never lets go. A new type of story told by a masterful mystery writer. 'A' all the way."—Philip Zozzaro, Seattle Book Review

"[John Connolly's he] rings a Joycean tone, and the novel has lovely poetical flourishes . . . The novel, copiously researched, captures Hollywood's Golden Age in flickering moments and flashing epiphanies that can be returned to, such is their appeal. For fans of the era and the beloved comedy team, this is a moving and thrilling read."
—Lara Rae, Winnipeg Free Press

"He is a labor of love . . . This is a work of fiction, based on facts, and Connolly projects, extrapolates, and takes chances."
—Joe Hartlaub, bookreporter

"With only the pronouns of 'he' or 'him,' author John Connolly reimagines [comedian Stan] Laurel in both abstract and three-dimensional ways, getting to the soul of Laurel, the comic, the multi-married, forever-in-debt-with-alimony and alcoholic . . . Gracefully written."
—Oline Cogdill, Associated Press

"The subject of this extraordinary novel is Stan Laurel . . . The novel cycles back and forth across the comic's long and often harrowing career--drinking, womanizing, seven marriages to four women. He reminisces on his successes and failures but most of all on the loss of Babe, his mate, who completed a sad man who otherwise never felt whole . . . Exceptional. Who wouldn't want to read this lovely book?"
—David Keymer, Library Journal (Starred Review)

"Connolly's tender double portrait [of Stan Laurel and Oliver Hardy] is a love story about the astoundingly loyal friendship between these two quiet, immensely talented yet equally troubled men as they navigated the corrupt studio system, their failed marriages, the invasive press, and battles with their own demons . . . The golden age of Hollywood is vividly and authentically drawn, with asides about the gossip, bed-hopping, drug use, untimely deaths, and subsequent obituaries that began with the phrase, 'Formerly in Pictures.' This dazzling and altogether wonderful book sets a new standard for the biographical historical novel."
—Booklist (Starred Review)

"The life and art of Stan Laurel, from vaudeville and silent movies to the talkies and old age, is explored in this artful novel . . . The book's great love story is that of Laurel mourning and yearning for his late partner [Oliver Hardy], still writing routines for the two of them, rehearsing them by himself. It's the best tribute to this novel that by the end of it you feel you have been given the full texture of a life."
—Kirkus Reviews

"Anybody who absolutely loved Laurel and Hardy will be thrilled with this masterpiece from John Connolly. This is a stunning work that places readers into the Golden Age of Hollywood where they meet, greet, and embrace a duo who built a comedic partnership that ended up lasting long after they departed this world."
—Suspense Magazine

"In short, poetic chapters, Connolly reveals a complicated artist journeying from vaudeville to silent film to starring in talking pictures . . . This story of good, bad, and necessary choices speaks to the triumphs and heartbreaks experienced by everyone treading this stage called life."
—Pop Culture Nerd

"A gorgeous character study and an unforgettable love story."
—Elaine Petrocelli, Book Passage

"This is a book about love: love of women, love of men, love of art, love of comedy . . . What catapults the reader straight into Hollywood's Golden Age is the enormous amount of research and passion that lies behind he. When those researched details coalesce, a world of Dickens-like detail leaps off the page."—Martina Evans, The Irish Times

"There is little here of the lovable innocence of [Stan Laurel's] screen persona. Instead we are shown a troubled, difficult man who drinks heavily, screws up his relationships with women, and broods about the unmatchable genius of Charlie Chaplin . . . Laurel is never referred to by name, only as 'he,' but every other man in the book has his name written out in full. Initially disconcerting, the usage soon comes to seem no more than a further reflection of the originality of this fine novel."—Nick Rennison, The Sunday Times

"It's not often you get an evocation of a friendship so deep and tender between two men in fiction . . . A wonderful story of love, of unabiding loyalty."—Declan Burke, RTE

"Delightfully eccentric . . . In he, the lonely comic [Stan Laurel] is haunted by Oliver Hardy, Charlie Chaplin, and ghosts of lovers past."—James Kidd, South China Morning Post

"John Connolly has skillfully recreated the unseen side of a perceived golden age and yet it is also a compassionate study of the tensions between commercial demands and popularity and the almost unattainable artistic integrity gifted people destroy themselves in pursuit of; for all that it is no less a love letter to one of the most enduring and beloved partnerships in cinema history."—Malachy Coney

"Rewarding and uplifting. Connolly has stepped outside the crime genre to publish a literary novel of real merit."—Nudge Books

"John Connolly's new book is a fascinating look at the Golden Age of Hollywood through the eyes of one of the finest comedians ever to grace the silver screen. This is a book full of history, full of sadness and joy, replete with fascinating characters. Connolly's greatest achievement here is that he makes you forget that this is fiction, that this comes from his imagination. Connolly makes you believe that this is what Stan Laurel must have been like because it is a book that speaks true. I applaud him for that. Read it now."—Shots Magazine

"An invaluable feel for a period and a fascinating, if awkward, personality. Writing the story as a novel rather than just a straight biography gives the tale an extra layer of humanity and reality."—Crime Time

"Charts the evolution of comedy in Hollywood during its first half century with a keen eye to detail . . . An entertaining account of early-twentieth-century celebrity and the two men whose lives to posterity 'have become reflections, each of the other, an infinity of echoes.'"—Huston Gilmore, The Daily Express

"In his latest stand-alone novel, he, Connolly fulfills a ten-year passion to present the life of one of our most beloved icons, Stan Laurel. Fans of Connolly will be awed at this new literary work in a very different voice."
—Richard Klinzman, The Florida Times-Union
Quercus, 9781635060584, 464pp.
Publication Date: August 6, 2019
About the Author
John Connolly is author of the Charlie Parker mysteries, The Book of Lost Things, the Samuel Johnson novels for young adults, and, with his partner, Jennifer Ridyard, is the coauthor of the Chronicles of the Invaders series. His debut, Every Dead Thing, swiftly launched him into the top rank of thriller writers, and all his subsequent novels have been Sunday Times bestsellers. He was the first non-American writer to win the US Shamus award, and the first Irish writer to be awarded the Edgar by the Mystery Writers of America.
or
Not Currently Available for Direct Purchase