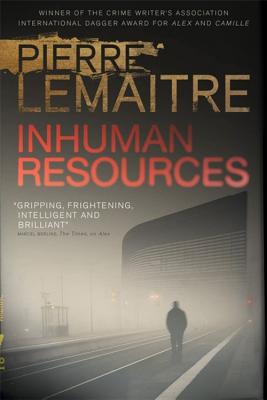 Inhuman Resources (Hardcover)
MacLehose Press, 9781635060812, 384pp.
Publication Date: November 13, 2018
Other Editions of This Title:
Paperback (10/29/2019)
* Individual store prices may vary.
Description
When Alain Delambre lost his job four years ago, he lost everything. Now he's breaking all the rules for one last shot at the life he thinks he deserves.
"you won't see the final twist coming" The New York Times
"A really excellent suspense novelist." Stephen King

Alain Delambre is a fifty-seven-year-old former HR executive, drained by four years of hopeless unemployment. The only job offers he gets are for low-level, demoralizing positions. He has reached rock bottom and can see no way out.
So when a major company finally invites him in for an interview, Alain is ready to do anything--borrow money, shame his wife and his daughters, and even participate in the ultimate recruitment test: a role-playing game that involves taking hostages.
Alain vows to commit body and soul in this struggle to regain his dignity. But if he had realized that the odds were stacked against him from the beginning, he never would have tried to land the position. Now, his fury is limitless. And what began as a role-playing game could quickly become a bloodbath.
About the Author
Pierre Lemaitre has won several literary awards, including the prestigious Prix Goncourt, for his novel Au revoir là-haut, published in English as The Great Swindle. He also won the Crime Writers' Association International Dagger three times, for The Great Swindle in 2016, and for Alex and Camille, two books in his breakthrough crime trilogy featuring Commandant Camille Verhoeven.

Praise For Inhuman Resources…
"Lemaitre is very good at depicting Delambre's diminishment by scores of tiny humiliations, each one a sharp little blade slicing down to his very soul. With every passing page, the ordinary man who was once a loving husband and father loses a little more control...the drama builds to a tense showdown when Lemaitre inexplicably shifts narrators...you won't see the final twist coming."
—
The New York Times
"Lemaitre manages to mine some wild, dark, and desperate humor out of an almost ridiculously horrid situation, and strangely, it works...this is a disturbing, and disturbingly funny, satire that will resonate with anyone that's had to navigate the inhumanities and inanities of corporate employment or shabby treatment at the hands of superiors."
—
Criminal Element
"This is a fine literary thriller told in a wry, educated style with sly references to everybody from Hawthorne to Mailer. The author also brings the special gloom of French existentialism to his narrative...A high-quality experience for readers with a taste for real pessimism."
—
Booklist
"Lemaitre takes his sardonic skills to new heights with this dark, loopy thriller, which portrays the modern workplace as the last place a displaced soul would ever want to be."
—
Kirkus Reviews
"Unpredictability and truly insane characters is what kept me glued to
Inhuman Resources
...readers looking for a crime fiction read with a corporate twist should add
Inhuman Resources
to their list of must-reads."
—
Murder and Moore
"a pulsating serio-comic thriller"—
The Sunday Times
"an absorbing and highly entertaining read"—
Daily Express
"For noir to be good, one must plunge one's head underwater and come out just shy of drowning. Pierre Lemaitre has dared everything here."—
Le Parisien
Praise for Pierre Lemaitre
"A really excellent suspense novelist."
—
Stephen King
"[Lemaitre] has gone from strength to strength . . . The ghost of Alfred Hitchcock hovers over this one, but there's little doubt that the Master of Suspense would feel that his legacy is in reliable hands."—
Barry Forshaw, The Independent, on Blood Wedding

"Lemaitre's work is inspired and disturbing and can't be trusted."—
Shelf Awareness