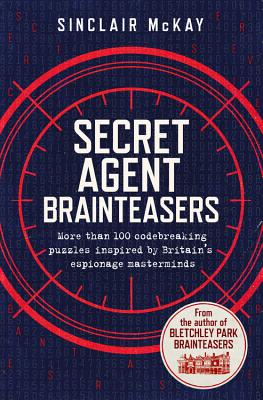 Secret Agent Brainteasers (Paperback)
More Than 100 Codebreaking Puzzles Inspired by Britain's Espionage Masterminds
Quercus, 9781635061352, 288pp.
Publication Date: May 7, 2019
* Individual store prices may vary.
Description
Have you daydreamed of being approached to be a secret agent? Imagined yourself being propelled into the dangerous and elegant world of spies?
Blending extraordinary and illuminating historical tales of the British Secret Intelligence Service from over the years with a wide range of mind-twisting puzzles, Secret Agent Brainteasers will test your mental agility to discover: Do YOU have what it takes to be a spy?
Long gone are the days when the tap on the shoulder was largely a result of social connections. Now the secret intelligence services have cast their nets wider, and it's your chance to join the ranks. Whether you have a linguistic flair, an instinct for technology, or good old common sense, pit your wits against some of the greatest minds of our time with ingenious brainteasers including secret languages, sabotage-themed brain bogglers, and hidden codes.
About the Author
Sinclair McKay is author of the Sunday Times bestseller Bletchley Park Brainteasers, as well as the bestselling Secret Life of Codebreakers. He writes for the Spectator and the Telegraph and spends much of his life up to his eyeballs in dusty archives! He lives in east London.
Praise For Secret Agent Brainteasers: More Than 100 Codebreaking Puzzles Inspired by Britain's Espionage Masterminds…
Praise for Sinclair McKay's The Secret Life of Codebreakers

"An eloquent tribute to a quite remarkable group of men and women, whose like we will not see again."—
Mail on Sunday
"A portrait of one of the most remarkable brain factories the world has ever seen."—
Max Hastings, author of The Secret War: Spies, Codes, and Guerrillas: 1939-45
"This very readable and competent book captures well the extraordinary atmosphere of eccentrics working hard together in almost complete secrecy."—
The Guardian
"A stunning plunge into the social and political complexities surrounding the men and women who broke the Enigma code. A gripping read."—
Chester Nez and Judith Schiess Avila, authors of Code Talker