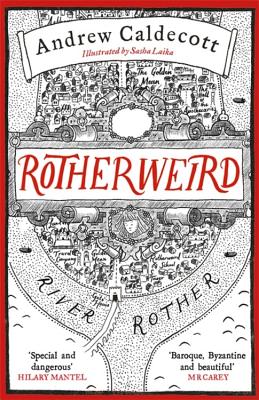 Rotherweird (Hardcover)
Jo Fletcher Books, 9781635061536, 480pp.
Publication Date: July 30, 2019
Other Editions of This Title:
Paperback (5/5/2020)
* Individual store prices may vary.
Description
"Baroque, Byzantine and beautiful--not to mention bold. An enthralling puzzle picture of a book" --M. R. Carey, author of the best-selling The Girl With All the Gifts
"Compelling... the love child of Gormenghast and Hogwarts." --The Guardian
1558: Twelve children, gifted far beyond their years, are banished by their Tudor queen to the town of Rotherweird. Some say they are the Golden Generation; some say the devil's spawn. But everyone knows they are to be revered--and feared.
Four and a half centuries later, cast adrift from the rest of England by Elizabeth I and still bound by its ancient laws, Rotherweird's independence is subject to one disturbing condition: no one, but no one studies the town or its history.
Then an Outsider arrives, a man of unparalleled wealth and power, enough to buy the whole of Rotherweird--deeply buried secrets and all...
About the Author
Andrew Caldecott
is a Queen's Counsel barrister specializing in media law; he has represented a variety of clients, from the BBC and the Guardian to supermodel Naomi Campbell. An occasional playwright, he turned his hand to fiction when, informed by his love of history, which he studied at New College, Oxford.
Sasha Laika (Illustrator) studied figurative art in Moscow, followed by a degree in graphic design and Illustration in the UK. A London-based artist for the last 10 years, Sasha creates highly intricate works that draw on imagery from mythology, folklore, and religious iconography. Her works are inhabited by mystical creatures that morph between human and animal, and exist in transition somewhere between the worlds of fantasy and reality. Rotherweird is her debut as a book illustrator.
Praise For Rotherweird…
"A strange, twisting tale of dark magic and horrible experimentation...Caldecott uses parallel storylines and mysterious, absurd twists and turns to entertain, painting a tale of strange stones, a patch of starless sky, tiles that transport to other worlds, and plants with unexpected properties. The characters are vivid and complex and make up the larger character of a town that is coping with a growing menace."
—Booklist

"Intricate...while the focus might be on the oddball inhabitants, Rotherweird is the true heart and soul of the narrative, a character in its own right."
—Publishers Weekly


"One of the most enigmatic books I've ever read...Caldecott's writing style is both atmospheric and tangible."

—Novel Lives


"A history-tragic-comedy all rolled into one, Rotherweird is intricate and crisp, witty and solemn: a book not unlike other books, but with special and dangerous properties. Line by line, silent and adroit, it opens a series of trap-doors in the reader's imagination."—Hilary Mantel, two-time Man Book prize winner and author of Wolf Hall

"Baroque, Byzantine and beautiful--not to mention bold. An enthralling puzzle picture of a book"—M. R. Carey, author of the best-selling The Girl With All the Gifts

"An imaginative tour de force"—The Times

"Compelling... the love child of Gormenghast and Hogwarts."—The Guardian

"A remarkable achievement"—Sunday Independent