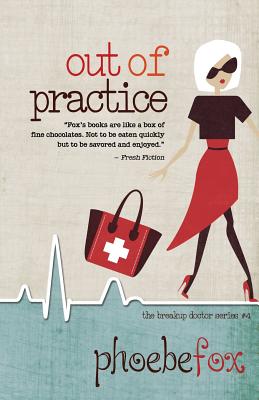 Out of Practice (Paperback)
Henery Press, 9781635110777, 278pp.
Publication Date: October 18, 2016
* Individual store prices may vary.
Description
"Phoebe Fox makes us fall in love with an entire family, a whole cast of characters, and love itself. Painfully, hilariously relatable." - Dr. Duana C. Welch, Author of Love Factually: 10 Proven Steps from I Wish to I Do
"Out of Practice, carrying on the great tradition of the Breakup Doctor series, is the kind of book that will have you dialing your girlfriends so you can read sections out loud. Vivid, true, and frequently comedic. Goes down as a favorite finale." - MM Finck, Women Writers, Women's Books
"Fresh, funny, and real--I adored it " - Beth Kendrick, author of The Cure for the Common Breakup
"As heartwarming as they are humorous--Fox's books offer more than the usual chick lit fare, with a lot of heart and a smart, relatable heroine in Breakup Doctor Brook Ogden." -- Sarah Bird, Author of The Boyfriend School
"Phoebe Fox's books are like a box of fine chocolates. Not to be eaten quickly but to be savored and enjoyed." - Fresh Fiction
"Fox has given us characters that are lovably fallible, funny, and frazzled, and has proven that when it comes to love and relationships of any kind, even the sanest of us get a little crazy." -- Elisa Lorello, Bestselling Author of Why I Love Singlehood
"Therapist Brook Ogden is a genius when it comes to helping people push past the crazy stage and mend their broken hearts, but when Brook suffers her own heartbreak, will she take her own advice? (Answer: no, which is why this book is so funny.)" - Glamour (on The Breakup Doctor)
When your relationship is on life support, the Breakup Doctor is on call.
There's no shortage of broken hearts in Breakup Doctor Brook Ogden's successful breakup counseling practice--if love is a battlefield, then Brook is the cavalry. Luckily her own love life is in full recovery: after a long, tortuous road, she and Ben Garrett are finally headed down the aisle.
But when a local TV personality--and former frenemy--invites Brook onto her show, she's blindsided live on the air when the interview turns into an act of long-delayed revenge meant to publicly humiliate her. Brook's an expert at getting back on your feet when life knocks you down, but as the blows keep piling on--with a betrayal she never saw coming and a family crisis that threatens to pull the foundation out from under her--her confidence starts slinking away. With her clients dropping her faster than a one-night stand, suddenly the Breakup Doctor's career is in critical care.
Brimming with both the sublime and ridiculous aspects of love--romantic and otherwise--Out of Practice is a funny and heartwarming tale about loss, grief, and failure that will resonate with all who have loved, lost...and dared to love again.
Related subjects include: book club recommendations, dating advice, women's friendship and sisterhood, humorous fiction, women's fiction, chick lit romantic comedy, rom com, funny romance.
Books in The Breakup Doctor Chick Lit Series:
THE BREAKUP DOCTOR (#1)
BEDSIDE MANNERS (#2)
HEART CONDITIONS (#3)
OUT OF PRACTICE (#4)
Part of the Henery Press Chick Lit Collection, if you like one, you'll probably like them all...