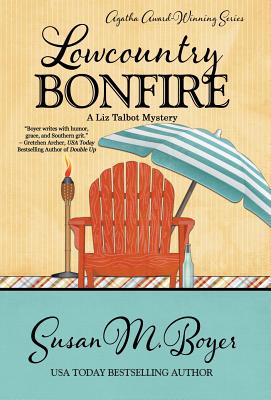 Lowcountry Bonfire (Liz Talbot Mystery #6)
Hardcover

* Individual store prices may vary.
Other Editions of This Title:
Digital Audiobook (6/26/2017)
Paperback (6/27/2017)
Compact Disc (6/27/2017)
MP3 CD (6/27/2017)
Description
"Susan M. Boyer gets it. And by 'it, ' I mean 'the Southern voice.' And by that I do not mean she throws "Y'all" into every other line of her dialogue. I mean she understands deep down how Southern people talk and can replicate the cadence and music of that speech on the page as delicately as a master chef adding a last pinch of sea salt to a batch of Hollandaise sauce." - CriminalElement.com
Private Investigators Liz Talbot and Nate Andrews have worked their share of domestic cases. So when Tammy Sue Lyerly hires them to find out what her husband is hiding, they expect to find something looney but harmless. After all, this is the guy who claims to have been a DEA agent, a champion bull rider, and a NASCAR driver. But when he turns up dead the morning after Liz and Nate deliver the incriminating photos, Tammy is the prime suspect.
Questioning the truth of Zeke Lyerly's tall-tales, Liz and Nate race to uncover small town scandals, long buried secrets, and the victim's tumultuous past to keep Tammy Sue out of jail and the case from going up in flames.
"The authentically Southern Boyer writes with heart, insight, and a deep understanding of human nature." - Hank Phillippi Ryan, Agatha Award-Winning Author of What You See
Related subjects include: women sleuths, private investigator mystery series, cozy mysteries, murder mysteries, whodunit mysteries (whodunnit), book club recommendations, Southern fiction, Southern humor, Southern living.
Books in the Liz Talbot Mystery Series:
LOWCOUNTRY BOIL (#1)
LOWCOUNTRY BOMBSHELL (#2)
LOWCOUNTRY BONEYARD (#3)
LOWCOUNTRY BORDELLO (#4)
LOWCOUNTRY BOOK CLUB (#5)
LOWCOUNTRY BONFIRE (#6)
Part of the Henery Press Mystery Series Collection, if you like one, you'll probably like them all.

Henery Press, 9781635112306, 262pp.
Publication Date: June 27, 2017