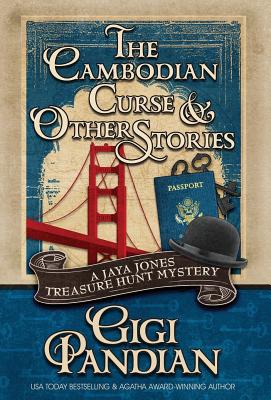 The Cambodian Curse and Other Stories
Hardcover

* Individual store prices may vary.
Other Editions of This Title:
Paperback (10/16/2018)
Description
A treasure trove of nine locked room mysteries from USA Today bestselling and Agatha Award-winning author Gigi Pandian, all set in the Jaya Jones world.
Appearing here for the first time, novelette The Cambodian Curse:
When an ancient and supposedly cursed Cambodian sculpture disappears from an impenetrable museum, and the carving's owner is killed by an invisible assailant while a witness is a few feet away, historian Jaya Jones and her old nemesis Henry North team up to solve the baffling crime.
Stories included: "The Cambodian Curse," "The Hindi Houdini," "The Haunted Room," "The Library Ghost of Tanglewood Inn," "The Curse of Cloud Castle," "Tempest in a Teapot," "A Dark and Stormy Light," "The Shadow of the River," plus bonus novella Fool's Gold.
With an Introduction from New York Times bestselling author Laurie R. King addressing why we love locked rooms, and a Foreword from impossible crime mystery historian Douglas G. Greene, teasing out the tradition of John Dickson Carr that Pandian is following. This collection is filled with ingenious stories of magic, mystery, and history.
- - - - - - - - - - - - -
THE CAMBODIAN CURSE AND OTHER STORIES by Gigi Pandian A Henery Press Mystery Short Story Collection
Henery Press, 9781635114218, 270pp.
Publication Date: October 16, 2018