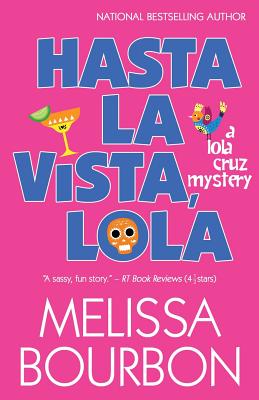 Hasta La Vista, Lola (Lola Cruz Mystery #2)
Paperback

* Individual store prices may vary.
Other Editions of This Title:
Hardcover (1/29/2019)
MP3 CD (2/26/2019)
Compact Disc (2/26/2019)
Description
When Lola comes home to her parents' house to find a horde of relatives mourning her death, no one is more surprised than she is. The news had reported that one Lola Cruz, PI was found murdered in an alley, causing great alarm in the Cruz family.
Before Lola can say "boo," a cop comes to the house. It turns out the dead woman had a driver's license with Lola's information.
Between avoiding an unsavory ex-boyfriend, sorting out mixed signals from the very interested but not yet committed Jack Callaghan, and filling in as a waitress at her parents' Mexican restaurant, Lola tries to find out who the woman was and why she stole her identity. Was the woman hiding from someone who meant her harm, or is there someone out there who wants Lola dead?
This follow-up to Bourbon's debut novel, Living the Vida Lola, is a red-hot, fun-filled mystery. Lola, a black belt in kung fu who loves to salsa dance, makes for a sexy, unique, and vivacious detective.
- - - - - - - - - - - - -
HASTA LA VISTA, LOLA by Melissa Bourbon A Henery Press Mystery. If you like one, you'll probably like them all.
Henery Press, 9781635114478, 272pp.
Publication Date: January 29, 2019