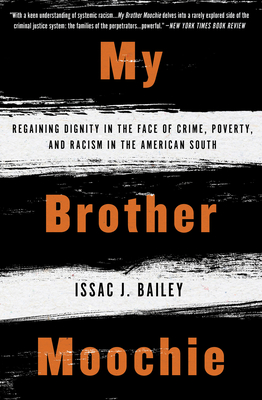 My Brother Moochie (Paperback)
Regaining Dignity in the Face of Crime, Poverty, and Racism in the American South
Other Press, 9781635420036, 304pp.
Publication Date: February 4, 2020
Other Editions of This Title:
Hardcover (5/29/2018)
MP3 CD (6/24/2018)
Compact Disc (6/24/2018)
* Individual store prices may vary.
Description
A journalist's raw, first-person account of what his family endured after his eldest brother killed a man and was sentenced to life in prison.

At the age of nine, Issac J. Bailey saw his hero, his eldest brother, taken away in handcuffs, not to return from prison for thirty-two years. Bailey tells the story of their relationship and of his experience living in a family suffering guilt and shame. Drawing on sociological research as well as his expertise as a journalist, he seeks to answer the crucial question of why Moochie and many other young black men--including half of the ten boys in his own family--end up in the criminal justice system. What role did poverty, race, and faith play? What effect did living in the South, in the Bible Belt, have? And why is their experience understood as an acceptable trope for black men, while white people who commit crimes are never seen in this generalized way?

My Brother Moochie provides a wide-ranging yet intensely intimate view of crime and incarceration in the United States, and the devastating effects on the incarcerated, their loved ones, their victims, and society as a whole.
About the Author
Issac J. Bailey was born in St. Stephen, South Carolina, and holds a degree in psychology from Davidson College in North Carolina. Having trained at the prestigious Poynter Institute for journalists in St. Petersburg, Florida, he has been a professional journalist for twenty years. He has taught applied ethics at Coastal Carolina University and, as a Nieman Fellow at Harvard, has taught journalism at Harvard Summer School. Bailey has won numerous national, state, and local awards for his writings. He currently lives in Myrtle Beach with his wife and children.
Praise For My Brother Moochie: Regaining Dignity in the Face of Crime, Poverty, and Racism in the American South…
"With a keen understanding of systemic racism…My Brother Moochie delves into a rarely explored side of the criminal justice system: the families of the perpetrators…powerful." —New York Times Book Review
 
"Bailey's memoir is a triumph, a painful indictment of American inhumanity woven with threads of grace and love…an extraordinary book about crime, punishment, redemption, and the empowerment that can spring from adversity…nuanced, original, and remarkably clear-sighted." —The Guardian

"An elegant memoir that speaks to the inequities of the criminal justice system and the damage done to family and community when loved ones are locked away…Bailey tells his story with a raw honesty [and] boldly examines the fault lines etched so sharply in our current cultural landscape." —USA Today

"[A] beautifully written book. Its author will inevitably be compared with Ta-Nehisi Coates, recently hailed as the essential voice of black America. But Mr. Bailey's writing has much more concrete detail on lives lived one misjudgment away from prison." —The Economist

"A raw exploration of [Bailey's] relationship to his brother and incarceration writ large, as well as an analysis of the factors that entrap young black men in the South in the criminal justice system." —Electric Literature, A Reading List for Understanding the Prison Industrial Complex

"Deeply moving and powerfully written…[Bailey's] unflinching account of his brother's suffering is paired with reflections on community, race relations, and the impacts of poverty, crime, and shame." —Booklist (starred review)

"Bailey refuses to make things easy for either his readers or himself; he avoids pat analysis of the scourge of racism and never settles for simple answers…There's a catharsis for all by the end but no smooth path or easy arrival." —Kirkus Reviews

"Eye-opening…My Brother Moochie represents a much larger story about the deeply rooted effects of systematic racism, the Jim Crow South and how race, poverty, violence, crime, opportunity and drug abuse intersect." —Ebony

"Bailey has a relatable, multifaceted story to tell…compelling." —Minneapolis Star Tribune
 
"Searing honesty—this is what most strikes me about Issac Bailey's brave narrative. In paying tribute to fierce, at times despairing filial and familial love, he holds a mirror to the reader, daring any of us to deny the most self-evident of truths: human beings are deeply flawed and all of us are more than the worst thing we've ever done." —Carol E. Quillen, President, Davidson College
 
"Issac Bailey's book is one part call to action and another part mirror. A powerful reminder that we are given our skin and genetic fingerprint by nothing short of a lottery, but how we stand in it is often a product of how the world sees or doesn't see us. My Brother Moochie should be on the desk of every schoolteacher, student, and policymaker in this country." —Jennifer Thompson, Founder/President of Healing Justice and coauthor of Picking Cotton: Our Memoir of Injustice and Redemption
 
"In page-turning prose, Bailey explores the self-hatred engendered in him, his immediate family, and his broader communities, by the intersecting oppressions of racism, poverty, violence, and physical disability. But this is also a story of redemption. My Brother Moochie is, in fact, two eloquently interwoven coming-of-age stories: the author's own story of growing up, silenced by a debilitating stutter but free to roam the streets of his neighborhood, and ultimately his country; and Moochie's story of growing up, loudly speaking his truth, but only from within the cinderblock confinement of prison walls. The result is a read simultaneously heartbreaking and heartwarming." —Keramet Reiter, author of 23/7: Pelican Bay Prison and the Rise of Long-Term Solitary Confinement