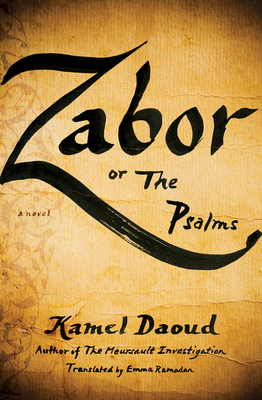 Zabor, or The Psalms
A Novel
Paperback

* Individual store prices may vary.
Other Editions of This Title:
MP3 CD (5/11/2021)
Description
A fable, parable, and confession, the second novel from the acclaimed author of The Meursault Investigation pays homage to the essential need for fiction and to the freedom from tradition afforded by an adopted language.
 
Having lost his mother and been shunned by his father, Zabor grows up in the company of books, which teach him a new language. Ever since he can remember, he has been convinced that he has a gift: if he writes, he will stave off death; those captured in the sentences of his notebooks will live longer. Like a kind of inverted Scheherazade saving his fellow men, he experiments night after night with the delirious power of the imagination.
 
Then, one night, his estranged half brother and the other relatives who would disown him come knocking at the door: his father is going to die and perhaps only Zabor is capable of delaying that fateful moment. Sitting next to the father who has ostracized him, the son writes compulsively, retracing an existence characterized by strangeness, abandonment, and humiliation, but also by wondrous encounters with fictional worlds that he alone in the entire village can access.
Praise For Zabor, or The Psalms: A Novel…
"A deeply imaginative allegory about the possibilities of language." —The New Yorker

"An ode to storytelling with shades of Scheherazade, this novel by the author of The Meursault Investigation features a hero convinced that his journal writing keeps those he loves alive." —New York Times Book Review

"[Zabor] is animated by the same zealous faith in the messianic potential of narrative [as The Meursault Investigation]. Mr. Daoud leaves some ambiguity as to whether Zabor's superpower is real or a delusion, but there's no doubt that Zabor speaks for the author when he describes 'searching for the right words, writing until I force objects to become consistent and lives to have meaning, it's a gentle magic, the culmination of my tenderness.'" —Wall Street Journal

"In this fable, an ostracized son compulsively writes a world of wonder and strangeness in hopes of saving his father." —New York Times
 
"Beguiling…exhilarating…the characterization is rich with pathos, the lyrical prose as expansive as a Mediterranean sunset…The magic realist conceit of writing's restorative powers is something Daoud explores to the full in passages of luminous vitality, sinuously rendered into English by Emma Ramadan." —Times Literary Supplement
 
"Stunning…an exuberant work of imagination, profuse with literary references and religious allusions, as well as page after page of shimmering prose…In its heresy and sensuality, Zabor is a celebration of fiction's secular freedom, its potent ambiguity." —New Lines Magazine

"After his scorching debut, The Meursault Investigation, Algerian novelist/journalist Daoud returns with something different, more lyrical and interior, yet equally ambitious…an affecting portrait of an outsider who defines his own meaning…An original work for all book lovers." —Library Journal (starred review)

"Rich, exhilarating…A Proustian undertone drives this provocative book, which will resonate with readers who share Zabor's zeal for literature." —Publishers Weekly

"A magnificent father-and-son saga that also manages to be an ode to the powers of the imagination, Zabor, or The Psalms combines the transcendent hopefulness of Gabriel García Márquez with the comic matter-of-factness of Jim Shepard's coming-of-age tales. This shimmering novel about literature's redemptive potential has never been more timely—or more crucial—than right now." —Courtney Maum, author of Costalegre

"In Zabor, or The Psalms, Kamel Daoud weaves a writer's fantasy—that one's words and writing can affect the physical world—into a magical novel that exemplifies not just the beauty of language, but its very necessity. A marvelous book, beautifully written." —Hooman Majd, author of The Ayatollah Begs to Differ

"In Zabor, or The Psalms, Kamel Daoud has manifested a writer's dream: to be able to save lives through prose. For Zabor, this is both a blessing and a curse, particularly when it comes to his dying father. Kamel Daoud has crafted a lyrical, internal novel reminiscent of Camus and Dostoevsky, that explores the nature of life and death, of faith and family. Ultimately, this exquisite novel celebrates not just the power of language but the process by which it's woven and spun into story. As lovely as it is inventive, this book is one to be savored." —Amy Meyerson, author of The Imperfects and The Bookshop of Yesterdays

Praise for The Meursault Investigation:
 
"Stunning…an intricately layered tale that…nudges us into a contemplation of Algeria's history and current religious politics; colonialism and postcolonialism; and the ways in which language and perspective can radically alter a seemingly simple story and the social and philosophical shadows it casts backward and forward." —Michiko Kakutani, New York Times

"Mesmerizing…an absorbing, independent story and a shrewd critique of a country trapped in history's time warp." —Wall Street Journal
 
"Rich and inventive…so convincing and so satisfying that we no longer think of the original story as the truth, but rather come to question it." —New York Times Book Review
 
"Remarkable…[The Meursault Investigation's] themes of voicelessness and vengeance feel utterly present-day." —Vogue
 
"A tour-de-force." —The New Yorker

"What makes Daoud's book so good is that, steeped in independent thinking, it offers an illuminating, if controversial portrait of today's Algeria." —Fresh Air, NPR
 
"A biting, profound response to French colonialism…Daoud's prose is propulsive and charged. The pages glitter with memorable phrases." —The Economist
Other Press, 9781635420142, 384pp.
Publication Date: March 2, 2021
About the Author
Kamel Daoud is an Algerian journalist based in Oran, where he writes for the Quotidien d'Oran—the third largest French-language Algerian newspaper. He contributes a weekly column to Le Point, and his articles have appeared in the New York Times, Libération, Le Monde, and Courrier International, among others. His debut novel, The Meursault Investigation (Other Press, 2015), was a finalist for the Prix Goncourt and winner of the Prix François Mauriac and the Prix des cinq continents de la Francophonie. It was named a best book of the year by the New York Times, Time Magazine, Financial Times, and Publishers Weekly.
 
Emma Ramadan is a literary translator based in Providence, Rhode Island, where she co-owns Riffraff bookstore and bar. She is the recipient of an NEA Translation Fellowship, a PEN/Heim Translation Fund grant, a Fulbright, and the 2018 Albertine Prize. Her translations include Sphinx and Not One Day by Anne Garréta, Pretty Things by Virginie Despentes, The Shutters by Ahmed Bouanani, and Me & Other Writing by Marguerite Duras.