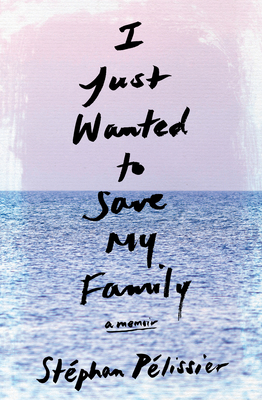 I Just Wanted to Save My Family
A Memoir
Paperback

* Individual store prices may vary.
Description
The timely, powerful memoir of a man unjustly charged with a crime for helping his relatives, refugees from Syria.
 
For trying to save his in-laws, who were fleeing certain death in Syria, Stéphan Pélissier was threatened with fifteen years in prison by the Greek justice system, which accused him of human smuggling. His crime? Having gone to search for the parents, brother, and sister of his wife, Zéna, in Greece rather than leaving them to undertake a treacherous journey by boat to Italy.

Their joy on finding each other quickly turned into a nightmare: Pélissier was arrested as a result of a missing car registration and thrown into prison. Although his relatives were ultimately able to seek asylum—legally—in France, Pélissier had to fight to prove his innocence, and to uphold the values of common humanity and solidarity in which he so strongly believes.

I Just Wanted to Save My Family offers a heartrending window into the lives of those displaced by the Syrian civil war and a scathing critique of the often absurd, unfeeling bureaucracies that determine their fates.
Praise For I Just Wanted to Save My Family: A Memoir…
"A riveting meditation on love, family, and the perilous lives of asylum seekers…striking in its ability remain harrowing and suspenseful while also digging deeply into the emotional dynamics of an extended family that's been pushed to the brink. Pélissier's stirring account exposes the inhumanity of asylum seekers' plight and illuminates how precious and precarious the right to freedom can be." —Publishers Weekly

"Both sobering and informative, this story of human suffering…calls necessary attention to the brokenness of democratic legal systems and their terrifying inability to effectively handle ongoing humanitarian emergencies like the Syrian refugee crisis. Eye-opening reading for anyone interested in learning more about refugees and their plights." —Kirkus Reviews

"In debates about the Fugitive Slave Act in 1850, Senator William Seward of New York famously said: 'There is a higher law than the Constitution.' I kept thinking of that quote reading I Just Wanted to Save My Family by Stéphan Pélissier. This gripping, firsthand account of one family's quest to keep their loved ones safe reveals how far the debates about borders have to come in a new century marked by record displacement on a global scale. Pélissier's story of endurance demonstrates that there is still a law higher than bureaucracy, and still good people willing to risk it all to keep the people they love out of danger." —Jessica Goudeau, author of After the Last Border: Two Families and the Story of Refuge in America

"This harrowing tale of escape from Syria is a dramatic description of the challenges people face fleeing Assad's dictatorship and the country's brutal civil war." —David L. Phillips, Director of the Program on Peace-Building and Human Rights at Columbia University's Institute for the Study of Human Rights, and author of Frontline Syria: From Revolution to Proxy War

"My heart was racing on almost every page of this memoir. The author and I connect in so many ways, and our stories cross continents to speak truth to the human stories of immigrants from war-torn countries. As an immigrant living in the comfort of the U.S. but having family in Somalia, I could feel for Stéphan Pélissier with his struggle to get his wife out of the war. And like him, I hold my fists up every day as the television airs bombings around our beloved family members. This is a book I would recommend to anyone who wants to know about true human suffering, but also the human stories that carry love, compassion, and hope." —Abdi Nor Iftin, author of Call Me American: A Memoir

"A deeply affecting book. It reads like a crime novel, but it's a true story…A breathtaking account that illustrates…the tragedy experienced by hundreds of thousands of Syrians who set out on the road to exile since 2015." —Mediapart
 
"Touching…heartrendingly sincere…a harsh and oh-so accurate portrait of the difficult living conditions of these displaced persons." —France Soir
Other Press, 9781635420180, 256pp.
Publication Date: January 5, 2021
About the Author
Stéphan Pélissier is a French legal expert. He lives in the north of France with his wife and their two daughters.
 
Adriana Hunter studied French and Drama at the University of London. She has translated more than eighty books, including Véronique Olmi's Bakhita and Hervé Le Tellier's Eléctrico W, winner of the French-American Foundation's 2013 Translation Prize in Fiction. She lives in Kent, England.