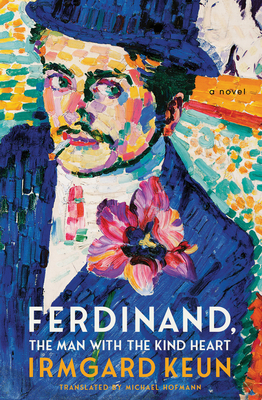 Ferdinand, The Man with the Kind Heart
A Novel
Paperback

* Individual store prices may vary.
Description
The last novel from the acclaimed author of The Artificial Silk Girl, this 1950 classic paints a delightfully shrewd portrait of postwar German society.
 
Upon his release from a prisoner-of-war camp, Ferdinand Timpe returns somewhat uneasily to civilian life in Cologne. Having survived against the odds, he is now faced with a very different sort of dilemma: How to get rid of his fiancée? Although he certainly doesn't love the mild-mannered Luise, Ferdinand is too considerate to break off the engagement himself, so he sets about finding her a suitable replacement husband—no easy task given Luise's high standards and those of her father, formerly a proud middle-ranking Nazi official.

Featuring a lively cast of characters—from Ferdinand's unscrupulous landlady with her black-market schemes to his beguiling cousin Johanna and the many loves of her life—Ferdinand captures a distinct moment in Germany's history, when its people were coming to terms with World War II and searching for a way forward. In Irmgard Keun's effervescent prose, the story feels remarkably modern.
Praise For Ferdinand, The Man with the Kind Heart: A Novel…
"[A] marvelous writer…infused with [Keun's] trademark wit, candor, and emotional intensity…[Ferdinand] comprises a series of tightly packed vignettes and quietly captivating portraits…the prose has bite and charm." —Minneapolis Star Tribune

"Keun (1905–1982) shows a sure hand in this biting sendup of postwar Germany, full of absurd moments and amusing foibles. It's a genuinely funny, ambling story full of sharp character studies." —Publishers Weekly

"A decidedly unusual and often quite funny picture of a defeated people about to dust themselves off and become an economic power. Fans of Günter Grass will find Keun a kindred spirit in the meeting of the picaresque and the cynical." —Kirkus Reviews

"Few postwar novelists were able to capture the mood of Germany as it recovered from its 'former unlamented dictatorship' as precisely and vigorously as Irmgard Keun. In Ferdinand, we're led through Cologne's ruins by a most engaging (and angst-ridden) tour guide who raves and rages and pinches our funny bone on nearly every page and who, in the end, makes us wonder if wars aren't mere exercises in futility after all." —David Abrams, author of Fobbit and Brave Deeds

"Keun's novel is a captivating look at post–World War II Germany. The novel seems dreamy until you realize it's the smoke from war creating the distortion. At the heart of the story is Ferdinand's shockingly relevant tour of a society trying to cope with its altering identities and wrestling with the question: How do you adjust to your surroundings when your surroundings are adjusting to some new world order?" —Devin Murphy, bestselling author of The Boat Runner

Praise for Irmgard Keun:
 
"I want to tell everyone about Irmgard Keun…A great writer." —Ali Smith
 
"Keun was possessed of a spectacular talent. She managed to convey the political horrors she lived through with the lightest possible touch, even flashes of humor." —The Millions
 
"A formidable literary talent." —Irish Times
Other Press, 9781635420357, 256pp.
Publication Date: December 8, 2020
About the Author
Irmgard Keun was born in Berlin in 1905. She published her first novel, Gilgi, One of Us, in 1931. Her second novel, The Artificial Silk Girl, became an instant bestseller in 1932, but was then blacklisted by the Nazis. Eventually sentenced to death, she fled the country and staged her own suicide before sneaking back into Germany, where she lived undercover for the duration of the war. She later resumed writing under the name of Charlotte Tralow, enjoying only modest success until her early works were rediscovered and reissued in the late 1970s. She died in Cologne in 1982.
 
Michael Hofmann has translated the work of Gottfried Benn, Hans Fallada, Franz Kafka, Joseph Roth, and many others. In 2012 he was awarded the Thornton Wilder Prize for Translation by the American Academy of Arts and Letters. His Selected Poems was published in 2009, Where Have You Been? Selected Essays in 2014, and One Lark, One Horse: Poems in 2019. He lives in Florida and London.