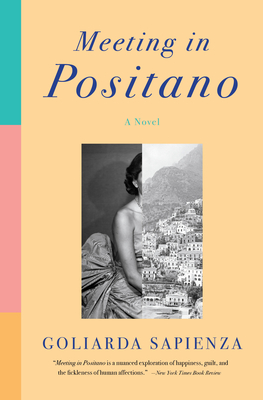 Meeting in Positano
A Novel
Paperback

* Individual store prices may vary.
Other Editions of This Title:
Digital Audiobook (12/20/2021)
MP3 CD (12/21/2021)
Compact Disc (12/21/2021)
Description
BUSTLE BEST BOOK OF THE WEEK PICK 
NAMED A BOOKSHOP.ORG RECOMMENDED READING OF THE SEASON

In this charming, deeply atmospheric novel set against the Amalfi Coast of the 1950s, two women form an intense and lasting friendship that embodies the paradoxes of Italian society.
 
Inspired by her own adventurous, unconventional life, actress and writer Goliarda Sapienza's recently rediscovered novel takes the reader to the sun-drenched town of Positano in southern Italy. There, while working on a film, Goliarda encounters the captivating Erica, a beautiful widow called "Princess" by the locals, who has been the object of much speculation. As the two women grow closer in spite of their different personalities, they gradually reveal more about their thoughts, feelings, and experiences, and the ghosts from their pasts that continue to hang over them.
 
Writing the story of their transformative friendship thirty years later, Goliarda offers a profound reflection on love in its many forms, and opens a window onto an enchanting time and place that lingers in the mind. And this unlikely bond, forged between a leftist idealist and a traditional aristocrat, acts as a microcosm of Italy, illuminating its complex, competing impulses.
Praise For Meeting in Positano: A Novel…
"Once too radical for Italy, Goliarda Sapienza is belatedly getting her due…a characteristically intense work of autofiction…Meeting in Positano is a nuanced exploration of happiness, guilt, and the fickleness of human affections." —New York Times Book Review

"Sapienza intersperses Erica's revelations with brief, finely rendered character sketches of townspeople and crisp descriptions of the landscape. The insights on the relationship between love and money give this elegantly slender novel a nice bit of heft." —Publishers Weekly
 
"With lucid prose that is at once descriptive and meditative, threaded with pearls of phrasing that provoke the mysticism of conceptual thought, Meeting in Positano is a distinctive contribution to Italian literature, crafted from Sapienza's richly informed, semi-autobiographical stance as a metropolitan woman with both countrified origins and ideals inherited from Italy's educated class. In addition to building on the foundations of her background, the book also exhibits her filmic ear for dialogue and cinematographic imagination for scenography." —Asymptote

"A profoundly intimate book, achingly beautiful, like a warm, lyrical daydream. As I turned the pages I felt as though I were in postwar Positano, brushing the sand and salt from my skin, a silent character in Goliarda's world of tragic possibility." —Jamie Ford, New York Times bestselling author of Hotel on the Corner of Bitter and Sweet

"Meeting in Positano is an absolute dream of a novel. Set on the magical Amalfi Coast, it is full of beauty and yearning, secrets and art. The friendship at the novel's center is so compelling, and ultimately heartbreaking, I felt I was swept along with Goliarda and Erica, by the dazzling sea, through the Positano nights." —Luanne Rice, New York Times bestselling author of The Shadow Box

"An elegy for a town and time lost, a Jamesian meditation on class and privacy, an intimate and often glamorous account of a charged friendship, a cry of the heart against the dark pull of oblivion—Meeting in Positano is all of these and more. How lucky we are that this potent novel of ideas by Goliarda Sapienza has been rescued and given its place among her singular literary accomplishments." —Christopher Castellani, author of Leading Men

"An illuminating story of female friendship, Meeting in Positano has it all: colorful characters, a thought-provoking narrative, and the spectacular setting of the Amalfi Coast. Sapienza's delightful novel is a small gem and not to be missed!" —Anita Abriel, internationally bestselling author of Lana's War

"Set amid the landscape of the enchanting, evolving Amalfi coast, Meeting in Positano pays homage to the mystifying and impenetrable affection between two women. It is like reading a love letter from the past, one rife with the truths about friendship that most of us wouldn't dare utter aloud: desire, envy, nostalgia, adoration. Complex and evocative, this story is not to be missed." —Sarah Penner, author of The Lost Apothecary

"Goliarda Sapienza's Meeting in Positano is a gorgeously written meditation on female friendship and human connection, as well as a lyrical ode to Positano, one of the most enchanting places in the world. This lovely book, full of joy, nostalgia, and tragedy, is not to be missed." —Alyssa Palombo, author of The Borgia Confessions

Praise for The Art of Joy:

"A triumphant account of a resourceful woman...carefree and wise...it's worth emulating: it's a novel about how to live instead of how not to, and we could use more of those." —The New Yorker

"The Art of Joy colonizes your attention...Sapienza's prose is breathless throughout, urgent, driven forward by the twin engines of sex and history...It's a feast delivered on small plates." —NPR

"From its explosive, disturbing opening to the quiet cadences of its lyrical close, [The Art of Joy] is crammed with passion, ideas, adventure, and mystery." —San Francisco Chronicle
Other Press, 9781635420432, 256pp.
Publication Date: May 11, 2021
About the Author
Goliarda Sapienza was born in Catania, Italy in 1924. She moved to Rome at the age of 16 to study at the Academy of Dramatic Arts, followed by a career as an actress in both films and the theater. She wrote several novels, including The Art of Joy, which remained unpublished until after her death.

Brian Robert Moore is a literary translator who previously worked as foreign fiction editor of the Italian publishing house Chiarelettere in Milan. He won the 2021 PEN Grant for the English Translation of Italian Literature, and his translations have appeared in publications such as 3:AM Magazine, The Arkansas International, and Asymptote.