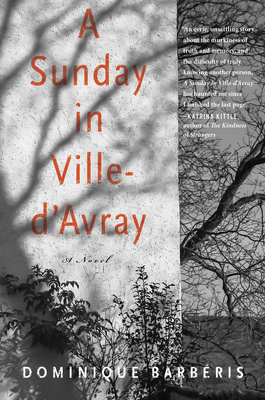 A Sunday in Ville-d'Avray
A Novel
Hardcover

* Individual store prices may vary.
Description
In this subtly haunting novel, a married woman confesses her encounter with a mysterious man, which threatens the stilted calm of life in a Paris suburb.
 
Echoing the acclaimed and unsettling film Sundays and Cybèle from 1962, A Sunday in Ville-d'Avray is suffused with the same feeling of disquiet: Two sisters meet as the light is fading in a detached house in Ville-d'Avray, each filled with the memory of their childhood hopes and fears, their insatiable desire for the romantic, for wild landscapes worthy of Jane Eyre, and for a mad love, all concealed beneath the appearance of a sensible life. Claire Marie, considered by most to be a dreamy, passive sort of person, suddenly breaks from the everyday by confiding in her sister about an unlikely meeting in this seemingly peaceful provincial town. To her listener's amazement, she tells of her wanderings around the Fausses-Reposes forest, the Corot Ponds, and the suburban train stations, and the lurking dangers she encountered there.

In this arresting novel reminiscent of Simenon, Dominique Barbéris explores the great depths of the human soul, troubled like the waters of the ponds.
Praise For A Sunday in Ville-d'Avray: A Novel…
"Beautifully rendered…[with] a cinematic, atmospheric quality…Barbéris's cautious but tense novel is a subtle game of hide and seek." —The Guardian
 
"Provocative…A study of desire and contentment, time and expectation, this slim novel raises alluring questions about paths not taken…fans of Patrick Modiano will appreciate this." —Publishers Weekly
 
"Gorgeously, absorbingly atmospheric; like being wrapped up in an Antonioni film." —The Times (UK)
 
"Beguiling and immensely enjoyable because of the beautifully observed details." —Irish Times
 
"A disquisition on the nature of truth and memory, the little we ever know about other people, and the harm this brings…an unsettling tale, suffused with menace…poetic." —Times Literary Supplement
 
"There's no high turret of emotion, but rather the wandering of an apprehensive heart: excited, romantic, secret, with an undercurrent of disappointment and mystery, all bound up in Barbéris's atmospheric prose that maps the unrealized dreams of women." —Literary Hub, Most Anticipated Books of the Year
 
"Enticing…[a] fortuitous opportunity to experience the lives of two sisters on a quaint Sunday in Ville-d'Avray." —Free Lance–Star

"Carried by a subtle writing style that transforms the tiniest details, A Sunday in Ville-d'Avray is a beautiful novel about staying true to the dreams of youth and the need for adventure that can sometimes be found just at the end of the street." —France-Amérique

"When I opened this lovely novel, I fell into it as if I were in a trance, reading spellbound in one fell swoop. An eerie, unsettling story about the murkiness of truth and memory, and the difficulty of truly knowing another person, A Sunday in Ville-d'Avray has haunted me since I finished the last page." —Katrina Kittle, bestselling author of The Kindness of Strangers

"In A Sunday in Ville-d'Avray, Dominique Barbéris masterfully summons a world of ice, shadow, light, and darkness out of the Parisian suburbs. Two sisters create a prism of a narrative about what happens when we hope for something else, and the thrill and danger of subconscious desire. The resulting story is brilliant, reading like a chilly, poetic dream bound to come true." —Jardine Libaire, author of White Fur

"A Sunday in Ville-d'Avray is a mesmerizing tale of sisters, suburbia, and secrets. With evocative prose and a deep understanding of memory and family, author Dominique Barbéris spins a simple Sunday visit between adult sisters into a complex narrative about the dreams and desires of midlife women. Set aside a Sunday afternoon, pour yourself a glass of something, and dive into this subtle but haunting novel." —Lian Dolan, author of The Sweeney Sisters

"In a year with no days, the exquisite A Sunday in Ville-d'Avray precisely captures the haunted feeling of a bygone Sunday, the afternoon already too late, and the bittersweet homesickness of a moment's end. This wistful novel, a sunbeam illuminating the rain-soaked moments of someone else's ordinary tragedy, will stay with you for weeks." —Barbara Bourland, author of Fake Like Me and I'll Eat When I'm Dead

"Quiet but suspenseful, A Sunday in Ville-d'Avray tells the story of two sisters. As one sister recounts a strange episode from years before, the other's perceptions begin to change. It's an atmospheric and brooding novel, with secret desires and hidden regrets, images of Paris and its suburbs, and Barbéris's prose evoking the psychological suspense of Henry James and Anita Brookner. Perfect for fans of Tessa Hadley and Alice Munro." —Sarah McCraw Crow, author of The Wrong Kind of Woman

"A Sunday in Ville-d'Avray is an exquisite inquiry into the nature of longing. Atmospheric, eloquent, and tinged with danger, it's the perfect way to spend a Sunday. Simply, I loved this book." —Erika Swyler, author of Light from Other Stars and The Book of Speculation

"Brimming with compassion and stylistically superb, A Sunday in Ville-d'Avray brilliantly captures how turmoil often simmers under a calm surface. As one sister confides in the other, both contemplate what it means to live in the center versus on the periphery of a city and of one's own life. A captivating, haunting read." —Rajia Hassib, author of A Pure Heart

"What a beautiful and sly book this is—it casts a hypnotic spell readers won't want to wake from, especially those who dream of France, of secrets, of the mysterious paths desire has us take." —Liam Callanan, author of Paris by the Book

"The experience of A Sunday in Ville-d'Avray is less like reading a novel and more like falling in step with a real person, living a life both familiar and distinct, utterly credible and completely immersive. If you are a Francophile, if you disdain the suburbs, if you live in the suburbs, if you have or ever wanted a sibling…this book is for you." —Elizabeth Topp, author of Perfectly Impossible

"Superb...Dominique Barbéris's novel conjures the smell of grass after rain, of dead leaves burning in a backyard, the mild, melancholy scents of the Parc de Saint-Cloud at the start of autumn." —Sud Ouest

"An unsettling text on memory and the marks of regret...a novel with a singular evocative power." —Le Monde des livres

"This atmospheric novel plunges us into the folds of our own emotions thanks to a richly evocative style...It has the troubling melancholy of Modiano's novels and the charm of Rohmer's films." —Gael
Other Press, 9781635420456, 144pp.
Publication Date: April 27, 2021
About the Author
Dominique Barbéris is a French novelist. Her first book, La Ville, was published by Arléa in 1996. Eight further books have been published by Gallimard. Les Kangourous was adapted for film by Anne Fontaine under the title Entre ses mains. Quelque chose à cacher won the Prix des Deux Magots and the Prix de la Ville de Nantes in 2008. In 2018 her novel L'année de l'éducation sentimentale was awarded the Prix Jean-Freustié / Fondation de France. Barbéris also teaches writing workshops at the Sorbonne.

John Cullen (1942–2021) is the translator of many books from Spanish, French, German, and Italian, including Siegfried Lenz's The Turncoat, Juli Zeh's Empty Hearts, Patrick Modiano's Villa Triste, Kamel Daoud's The Meursault Investigation, and Philippe Claudel's Brodeck.