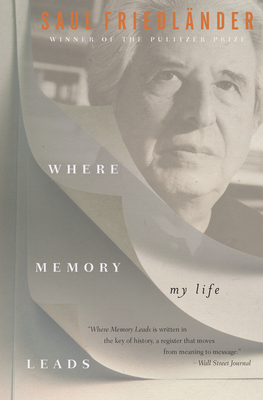 Where Memory Leads
My Life
Paperback

* Individual store prices may vary.
Other Editions of This Title:
Hardcover (11/8/2016)
Description
In this sequel to the classic work of Holocaust literature When Memory Comes, a Pulitzer Prize–winning historian returns to memoir to recount this tale of intellectual coming-of-age on three continents.
 
Forty years after his acclaimed, poignant first memoir, Friedländer returns with Where Memory Leads: My Life, bridging the gap between the ordeals of his childhood and his present-day towering reputation in the field of Holocaust studies. After abandoning his youthful conversion to Catholicism, he rediscovers his Jewish roots as a teenager and builds a new life in Israeli politics.

Friedländer's initial loyalty to Israel turns into a lifelong fascination with Jewish life and history. He struggles to process the ubiquitous effects of European anti-Semitism while searching for a more measured approach to the Zionism that surrounds him. Friedländer goes on to spend his adulthood shuttling between Israel, Europe, and the United States, armed with his talent for language and an expansive intellect. His prestige inevitably throws him up against other intellectual heavyweights. In his early years in Israel, he rubs shoulders with the architects of the fledgling state and brilliant minds such as Gershom Sholem and Carlo Ginzburg, among others.

Most important, this memoir led Friedländer to reflect on the wrenching events that lead him to devote sixteen years of his life to writing his Pulitzer Prize–winning masterpiece, The Years of Extermination: Nazi Germany and the Jews, 1939–1945.
Praise For Where Memory Leads: My Life…
"Where Memory Leads is written in the key of history, a register that moves from meaning to message. Here, the author is crystal clear. 'The only lesson one could draw from the Shoah was precisely the imperative: stand against injustice.' Obligation fulfilled." —Wall Street Journal

"Friedländer is an engaging writer and personality. This is an important book for readers interested in intellectual history and the history of Israel." —Library Journal

"A foremost Holocaust scholar carefully reflects on his harsh early years and lifelong academic mission in Jerusalem, Tel Aviv, Geneva, and Los Angeles…the book is haunting in scope and depth." —Kirkus Reviews

"Friedländer's memoir, in its rigorous attention to the major and minor devastations that his life has wrought, will set you thinking about your own responses to the collective damage of history. And yet, for all the gravity of his reflections, Friedländer is never self-important, nor does his prose swell. Indeed, it's a tribute to his consuming honesty and taste for understatement that the reader comes away with a sense of the complexity and hesitancy that marks a life that, in other hands, might have been presented as one long triumphal march." —BookForum

 "This is an often poignant rendering of a life brimming with both fulfillment and unsatisfied longings." —Booklist 

"Saul Friedlander's memoir is a remarkable inquiry into the truths of a paradoxical identity." —Times Literary Supplement 

"This is a very moving memoir about the personal and psychological toll of the Holocaust." —New York Post 

"Where Memory Leads: My Life is an incredibly sad and moving book. Friedländer has led a full, exciting and dramatic life and the story he tells, in a most forthright manner, is bound to touch most, if not all, of his readers...This work should be read by Jewish and non-Jewish students of history alike...it is an important contribution to Holocaust literature." —Association of Jewish Libraries

"Orphans of the Shoah, Saul Friedländer became its most revered Historian. His survival in a Catholic seminary, his vocation for the priesthood, and his rediscovery of Jewish identity are the subjects of his classic When Memory Comes. This new book recalls with equal sensitivity the quests of his subsequent life. Never sure what 'home' he belonged, Friedländer spent years shuttling among universities in Switzerland, Israel, and California. Despite bouts of anxiety, he crossed intellectual swords with some of his generation's most redoubtable personalities. His attachment to Israel matches in intensity only his rejections of some of its policies. There is never a dull page." —Robert O. Paxton, Professor Emeritus at Columbia University

"A gripping, troubling narrative. The great historian of the Shoah talks about his life, about research and politics, about places (France, Israel, United States), and people. Page after page we feel we are getting closer to him. Then we suddenly realize how inscrutable an individual life is—to us, to the narrator himself" —Carlo Ginzburg, Professor Emeritus at UCLA and author of Threads and Traces: True, False, Fictive

"Saul Friedländer is an engaging companion on this journey through the second half of the twentieth century. The people, situations, and events he encountered come vividly to life, though never far away are the memories of World War II that he pondered throughout his remarkable career." —Theodore K. Rabb, Professor Emeritus of History at Princeton University
 
"The most creative and innovative scholar of the Holocaust, Saul Friedländer has written far more than a memoir. A haunting sequel to When Memory Comes, Where Memory Leads explores the very private and personal as well as scholarly and political sides of the author's adult life. It shows Friedländer seemingly at home in many places and languages, but ultimately as a Jewish outsider everywhere. Fascinating reading for anyone interested in intellectual life in exile, Holocaust scholarship, and Jewish identity." —Christopher R. Browning, Frank Porter Graham Professor of History Emeritus, University of North Carolina at Chapel Hill

"In this engaging new memoir written forty years after his first one, Saul Friedländer examines the forces that propelled him from occupied France, where he spent World War II as a hidden Jewish child, into an active political life in Israel, which he managed to combine with a brilliant academic career in Europe and the United States. Where Memory Leads is an engrossing backward glance enriched with startling anecdotes and tender, poetic evocations of Paris in the fifties and Jerusalem of yesteryear." —Anka Muhlstein, author of Monsieur Proust's Library and Balzac's Omelette
Other Press, 9781635420494, 304pp.
Publication Date: August 4, 2020
About the Author
Saul Friedländer is an award-winning Israeli-American historian and currently a professor of history (emeritus) at UCLA. He was born in Prague to a family of German-speaking Jews, grew up in France, and lived in hiding during the German occupation of 1940–1944. His historical works have received great praise and recognition, including the 2008 Pulitzer Prize for General Non-Fiction for his book The Years of Extermination: Nazi Germany and the Jews, 1939–1945.
or
Not Currently Available for Direct Purchase