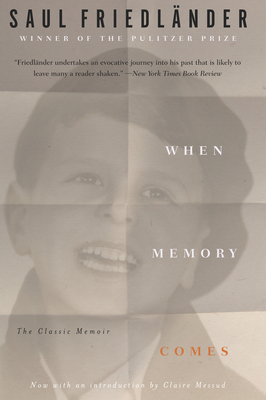 When Memory Comes
The Classic Memoir
Paperback

* Individual store prices may vary.
Description
A classic of Holocaust literature, the eloquent, acclaimed memoir of childhood by a Pulitzer-winning historian, now reissued with a new introduction by Claire Messud
 
Four months before Hitler came to power, Saul Friedländer was born in Prague to a middle-class Jewish family. In 1939, seven-year-old Saul and his family were forced to flee to France, where they lived through the German Occupation, until his parents' ill-fated attempt to flee to Switzerland. They were able to hide their son in a Roman Catholic seminary before being sent to Auschwitz where they were killed. After an imposed religious conversion, young Saul began training for priesthood. The birth of Israel prompted his discovery of his Jewish past and his true identity.
 
Friedländer brings his story movingly to life, shifting between his Israeli present and his European past with grace and restraint. His keen eye spares nothing, not even himself, as he explores the ways in which the loss of his parents, his conversion to Catholicism, and his deep-seated Jewish roots combined to shape him into the man he is today. Friedländer's retrospective view of his journey of grief and self-discovery provides readers with a rare experience: a memoir of feeling with intellectual backbone, in equal measure tender and insightful.
Praise For When Memory Comes: The Classic Memoir…
"Friedländer undertakes an evocative journey into his past that is likely to leave many a reader shaken." —New York Times Book Review
 
"[When Memory Comes] is a small classic of Holocaust literature." —The Guardian (US)
 
"A beautifully written (and beautifully translated) memoir of a tragic childhood." —The New Yorker

"The most remarkable feature of When Memory Comes is its composure, an elegance that is unnerving. Friedländer describes his experiences in lean, graceful sentences; his language seems armored against the dissolution it describes." —New York Review of Books

"When Memory Comes retains the very texture of recollection in a literary style characterized by tact and elegance." —Wall Street Journal

"When Memory Comes is a quiet and deeply affecting masterpiece." —The Nation

"When Memory Comes is a small masterpiece in the literature of the Holocaust." —Tablet Magazine
Other Press, 9781635420500, 192pp.
Publication Date: August 4, 2020
About the Author
Saul Friedländer is an award-winning Israeli-American historian and currently a professor of history (emeritus) at UCLA. He was born in Prague to a family of German-speaking Jews, grew up in France, and lived in hiding during the German occupation of 1940–1944. His historical works have received great praise and recognition, including the 2008 Pulitzer Prize for General Non-Fiction for his book The Years of Extermination: Nazi Germany and the Jews, 1939–1945.

Helen R. Lane was a renowned translator of Spanish, Portuguese, French and Italian literary works into English. She translated works by numerous important authors, including Jorge Amado, Marguerite Duras, Mario Vargas Llosa, Juan Carlos Onetti, and Octavio Paz. She received the PEN Translation Prize in 1975 and 1985. Alternating Current, Lane's translation of Octavio Paz, shared the 1974 U.S. National Book Award in the Translation category.
or
Not Currently Available for Direct Purchase