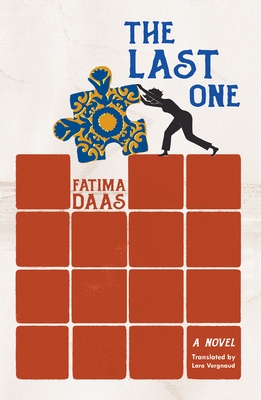 The Last One
A Novel
Paperback

* Individual store prices may vary.
Description
"Fatima Daas carves out a portrait, like a patient, attentive sculptor...or like a mine searcher, aware that each word could make everything explode." —Virginie Despentes
 
Drawn from the author's experiences growing up in a Paris banlieue, a powerful, lyric debut that explores the diverse, often conflicting facets of her identity—French, Algerian, Muslim, lesbian.

The youngest daughter of Algerian immigrants, Fatima Daas is raised in a home where love and sexuality are considered taboo, and signs of affection avoided. Living in the majority-Muslim suburb of Clichy-sous-Bois, she often spends more than three hours a day on public transportation to and from the city, where she feels like a tourist observing Parisian manners. She goes from unstable student to maladjusted adult, doing four years of therapy—her longest relationship. But as she gains distance from her family and comes into her own, she grapples more directly with her attraction to women and how it fits with her religion, which she continues to practice. When Nina comes into her life, she doesn't know exactly what she needs but feels that something crucial has been missing.
 
This extraordinary first novel, anchored and buoyed by the refrain "My name is Fatima," is a vital portrait of a young woman finding herself in a modern world full of contradictions. Daas's journey to living her sexuality in spite of expectations about who she should be offers a powerful perspective on the queer experience.

PEN Translation Prize Finalist
Bustle: Best Book of the Month
Library Journal: Best Debut Novel of the Season
Lambda Literary: Most Anticipated Book of the Month
Praise For The Last One: A Novel…
Winner of the Prix Les Inrockuptibles 2020

"Fatima Daas was used to not reading about people like her. Her debut novel was a chance to remedy this…Critics praised the novel's powerful lyricism, and hailed the author for breaking taboos around gender, sexuality, and religion…[a] playful exploration of multiple identities." —New York Times
 
"Daas was hailed as the voice of a new generation for her first novel…[a] poetic, straight-talking, and often comic account…the story races along with the pace of a song or a poem…beautifully drawn." —The Guardian
 
"A literary hit…follows a young, lesbian Algerian woman as she wrestles with the friction of her conflicting identities." —New York Times Book Review
 
"Daas's impressive debut novel has the urgency of well-made cinéma verité…hypnotic." —Times Literary Supplement

"A riveting novel you won't regret picking up." —Bustle, Must-Read Books
 
"In this award-winning autofiction…[Daas] sorts out her identity as French, Muslim, Algerian, and lesbian in absorbing, rapid-fire prose." —Library Journal, Top Winter Debuts
 
"Mesmerizing…a fresh addition to queer fiction—a deep and original debut novel." —Foreword Reviews (starred review)
 
"A frank and fervent work of autofiction about a woman's attempts at integrating her clashing religion and sexuality…provocative." —Publishers Weekly

"The Last One is a thoughtful examination of a character who deeply wants to be known despite lacking the tools to do any of that self-excavation. The work is tender and sweet, lyrically built, and reprises itself in fascinating ways. Who are we apart from our family? Can we face ourselves? Can we love? Fatima Daas asks these questions the way many of us do: plaintively, longingly, and with a tremendous amount of heart." —Kristen Arnett, author of Mostly Dead Things and With Teeth

"Fatima Daas' debut novel signals the presence of an exciting voice that commands attention and insists on complexity. Whether she is unpacking family ties or tracing the ways queerness dovetails with other identities, Daas stops you in your tracks with what seems like a quiet symphony until you realize it is in fact a crescendo of what it means to be human." —Mona Eltahawy, author of The Seven Necessary Sins for Women and Girls

"Daas explores multifaceted identity through achronological slices of life, arrayed like glittering shards of a fractured mirror. An extraordinary debut novel you'll never forget." —Forsyth Harmon, author of Justine

"In The Last One, Fatima Daas uses words like bold and vivid brush strokes, exploring identity through lyricism. I tore through this incredible work of art in one sitting, but I often took a moment to catch my breath and admire the defiant beauty at the heart of this book." —Abdi Nazemian, author of Stonewall Honor Book Like a Love Story

"Whether dealing with chronic illness, sexuality, therapy, education, faith, friendship, family, romance, or riding the bus, Fatima Daas' The Last One takes on the world with honesty, humor, and lyricism. The specificity of life in the Parisian suburb of Clichy-sous-Bois underscores universal themes and utterly recognizable emotions. Daas bares her narrator's soul, and we can't look away." —Eman Quotah, author of Bride of the Sea

"Fatima Daas's monologue is constructed by fragments, as though she were updating Barthes and Mauriac for Clichy-sous-Bois. She carves out a portrait, like a patient, attentive sculptor...or like a mine searcher, aware that each word could make everything explode, and you have to choose them with infinite care." —Virginie Despentes

"A rhythm that pulses, sentences that crack, chapters like a chant...[a] self-portrait of a girl truly of our time...The furiously contemporary voice that we were hoping for." —Les Inrockuptibles

"The Last One is a bombshell that examines the question of identity with subtlety and passion." —Elle (France)
Other Press, 9781635421842, 208pp.
Publication Date: November 23, 2021
About the Author
Fatima Daas was born in 1995 and grew up in Clichy-sous-Bois, France, where her parents settled after arriving from Algeria. In high school Daas participated in writing workshops led by Tanguy Viel. Influenced by Marguerite Duras and Virginie Despentes, she defines herself as an intersectional feminist. Her debut novel, The Last One, has sold more than thirty-five thousand copies in France and will be translated into ten languages.

Lara Vergnaud is a translator of prose, creative nonfiction, and scholarly works from the French. She is the recipient of two PEN/Heim Translation Fund Grants and a French Voices Grand Prize, and has been nominated for the National Translation Award. She lives in Washington, DC.