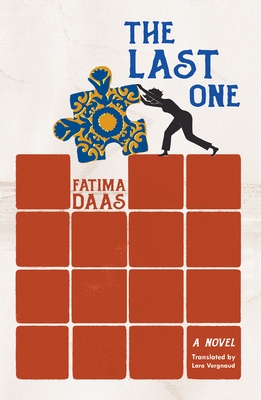 The Last One
A Novel
Paperback

* Individual store prices may vary.
Description
Drawn from the author's experiences growing up in a Paris banlieue, a powerful, lyric debut that explores the diverse, often conflicting facets of her identity—French, Algerian, Muslim, lesbian.

The youngest daughter of Algerian immigrants, Fatima Daas is raised in a home where love and sexuality are considered taboo, and signs of affection avoided. Living in the majority-Muslim suburb of Clichy-sous-Bois, she often spends more than three hours a day on public transportation to and from the city, where she feels like a tourist observing Parisian manners. She goes from unstable student to maladjusted adult, doing four years of therapy—her longest relationship. But as she gains distance from her family and comes into her own, she grapples more directly with her attraction to women and how it fits with her religion, which she continues to practice. When Nina comes into her life, she doesn't know exactly what she needs but feels that something crucial has been missing.

This extraordinary first novel, anchored and buoyed by the refrain "My name is Fatima," is a vital portrait of a young woman finding herself in a modern world full of contradictions. Daas's journey to living her sexuality in spite of expectations about who she should be offers a powerful perspective on the queer experience.
Praise For The Last One: A Novel…
Winner of the Prix Les Inrockuptibles 2020

"Fatima Daas's monologue is constructed by fragments, as though she were updating Barthes and Mauriac for Clichy-sous-Bois. She carves out a portrait, like a patient, attentive sculptor...or like a mine searcher, aware that each word could make everything explode, and you have to choose them with infinite care." —Virginie Despentes

"A rhythm that pulses, sentences that crack, chapters like a chant...[a] self-portrait of a girl truly of our time...The furiously contemporary voice that we were hoping for." —Les Inrockuptibles

"The Last One is a bombshell that examines the question of identity with subtlety and passion." —Elle (France)
Other Press, 9781635421842, 208pp.
Publication Date: November 9, 2021
About the Author
Fatima Daas was born in 1995 and grew up in Clichy-sous-Bois, France, where her parents settled after arriving from Algeria. In high school Daas participated in writing workshops led by Tanguy Viel. Influenced by Marguerite Duras and Virginie Despentes, she defines herself as an intersectional feminist. Her debut novel, The Last One, has sold more than ten thousand copies in France and has been translated into numerous languages.

Lara Vergnaud is a translator of prose, creative nonfiction, and scholarly works from the French. She is the recipient of two PEN/Heim Translation Fund Grants and a French Voices Grand Prize, and has been nominated for the National Translation Award. She lives in Washington, DC.