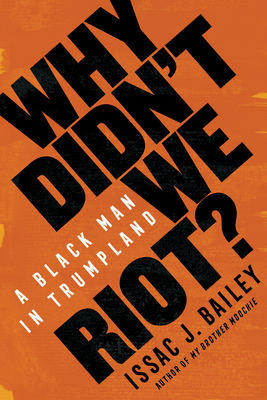 Why Didn't We Riot?
A Black Man in Trumpland
Paperback

* Individual store prices may vary.
Other Editions of This Title:
Digital Audiobook (10/5/2020)
Hardcover (10/6/2020)
Compact Disc (10/6/2020)
MP3 CD (10/6/2020)
Description
In these impassioned, powerful essays, an award-winning journalist deals forthrightly with what it means to be Black in an America that still supports Trump.

South Carolina–based journalist Issac J. Bailey reflects on a wide range of complex, divisive topics—from police brutality and Confederate symbols to respectability politics and white discomfort—which have taken on a fresh urgency with the protest movement sparked by George Floyd's killing. Bailey has been honing his views on these issues for the past quarter of a century in his professional and private life, which included an eighteen-year stint as a member of a mostly white Evangelical Christian church.
 
Why Didn't We Riot? speaks to and for the millions of Black and Brown people throughout the United States who were effectively pushed back to the back of the bus in the Trump era by a media that prioritized the concerns and feelings of the white working class and an administration that made white supremacists giddy, and explains why the country's fate in 2020 and beyond is largely in their hands. It will be an invaluable resource for the everyday reader, as well as political analysts, college professors and students, and political consultants and campaigns vying for high office.
Praise For Why Didn't We Riot?: A Black Man in Trumpland…
"[Bailey] suppressed his anger, worked to bridge racial divides, took his family to a mostly white church for almost two decades. Now he's confronting these emotions in a new collection of essays…[exploring truths] that people don't often talk about." —NPR, All Things Considered

"A powerful lesson in history and truth…Through a combination of poignant memoir and social and cultural analysis, Bailey tackles a range of hot topics as well as his own prior complacency. A masterful storyteller…Bailey pulls no punches…Brilliant, searing, and surprisingly vulnerable." —Kirkus Reviews (starred review)

"[A] much-needed book…Powerful…illuminating." —Library Journal (starred review)

"[Bailey's essays] are incisive as they confront the realities of systemic racism in America…essential reading." —Foreword Reviews

"Impassioned…a bracing and timely survey of why Black Americans are 'sick and tired of being sick and tired.'" —Publishers Weekly
 
"Bailey's voice is worth listening to…a shrewd call-out of the undeniable racism emboldened by Trump's presidency." —Shelf Awareness

"As a Black man who has persevered to assert the truth and uphold integrity in his work, Bailey offers an unflinching perspective about the ongoing dialogue about racism and racial justice in America…While Trump is now out of office, this book is as relevant as ever." —Seattle Book Review
 
"Singular voices have arisen that are able to separate the wheat from the chaff to openly speak the truth about the continuous violence perpetrated upon Black people and the rising inequality in Trump's America. Issac J. Bailey is one such voice…Bailey splendidly creates a milieu where empathy can take root and blossom within readers of all backgrounds." —New York Journal of Books

"This is such a timely book, delivered into our hands at precisely the moment when we are reckoning with the cruel legacies of racism and inequality in a manner we never have before. A searing, honest, and essential read for anyone who wishes to know how we got here, and how we might escape." —Tope Folarin, author of A Particular Kind of Black Man

"In Issac J. Bailey's book, James Baldwin meets James Bond—that is, Bailey performs a kind of racial spy mission, bringing back intelligence from deep in Trumpland about the kind of thinking that continues to have disastrous consequences for our country. Why Didn't We Riot? is a very important book." —Clifford Thompson, author of What It Is: Race, Family, and One Thinking Black Man's Blues

Praise for My Brother Moochie:

"With a keen understanding of systemic racism…My Brother Moochie delves into a rarely explored side of the criminal justice system: the families of the perpetrators…powerful." —New York Times Book Review
 
"Bailey's memoir is a triumph, a painful indictment of American inhumanity woven with threads of grace and love…an extraordinary book about crime, punishment, redemption, and the empowerment that can spring from adversity…nuanced, original, and remarkably clear-sighted." —The Guardian

"An elegant memoir that speaks to the inequities of the criminal justice system and the damage done to family and community when loved ones are locked away…Bailey tells his story with a raw honesty [and] boldly examines the fault lines etched so sharply in our current cultural landscape." —USA Today
Other Press, 9781635422214, 192pp.
Publication Date: March 15, 2022
About the Author
Issac J. Bailey is an award-winning journalist and the James K. Batten Professor of Public Policy at Davidson College. He has been published in the New York Times, Washington Post, Charlotte Observer, Politico Magazine, Time, and many more, and has appeared on NPR, CNN, and MSNBC. Bailey was a Nieman Fellow at Harvard University and has taught journalism and applied ethics at Coastal Carolina University. His memoir, My Brother Moochie: Regaining Dignity in the Face of Crime, Poverty, and Racism in the American South, was published by Other Press in 2018. He currently lives in Myrtle Beach with his wife and two children.