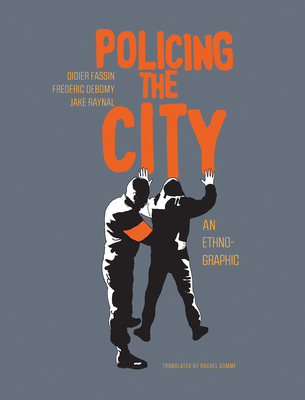 Policing the City
An Ethno-graphic
Hardcover

* Individual store prices may vary.
Description
Adapted from the landmark essay Enforcing Order, this striking graphic novel offers an accessible inside look at policing and how it leads to discrimination and violence.

What we know about the forces of law and order often comes from tragic episodes that make the headlines, or from sensationalized versions for film and television. These gripping accounts obscure two crucial aspects of police work: the tedium of everyday patrols under constant pressure to meet quotas, and the banality of racial discrimination and ordinary violence.
Around the time of the 2005 French riots, anthropologist and sociologist Didier Fassin spent fifteen months observing up close the daily life of an anticrime squad in one of the largest precincts in the Paris region. His unprecedented study, which sparked intense discussion about policing in the largely working-class, immigrant suburbs, remains acutely relevant in light of all-too-common incidents of police brutality against minorities.
This new, powerfully illustrated adaptation clearly presents the insights of Fassin's investigation, and draws connections to the challenges we face today in the United States as in France.
Praise For Policing the City: An Ethno-graphic…
"Urgent and provocative…the animation in Raynal's artwork and creative layouts allows Fassin to expound on his theories and dramatically expose the emotional currents raging through notions of fair and equal justice." —Publishers Weekly
 
"This ethno-graphic is chilling in the parallels that can be seen in the struggles of Black people in the United States…Highly recommended, as it adds to discussions on equity." —Library Journal (starred review)
 
"Raynal's artwork…provides a more contextual, environmental feeling than words alone could have hoped to provide, thanks to a brilliant use of coloring. Readers will recognize parallels between the violent actions of police toward people of color, immigrants, and the poor in France and policing in the US, all with the same racist, classist, and nationalistic justifications." —Booklist

"By exposing the realities of everyday 'anticrime' policing, Didier Fassin explodes the myth that police are the solution to serious crime. These shadowy units that claim to be on the front lines of producing safety instead prey on the most vulnerable and alienated members of society, sending a clear message that those communities do not belong." —Alex S. Vitale, author of The End of Policing

"While most of the city sleeps, police anticrime squads prowl working-class and immigrant neighborhoods like hunters after prey. Didier Fassin obtained unparalleled access to one squad, riding in the back of their car nightly, and Policing the City is as close as a reader can come to joining Fassin in that police car. An innovative 'ethno-graphic,' this book conveys the tense mixture of boredom and bigotry, laced with occasional adrenalin-fueled violence, that defines police patrol. It is an unforgettable read." —Stuart Schrader, author of Badges without Borders: How Global Counterinsurgency Transformed American Policing

"Didier Fassin's Policing the City is a provocative exploration of the expansion of police power and criminalization of nonwhite and immigrant communities. Lucidly written and expertly illustrated, Policing the City is a fascinating adaptation of Fassin's monumental Enforcing Order and gives readers a window into the daily operations of police in twenty-first-century France and around the world. Policing the City shows how politics and prejudice intertwine with law enforcement, releasing officers to wage war on the most vulnerable communities. A must-read." —Max Felker-Kantor, author of Policing Los Angeles: Race, Resistance, and the Rise of the LAPD

Praise for Enforcing Order: 

"Fascinating…Enforcing Order is an intriguing read, not least for what it reveals about the politics of law and order, and of policing, in France in recent times…a rich text." —LSE Review of Books

"Powerful, distressing, and thought-provoking…an undertaking unprecedented in France and one that, as the difficulties of access Fassin encountered suggest, will not be conducted again for some time." —Times Higher Education

"Fassin's book—the most significant contribution to the public anthropology of policing—has opened up space to discuss the unresolved tension underlying the contemporary state, that between providing security and protecting human rights." —Social Anthropology
Other Press, 9781635422504, 112pp.
Publication Date: March 15, 2022
About the Author
Didier Fassin is a French anthropologist and sociologist. He is the James D. Wolfensohn Professor of Social Science at the Institute for Advanced Study in Princeton, and in 2019 was appointed to the Annual Chair in Public Health at the Collège de France, where he delivered the lecture "The Inequality of Lives." He has conducted research in Ecuador, Senegal, South Africa, and France, particularly on moral and political issues around health and humanitarianism as well as immigration and asylum as part of a program of the European Research Council. His previous books include Prison Worlds, The Will to Punish, and Death of a Traveller.

Frédéric Debomy is a graphic-novel writer born in Fontenay-aux-Roses, France, in 1975. He has written book-length essays and nearly a dozen graphic novels, including several works on Myanmar. He is the former president of Info Birmanie, an organization dedicated to raising public awareness about the lack of democracy in Myanmar.

Jake Raynal studied applied arts at Paris's printing academy, the École Estienne, and has been making comics since 1994. He is the creator of a series of fantastical chronicles that was first published by the French-Belgian comics magazine Fluide Glacial and later turned into three books: Combustion Spontanée, Esprit Frappeur, and Les Nouveaux Mystères. He also collaborated with Claire Bouilhac on the Melody Bondage series and the Francis series. Cambrioleurs, his first foray into adventure comics, came out in 2013, followed in 2017 by a volume of the Little Comics Library of Knowledge devoted to Les Situationnistes.

Rachel Gomme is a translator and artist based in London, England. She has translated many works of social science as well as art history and literary texts. As an interdisciplinary artist, she creates and writes about performance, presents work, and teaches in the United Kingdom and internationally.