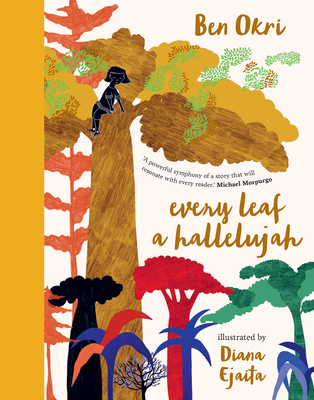 Every Leaf a Hallelujah
Hardcover

* Individual store prices may vary.
Other Editions of This Title:
Digital Audiobook (10/13/2021)
Hardcover (11/14/2021)
Description
The Guardian: Best Children's and YA Book of the Year

An environmental fairytale that speaks eloquently to the most pressing issues of our times, from the Booker Prize–winning author of The Famished Road.

Mangoshi lives with her mom and dad in a village near the forest. When her mom becomes ill, Mangoshi knows only one thing can help her—a special flower that grows deep in the forest.

The little girl needs all her courage when she sets out alone to find and bring back the flower, and all her kindness to overpower the dangers she encounters on the quest.

Ben Okri brings the power of his mystic vision to a timely story that weaves together wonder, adventure, and environmentalism.
Praise For Every Leaf a Hallelujah…
"A slender fable about the power of the individual to save society as a whole…Ejaita's bright illustrations, influenced by African textile traditions, bring ancient oaks, sequoias, and bristlecone pines to life." —New York Times Book Review

"A vivid tale…a loving panorama of a mysterious organic world…made more enchanting by Diana Ejaita's illustrations." —Financial Times
 
"[A] quest with all the authority of an established folk tale." —The Guardian
 
"A charming, heartfelt environmentalist fairy tale…Coupled with vibrant illustrations by Ejaita, this gem will resonate with both adult fantasy readers and their children." —Publishers Weekly
 
"An enchanting environmental story…Okri's powerful work is complemented by Ejaita's joyful and bright illustrations, each a rich and vibrant rendition of majestic forests…[This] educational and wondrous journey will leave a lasting impression on readers." —Booklist
 
"Ben Okri and Diana Ejaita have created a magical world of beauty and color, an enchanting array of extraordinary trees, each with its own personality and voice." —The Africa Center, The Top African Books of the Year

"Ben Okri's Every Leaf a Hallelujah is beautiful and wise—a true fable for our time. And Diana Ejaita's illustrations are spectacular." —Elizabeth Kolbert, Pulitzer Prize–winning author of The Sixth Extinction

"It was a sheer joy to be able to read this. It is mysterious and magical and true...The illustrations are woven wonderfully around the words; the trees are with you, telling it, writing it. Once read we will know never to take trees or leaves for granted again. A powerful symphony of a story that will resonate for every reader. We hear the wind in the trees on every page. We only have to listen." —Michael Morpurgo, author of War Horse

Praise for Ben Okri:

"I love the mythical, fablelike quality of his stories. There is something very comforting and ancient about them." —Alan Cumming

"Ben Okri is that rare thing, a literary and social visionary, a writer for whom all three—literature, culture, and vision—are profoundly interwoven." —Ali Smith
 
"Fiction's master of enchantments stares down a real horror, and without blinking or flinching, produces a work of beauty, grace, and uncommon power." —Marlon James
Other Press, 9781635422702, 112pp.
Publication Date: February 22, 2022
About the Author
Ben Okri is a poet, novelist, essayist, short-story writer, anthologist, aphorist, and playwright. He has also written screenplays. His works have won numerous national and international prizes, including the Booker Prize for Fiction.

Diana Ejaita was born in Cremona, Italy, and now works as an illustrator and textile designer in Berlin. Through a combination of dramatically contrasting areas of black and white with soft patterns and textures, her illustrations betray the strength of femininity, while paying homage to her Nigerian ancestry.