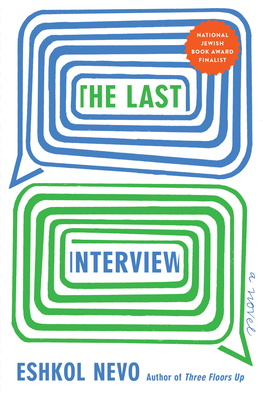 The Last Interview
A Novel
Paperback

* Individual store prices may vary.
Other Editions of This Title:
Compact Disc (10/13/2020)
MP3 CD (10/13/2020)
Description
Named a Notable Translated Book of the Year by World Literature Today 

From the internationally best-selling author of Three Floors Up, a literary page-turner that delves into the deepening cracks in a carefully constructed public persona.
 
A writer tries to answer a set of interview questions sent to him by a website editor. At first, they stick to the standard fare: Did you always know you would be a writer? How autobiographical are your books? Have you written any stories you would never publish? Usually his answers in these situations are measured, calculated, cautious. But this time, when his heart is about to break and his life is about to crumble, he finds he cannot tell anything but the truth. The naked, funny, sad, scandalous, politically incorrect truth.

Every question the writer tackles opens a door to a hidden room of his life. And each of his answers reveals that at the heart of every truth, there is a lie—and vice versa. Surprising, bold, intimate, and utterly engrossing, The Last Interview shows just how tenuous the lines are between work and life, love and hate, fact and fiction. And in exploring the many, often contradictory facets of an Israeli author's identity, Eshkol Nevo also gives us a nuanced, thought-provoking portrait of a country at odds with itself.
Praise For The Last Interview: A Novel…
"A compelling page-turner…Nevo pushes the boundaries of fiction both formally and thematically, challenging the reader at every turn to reconsider their conceptions of the relationship between truth and fiction. A daring, triumphant work of searing beauty." —Kirkus Reviews (starred review)

"Engrossing…Nevo's latest is a clever, delightfully unreliable, occasionally head-shaking, sometimes eye-rolling portrait of an artist as a not-at-all-young man." —Booklist (starred review)

"Eshkol Nevo's The Last Interview is a generous, graceful book—at once wry and raw, mournful and hopeful, ironic and tender. This book is a moving story of loss, love, and friendship, a thoughtful meditation on the porous borders between reality and fiction, and a true joy to read." —Moriel Rothman-Zecher, author of Sadness Is a White Bird

"In Eshkol Nevo's extraordinary The Last Interview, a writer reflects on that which sustains and troubles the human heart, including the fragility of love, the friability of truth, the constancy of friendship, and the certainty of loss. Through engaging prose, poignant storytelling, and the sorrowful yet irresistible voice of Nevo's unforgettable narrator, we are asked to consider the question: How should we be in the world? Always heartfelt and often heartbreaking, The Last Interview is ultimately a balm for those of us living in these troubled times." —Judith Claire Mitchell, author of A Reunion of Ghosts

"The Last Interview is a compelling, layered portrayal of friendship, family, and identity. Formally inventive and propulsive, Nevo braids threads of the political and personal with nuance and sensitivity." —Amy Feltman, author of Willa & Hesper

"Beautifully woven and suffused with emotional honesty, tenderness, and heartbreak, The Last Interview is a riveting, insightful meditation on the perils and possibilities of fiction." —Amy Gottlieb, author of The Beautiful Possible

"Like J. M. Coetzee's Elizabeth Costello, Eshkol Nevo tells us one writer's views of the world as he answers a series of questions posed in an online interview. His unflinchingly honest responses—on work, marriage, children, friendship, envy, guilt, and even the soul of Israel itself—make for an affecting portrait of a modern Israeli man looking for the truths of his life. The narrator reaches deep within my heart as he asks the ultimate question: How can we love, knowing there will be loss?" —Elayne Klasson, author of Love Is a Rebellious Bird

Praise for Eshkol Nevo:
 
"Eshkol Nevo writes beautifully, funnily, and wisely about men and women…Friendship, envy, love, misery, endurance—he captures the lot." —Roddy Doyle, author of Paddy Clarke Ha Ha Ha
 
"Eshkol Nevo is a fascinating storyteller who gives the reader a broad and diverse picture of Israeli society." —Amos Oz, author of Judas
 
"Eshkol Nevo is a brilliant literary chemist who succeeds in extracting from daily life's most mundane events the deepest crystallized essence of the contemporary Israeli psyche." —Etgar Keret, author of The Seven Good Years
Other Press, 9781635429879, 480pp.
Publication Date: October 13, 2020
About the Author
Eshkol Nevo, born in Jerusalem in 1971, is one of Israel's most successful living writers. His novels have all been bestsellers in Israel and published widely in translation. His novel Homesick was long-listed for the 2009 Independent Foreign Fiction Prize; World Cup Wishes was a finalist for the 2011 Kritikerpreis der Jury der Jungen Kritiker (Austria); Neuland was included in the Independent's 2014 Books of the Year in Translation; and Three Floors Up (Other Press, 2017) will be adapted for film by the acclaimed Italian director Nanni Moretti in 2020. Nevo owns and co-manages the largest private creative writing school in Israel and is a mentor to many up-and-coming young Israeli writers.  
 
Sondra Silverston has translated the work of Israeli fiction writers such as Etgar Keret, Ayelet Gundar-Goshen, Zeruya Shalev, and Savyon Liebrecht. Her translation of Amos Oz's Between Friends won the National Jewish Book Award for fiction in 2013. Born in the United States, she has lived in Israel since 1970.