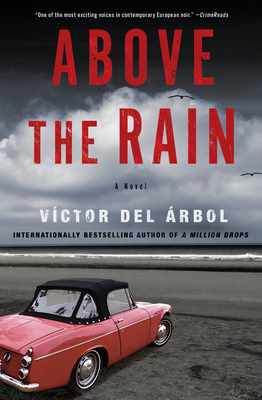 Above the Rain
A Novel
Paperback

* Individual store prices may vary.
Description
In the latest novel from a master of European crime fiction, past, present, and future collide on a breathtaking journey from 1950s Morocco to modern-day Spain and Sweden.
 
Miguel and Helena meet at a nursing home in Tarifa, at an age when they believe they have lived it all already. Distanced from their children, they feel they are no longer needed. The sudden suicide of one of the other residents opens their eyes. They don't want to spend their last days longing for supposedly better times, so together they decide to undertake the journey of their lives and confront the darkness in their pasts.
 
Meanwhile, in the distant Swedish city of Malmö, the young Yasmina, a child of Moroccan immigrants who dreams of being a singer, lives trapped between her authoritarian grandfather and her contemptuous mother, who is ashamed of Yasmina because she works for a Swede with a murky reputation. And she's having a secret affair with the Deputy Commissioner of the Swedish police, an older, influential man.
 
As Yasmina is drawn deeper into Malmö's criminal underworld and Miguel and Helena approach the end of their feverish road trip, Víctor del Árbol masterfully reconstructs the history of violence that links their seemingly disparate lives.
Praise For Above the Rain: A Novel…
"A meditation on family, circumstance, and violence, both political and personal." —Publishers Weekly
 
"A quality of grace, hope, and forgiveness fills [del Árbol's] books, propelling readers forward amid intricate plotting with any number of possible outcomes. [He] is equal parts painfully realistic and playfully mystical in writing about the way humans have of helping and destroying each other…[Faulkner] might have found a kindred spirit in Víctor del Árbol." —Houston Press

"A sweeping and devastating historical novel, full of suspense, Del Árbol's Above the Rain is a masterclass in the way that trauma is reinforced and repeated throughout generations, with deadly consequences. In Del Árbol's noir-inflected masterpiece, the past is always present, the political is always personal, and love, however fleeting, is the only redeeming grace. I loved every moment of it." —Halley Sutton, author of The Lady Upstairs
 
"Above the Rain is an exceptional novel about the present's inability to deny the past, a clear-eyed examination of the cultural clashes in modern Europe. It's also a novel about love, the different kinds thereof and how they offer their own various sorts of healing and redemption." —Scott Phillips, author of The Ice Harvest and That Left Turn at Albuquerque

"Víctor del Árbol's Above the Rain is a heartrending tour de force about mortality and chance and learning to live with ghosts. Rich with noir atmosphere, the book begins in 1950s Morocco and then brings us to contemporary Spain and Sweden. A sprawling ensemble cast drives the narrative, making for an epic unknotting of voices and experiences. It's expertly plotted, suspenseful, and immersive. Lisa Dillman's translation is crisp and elegant. Just extraordinary." —William Boyle, author of Gravesend and City of Margins

"Haunting and provocative, Above the Rain is a novel of devastating, heartbreaking beauty. It demands your bravery, fires your imagination, and challenges your heart and soul. The rewards are rich. I will carry Miguel and Helena with me for a very long time." —Bill Loehfelm, author of the Maureen Coughlin series

"A dark, vividly descriptive tale of two complicated people whose troubled pasts motivate a road trip full of winding turns, unexpected plot twists, and retribution. Adeptly plotted, an examination of our own pasts, of what we cannot change about them, and what we do with the time we have left." —John McMahon, Edgar Award–nominated author of The Good Detective

Praise for A Million Drops:

"Darkly engrossing...[A Million Drops] defies categorization, pulling together the best elements of historical fiction, psychological thrillers, and literary character studies." —Washington Post

"A mystery on an epic scale, extending over decades, generations, and nations...Meticulously plotted and stylishly written, this is a page-turner with fresh twists and surprises right up to the very end." —Kirkus Reviews (starred review)

"Del Árbol, a gifted storyteller, keeps the pages turning even as he probes the dark, compromised souls of his characters." —Chicago Tribune
Other Press, 9781635429954, 608pp.
Publication Date: May 25, 2021
About the Author
Víctor del Árbol was born in Barcelona in 1968 and was an officer of the Catalan police force from 1992 to 2012. As the recipient of the Nadal Prize, the Tiflos Prize, and as the first Spanish author to win the Prix du Polar Européen, he has distinguished himself as a prominent voice in Spanish literature. Other Press has published his novels Breathing Through the Wound and A Million Drops, which was named a Notable Book of the Year by the Washington Post.

Lisa Dillman has translated a number of Spanish and Latin American writers. Some of her recent translations include Such Small Hands and A Luminous Republic by Andrés Barba; Signs Preceding the End of the World and A Silent Fury by Yuri Herrera; and A Million Drops and Breathing Through the Wound by Víctor del Árbol. She teaches in the Department of Spanish and Portuguese at Emory University in Atlanta, Georgia.
or
Not Currently Available for Direct Purchase