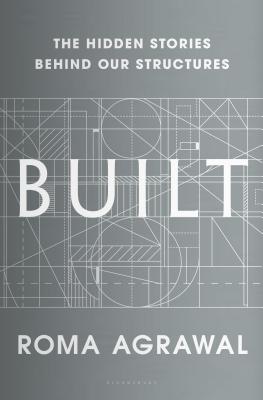 Built
The Hidden Stories Behind our Structures
Hardcover

* Individual store prices may vary.
Other Editions of This Title:
Paperback (5/21/2019)
Description
Winner of the AAAS/Subaru SB&F Prize for Excellence in Science Books

The wonders of engineering revealed--by the inspirational female engineer behind the Shard, Western Europe's tallest building.

While our cities are full of incredible engineering feats, most of us live with little idea of what goes into creating the built environment, let alone how a new building goes up, what it is constructed upon, or how it remains standing.

In Built, star structural engineer Roma Agrawal explains how construction has evolved from the mud huts of our ancestors to skyscrapers of steel that reach into the sky. She unearths how humans have tunneled through solid mountains; how we've walked across the widest of rivers, and tamed nature's precious water resources. She tells vivid tales of the visionaries who created the groundbreaking materials used to build the Pantheon and the Eiffel Tower; and explains how careful engineering can minimize tragedies like the collapse of the Quebec Bridge. Interweaving science, history, illustrations, and personal stories, Built offers a fascinating window into a subject that makes up the foundation of our everyday lives.
Praise For Built: The Hidden Stories Behind our Structures…
"Agrawal is a rarity: a female structural engineer in an adamantly male profession. A self-proclaimed 'geek,' she shares her discoveries far above and below ground... She will inspire young women who are considering a career in engineering." - New York Times Book Review

"Roma Agrawal's Built . . . aims to show us how things work in a world of structures we largely take for granted . . . her book infects us with the passion she feels for what she does . . . [and] conveys insight into the built environment in an unusually accessible style—the kind of insight that will help lay readers look differently at the world around them." - Wall Street Journal

"A full-throated celebration of structural engineering . . . [Built] is globally inclusive, provides personal insight into the life and achievements of a broadly accomplished female structural engineer, and teaches key engineering concepts in an approachable and engaging way." - Science Magazine

"Makes engineering concepts easy to understand . . . [Agrawal] asks to reader to dream with her, look at the world before a problem is solved, then rejoice in the solution and all that it has meant to us as heirs of earlier genius. In short, she does the almost impossible; she makes engineering fun." - Manhattan Book Review

"Interweaving science, history, illustrations, and personal stories, Built offers a simply fascinating and impressively informative history of architecture, a subject that makes up the foundation of our everyday lives." - Midwest Book Review

"Roma makes the complex principles of structural engineering accessible to everyone with clear explanations and engaging illustrations. It has made me suddenly look at every building I pass by in a new way!" - Ellen Stofan, former Chief Scientist at NASA

"Built is a terrific book--a necessary reminder of the wonderful human ingenuity behind the world's greatest engineering projects, from Roman aqueducts to London's magnificent Shard, which stands on foundations designed by the author herself. Lively, informative and exciting, Built will inspire readers of every stripe." - Erica Wagner, author of CHIEF ENGINEER

"So many marvels of architecture involve feats of engineering that all too often go unsung. Roma Agrawal sets out to change that with Built, a passionate, often personal love letter to the science of structure that merges history, science, and storytelling. Whether exploring the ruins of Pompeii and the elegance of Bruneschelli's famous dome, plumbing the depths of sewers and tunnels, or gleaning insight into materials from baking a pineapple upside down cake, she takes the reader on a fantastic journey that will change the way you look at all the structures you take for granted." - Jennifer Ouellette, author of THE CALCULUS DIARIES and ME, MYSELF, AND WHY

"Roma Agrawal's Built is a book about real engineering written by a real engineer who can really write." - Henry Petroski, author of THE ROAD NOT TAKEN: THE HISTORY AND FUTURE OF AMERICA'S INFRASTRUCTURE

"A delightful introduction to the science of engineering and those key in its development." - Kirkus Reviews

"Agrawal will vividly inform, enthuse, and inspire readers." - Booklist

"Structural engineer Agrawal introduces engineering to the masses in this enthusiastic, easy-to-read primer to her field of work . . . the book successfully communicates the author's love of engineering and the extraordinary impact of her profession on the everyday lives of people." - Publishers Weekly

"A pioneering engineer behind some of the world's tallest towers shares her enthusiasm and appreciation for her craft. The 'engineered universe is a narrative full of stories and secrets,' Agrawal writes, and the book unveils many of the discipline's solutions to the world's problems. The astonishing ingenuity of engineers makes for fascinating reading." - New York Times Book Review
Bloomsbury USA, 9781635570229, 320pp.
Publication Date: February 13, 2018
About the Author
Roma Agrawal is a structural engineer who builds BIG--bridges, sculptures, train stations, and skyscrapers, including western Europe's tallest tower, the Shard. A tireless promoter of engineering, scientific, and technical careers to young people, particularly underrepresented groups such as women, she has advised policymakers and governments on science education and has given talks to thousands around the world at universities, schools, and organizations, including two for TEDx. She is a television presenter and writes articles about engineering, education, and leadership. Her awards for technical prowess and success in promoting the profession include the Institution of Structural Engineers' Young Structural Engineer of the Year Award and the prestigious Royal Academy of Engineering's Rooke Award. Built is her first book. She grew up in Ohio, New York, and Mumbai, and now lives in London.

romatheengineer.com / @RomaTheEngineer