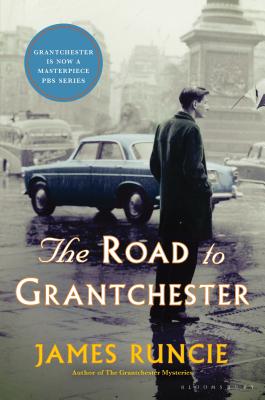 The Road to Grantchester (Hardcover)
Bloomsbury Publishing, 9781635570588, 336pp.
Publication Date: May 7, 2019
Other Editions of This Title:
Paperback (5/7/2019)
MP3 CD (4/1/2019)
Compact Disc (4/1/2019)
Hardcover, Large Print (7/1/2019)
Paperback, Large Print (7/1/2020)
* Individual store prices may vary.
Description
The captivating prequel to the treasured Grantchester series follows the life, loves, and losses of young Sidney Chambers in postwar London.
It is 1938, and eighteen-year-old Sidney Chambers is dancing the quickstep with Amanda Kendall at her brother Robert's birthday party at the Caledonian Club. No one can believe, on this golden evening, that there could ever be another war.
Returning to London seven years later, Sidney has gained a Military Cross and lost his best friend on the battlefields of Italy. The carefree youth that he and his friends were promised has been blown apart, just like the rest of the world--and Sidney, carrying a terrible, secret guilt, must decide what to do with the rest of his life. But he has heard a call: constant, though quiet, and growing ever more persistent. To the incredulity of his family and the derision of his friends--the irrepressible actor Freddie and the beautiful, vivacious Amanda--Sidney must now negotiate his path to God: the course of which, much like true love, never runs smooth.
The Road to Grantchester will delight new and old fans alike and finally tell the touching, engaging, and surprising origin story of the Grantchester Mysteries' beloved archdeacon.
About the Author
James Runcie is an award-winning film-maker and the author of seven novels. Sidney Chambers and The Shadow of Death, the first in 'The Grantchester Mysteries' series, was published in 2012, soon followed by Sidney Chambers and The Perils of the Night, and Sidney Chambers and The Problem of Evil. In October 2014, ITV launched Grantchester, a prime-time, six-part series starring James Norton as Sidney Chambers. James Runcie lives in London and Edinburgh.
www.jamesruncie.com
www.grantchestermysteries.com
@james_runcie
Praise For The Road to Grantchester…
"Exceptional… fans of Runcie's sophisticated mixing of whodunit plots with explorations of the human psyche in prior entries will relish getting a fuller picture of Sidney's path toward a life in the church." —Publishers Weekly, Starred Review
"Fans of the books (Sidney Chambers and the Persistence of Love, 2017, etc.) and the popular PBS series will find very little mystery but much to delight them in this often moving look at how life's difficult decisions are made." —Kirkus Reviews
"Series fans will know what Chambers' future holds, but that in no way diminishes thepleasure of this prequel, which lays the groundwork for his life of faith and shows hiswartime experience aiding in his detecting avocation. A must for fans and a good starting point for others." —Booklist
"A tremendous novel - shrewd, compelling and full of insight - James Runcie elevates the genre to impressive new heights." —WILLIAM BOYD
"Charming, clever and warm: perfect comfort food for the soul" —Joanne Harris, author of Chocolate
"An engaging and witty prequel…One could hardly ask more from a tie-in novel." - Washington Post
"Taken individually, each of these clerical whodunits poses a clever puzzle for armchair detectives. Viewed as a collective study of British life as it was lived when Elizabeth II first ascended the throne, these stories present a consistently charming and occasionally cutting commentary on 'a postwar landscape full of industry, promise and concrete." —New York Times Book Review on Sidney Chambers and The Shadow of Death
"Richly atmospheric . . . Runcie's intimate view of post-WWII English society will appeal to admirers of Barbara Pym. His clerical sleuth would be welcome in a novel-length puzzle one day." —Starred review, Publisher's Weekly on Sidney Chambers and The Perils of the Night
"Chambers turns out to be a winning clergyman-sleuth, and Runcie's literary authority is repeatedly demonstrated in the construction of his elegant tales . . . there is no denying the winning charm of these artfully fashioned mysteries." —The Independent on Sidney Chambers and The Shadow of Death
"James Runcie has created a wholly believable origins story for his sleuthing vicar Sidney Chambers, a man made and broken by war . . . Written with a delicate intelligence; Runcie knows that people may communicate with those of whom they are fond even while one is baffled by the other . . . It's unusual these days to read a novel which is not only about ethical questions but one where the hero is a good man, admirable, if not always likeable. Goodness is much harder to convey than evil, but Runcie brings it off without sentimentalising his hero. He also shows that, while a priest should be fully engaged in the world around him, he always stands a little apart . . . Sidney Chambers is as convincing as any flesh-and-blood creature, not just an idea of a parson. This is because Runcie has thoroughly imagined him and in this coming-of-age novel he shows us how and why he became what he is" —Scotsman
"The Sidney Chambers series may be comforting, but it's not simple. Runcie meant these novels to be a commentary on life in post-World War II Britain, and so they are. But the themes of good and evil, temptation and sacrifice, remain as fresh as today's news feed." —The Seattle Times on Sidney Chambers and the Forgiveness of Sins