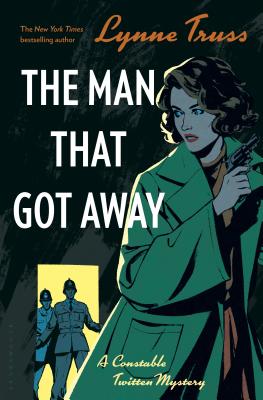 The Man That Got Away
A Constable Twitten Mystery 2
Hardcover

* Individual store prices may vary.
Other Editions of This Title:
Paperback (10/15/2019)
Paperback, Large Print (4/8/2020)
Description
A charming second comic crime novel from New York Times bestselling author Lynne Truss.

1957: In the beach town of Brighton, music is playing and guests are sunning themselves, when a young man is found dead, dripping blood, in a deck chair.

Constable Twitten of the Brighton Police Force has a hunch that the fiendish murder may be connected to a notorious nightspot, but his captain and his colleagues are—as ever—busy with other more important issues. Inspector Steine is being conned into paying for the honor of being featured at the Museum of Wax, and Sergeant Brunswick is trying (and failing) to get the attention of the distraught Brighton Belles who found the body. As the case twists and turns, Constable Twitten must find the murderer and convince his colleagues that there's an evil mastermind behind Brighton's climbing crime rate.

Our incomparable team of detectives are back for another outing in the second installment of Lynne Truss's joyfully quirky crime series.
Praise For The Man That Got Away: A Constable Twitten Mystery 2…
"A worthy follow-up to her delightful 2018 novel A Shot in the Dark. . . . One looks forward with glee to the novel's culmination—and to this quick-learning constable's future adventures." - The Wall Street Journal

"Lynne Truss once again shows off her superb command of the English language and comedy in this follow-up to her terrific debut mystery novel, A Shot In The Dark. . . . [The Man Got Away] builds on everything wonderful about the preceding novel for another comic gem firmly anchored in 1950s British culture." - Criminal Element

"Delightful . . . Truss perfectly blends humor and detection." - Publishers Weekly

"Great attention to details of the period and the various conflicts between the social classes is lavished on the setting and characters . . . The author's flair for language adds to the book, as do the colorful 'extras,' including the Brighton Belles (pretty young women who act as goodwill ambassadors), the musicians who perform at a local venue, a humbug seller, and horrendously fake waxwork parlor shopkeepers." - Library Journal

"This character-driven investigation includes delightfully batty characters and situations . . . Give to Truss' fans as well as those who enjoy Christopher Fowler's Bryant and May mysteries." - Booklist

"Having been enemies since the first Constable Twitten mystery, A Shot in the Dark (2018), will Twitten and Groynes be able to preserve their truce? Readers will hope to discover the answer to this question in the next installment, which is bound to achieve the same, wonderful mix of crime story, humorous escapade, and seaside pandemonium tale Lynne Truss created here. A highly entertaining read." - Historical Novel Society

"The craft and care with which author Truss weaves her facts into a richly narrated but utterly hilarious tapestry is amazing. The reader may find himself wondering how she manages to keep her facts straight as she throws his own mental processes into such a delightful muddle." - New York Journal of Books

"[A] laugh-out-loud mystery . . . The Man That Got Away is a dark, screwball crime novel in the vein of the 1955 British film The Ladykillers that will also appeal to fans of Truss' runaway bestselling grammar guide, Eats, Shoots & Leaves—as well as Anglophiles in general. Chock full of clues, criss-crossing subplots and wry dialogue, Truss' latest is a pleasure from start to finish." - BookPage

"Brighton in the late 1950s is full of ne'er-do-wells, eccentric coppers and hordes of the British working classes on seaside holiday in Lynne Truss's The Man That Got Away. Truss spins hilarious social commentary." - The Winnipeg Free Press

"The book is a wonderful spoof of mysteries, clueless police, detectives who aren't ever believed, wax museums, language differences, and women who aren't taken seriously, even though they might be the main drivers of evil-doing. Constable Twitten is a marvel, and Mrs. Groynes is perfect." - Bookloons

"A joyfully quirky crime series." - FreshFiction

"A Shot in the Dark couples suspense with dark hilarity in the manner of the 1955 British black comedy film 'The Ladykillers,' thus delivering (just in time) the funniest crime novel of 2018." - The Wall Street Journal on A SHOT IN THE DARK

"The author of Eats, Shoots and Leaves brings her customary wit to her first detective novel, set in 1957 in Brighton, England, and centered on the murder of a theater critic." - Publishers Weekly Mystery and Thriller Top 10 Pick on A SHOT IN THE DARK

"Truss' language, unsurprisingly, sparkles, and her portrayal of class and its exasperating effect on even the British underworld is memorable. Readers of Agatha Christie are a natural audience for this study in peculiarity." - Booklist on A SHOT IN THE DARK

"This farcical tale is packed with interwoven plotlines, clues strewn about like confetti and a comically oblivious chief inspector. It reads like a stage comedy . . . Sharp and witty, A Shot in the Dark is a good time." - Bookpage, "Top Pick in Cozies" on A SHOT IN THE DARK

"[An] entertaining new crime series … Truss's affection for a rollicking, twisty caper has transferred to the page with ease … There's some fine storytelling on display here." - Observer on A SHOT IN THE DARK

"Funny, clever, charming, imaginative, nostalgic and gently satirical." - The Times on A SHOT IN THE DARK

"With plenty of brightly coloured bucket-and-spadery, including ghost trains and Punch and Judy and variety acts, this clever, tongue-in-cheek escapade is a perfect summer read." - Guardian on A SHOT IN THE DARK

"It takes a writer of Lynne Truss's wit and intelligence ... to take on both the cosy and comic fields, shaking them up to forge something fresh and beguiling ... Delightfully witty." - Independent on A SHOT IN THE DARK
Bloomsbury Publishing, 9781635570731, 304pp.
Publication Date: October 15, 2019
About the Author
Lynne Truss is a columnist, writer and broadcaster whose book on punctuation Eats, Shoots & Leaves was an international bestseller. She has written extensively for radio, and is the author of six previous novels, as well as a non-fiction account (Get Her Off the Pitch!) of her four years as a novice sportswriter for The Times. On radio, she is currently engaged in writing a continuing sequence of short stories for Radio 4 entitled Life at Absolute Zero. Her columns have appeared in the Listener, The Times, the Sunday Telegraph and Saga. She lives in Sussex and London with two dogs.