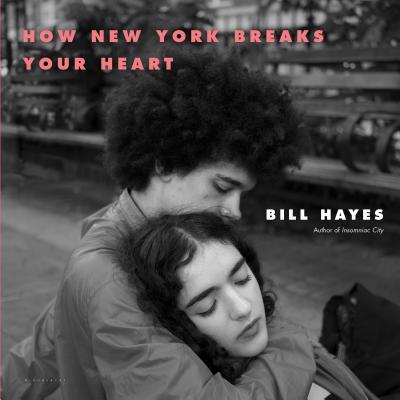 How New York Breaks Your Heart
Hardcover

* Individual store prices may vary.
Description
Bill Hayes's critically acclaimed memoir Insomniac City provided a first look at his unique street photography. Now he presents an exquisite collection that captures the full range of his work and the magic of chance encounters in New York City.

Hayes's "frank, beautiful, bewitching" street photographs "unmask their subjects' best and truest selves" (Jennifer Senior, New York Times): A policeman pauses at the end of a day. Cooks sneak in cigarette breaks. A pair of movers plays cards on the back of a truck. Friends claim the sidewalk. Lovers embrace. A flame-haired girl gazes mysteriously into the lens. And park benches provide a setting for a couple of hunks, a mom and her baby, a stylish nonagenarian . . .

How New York Breaks Your Heart reveals ordinary New Yorkers at their most peaceful, joyful, distracted, anxious, expressive, and at their most fleeting--bringing the texture of the city to vivid life. Woven through with Hayes's lyric reflections, these photos will, like the city itself, break your heart by asking you to fall in love.
Praise For How New York Breaks Your Heart…
"New Yorkers know better than to stare on the street, but Bill Hayes' camera is allowed to, and often his subjects, whether alone or in pairs, stare right back at him, and now at us. It's in these ocular embraces that we feel the humanity and the beautiful eccentricity of these individuals being revealed. Hayes gives us glimpses into the souls of the city's characters in these arresting on-the-spot portraits." - Billy Collins, former Poet Laureate of the United States

"Bill Hayes' photographs tell the story of what really makes New York New York: its people." - Roz Chast

"[Hayes] immortalizes ordinary people in the city that never sleeps." - Sam Roberts, New York Times

"[Hayes's] arresting pictures celebrate the fact that 'beauty comes in unbeautiful ways' in the city that never sleeps." - Heller McAlpin, NPR

"Hayes provides us an even larger look at a New York we are in constant interaction with--its noises, colors, its claustrophobic (yet somehow thrilling) density, and its openness, welcome diversity, and indeed, its ability to break our hearts. . . . When I think of the great photographers who have depicted this city--Elliot Erwitt, Helen Leavitt, Diane Arbus, Gordon Parks to name only a few--Hayes adds to this bounty with his own tattoo." - Lambda Literary

"A photographic love letter to New York City and its people . . . With every photo, Hayes captures the casual intimacy of his subjects with their natural habitat to show what's most heartwarming about the city: the rare, diverse, and vital spirit of the people in it." - Publishers Weekly

"[Hayes's] photos are reminiscent of Diane Arbus' street portraits, the difference being that Arbus was drawn to the strangeness in people while Hayes is drawn to their warmth and beauty." - Edward Guthmann, San Francisco Chronicle

"Just in time for Valentine's Day, this love letter in photos documents a diverse range of city dwellers while capturing both the excitement and loneliness of living among them." - Publishers Weekly, Top 10 Art & Photography Books

"There's wistfulness in Hayes' title, for the beauty that breaking reveals. With his photos, Hayes seems to say that if a city breaks your heart, look to its people to piece it back together again." - Booklist

"Here we see Hayes' excellent eye, and his ability to portray his subjects with intimacy and immediacy. The photos tell something about the photographer, as well: how he is drawn to people, and must seem worthy of their trust. The delectation goes both ways." - The Bay Area Reporter

"Readers should consider themselves lucky that, presently, gay writer and photographer Bill Hayes has two books for them to enjoy . . . [How New York Breaks Your Heart] is a fascinating assortment of New Yorkers." - Peach ATL

"An exceptional collection of images. Here's to [Hayes] taking many more!" - The Brooklyn Eagle

"A beautiful companion to Insomniac City and a standalone volume that captures the comedy, tragedy, and magic in the everyday." - Erin Kodicek, Omnivoracious

"A stunning portfolio of portraits that reflect the city's diversity and lively street life." - amNewYork

"Hayes' photos work doubly, evoking this bittersweetness and grasping at the dense inner lives of his subjects, though we'll never get a chance to know them." - Interview

"Electric beauty with an edge of sorrow comes alive in How New York Breaks Your Heart . . . After his stirring memoir of Oliver Sacks and New York, Hayes turns his sensitive, sympathetic lens to the human poetics coursing through the streets of the iconic city at all hours of the day and night, across every social stratum, every age, every feeling-tone. From the hipsters and the homeless and the protesters and the lovers--oh so many lovers--emerges a chorus of humanity singing the siren song of New York." - BrainPickings

"Bill Hayes is a canny observer. With lyrical insight and magnetic enthusiasm, his books analyze the wonders of the commonplace: sleep (Sleep Demons), blood (Five Quarts) and bodies (The Anatomist). Love and resilience lie at the root of his recent memoir, Insomniac City, in which he leaves San Francisco for New York while grieving his partner's death. There he perfects a new craft in street photography, yielding the utterly remarkable selection of portraits and snapshots in How New York Breaks Your Heart." - Shelf Awareness

"Frank, beautiful, bewitching—[Hayes's photographs] unmask their subjects' best and truest selves." - Jennifer Senior, New York Times on INSOMNIAC CITY
Bloomsbury USA, 9781635570854, 160pp.
Publication Date: February 13, 2018
About the Author
Bill Hayes is the author of Insomniac City and The Anatomist, among other books, and a forthcoming history of exercise, Sweat, to be published by Bloomsbury. Hayes is a recipient of a Guggenheim Fellowship in nonfiction and is a frequent contributor to the New York Times. A collection of his street photography, How New York Breaks Your Heart, was published recently by Bloomsbury. Hayes has completed the screenplay for a film adaptation of Insomniac City, currently in the works from Hopscotch Features, and he is also a co-editor of Oliver Sacks's posthumous books. He lives in New York. Visit his website at billhayes.com
or
Not Currently Available for Direct Purchase