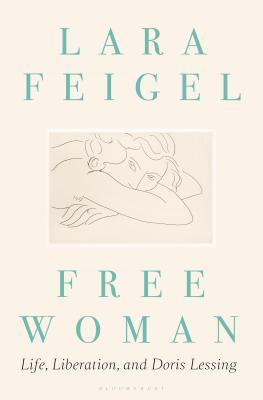 Free Woman (Hardcover)
Life, Liberation, and Doris Lessing
Bloomsbury Publishing, 9781635570953, 336pp.
Publication Date: May 8, 2018
* Individual store prices may vary.
Description
An intense exploration of the life and works of Doris Lessing and how their themes are reflected in the writer's own life.
Free Woman begins at a wedding and ends in the African bush. This is a memoir of Feigel's own journey as a writer, which becomes enmeshed with that of Doris Lessing. Co-opting a dead novelist into an obsessive, ambivalent relationship, Feigel sets about learning from her about how to live.
Rereading The Golden Notebook in her midthirties, shortly after Doris Lessing's death, Lara Feigel discovered that Lessing was a writer who spoke directly to her about her experiences as a woman, writer, and mother in a way that no other novelist had done. At a time when she was dissatisfied with the constraints that she felt she and her generation seemed to accept blindly, Feigel was enticed particularly by Lessing's vision of freedom.
Part memoir, part biography, and part literary criticism, Free Woman is an examination of Lessing's life and work, structured as a series of nine investigations of sexual, psychological, intellectual, and political freedom. Feigel combines incisive writing, elegant exploration, and intimate revelations with a delicate sensitivity to relationships (both real and in literature) in times of great stress to mesmerizing effect.
About the Author
Lara Feigel, Ph.D., is senior lecturer in English at King's College London, where her research is centered on the 1930s and the Second World War. She has published journalistic pieces for various publications, including the Guardian, Prospect, and History Today. Feigel is the author of The Love-charm of Bombs and The Bitter Taste of Victory. She lives in West Hampstead, London.
Praise For Free Woman: Life, Liberation, and Doris Lessing…
"The most intriguing and certainly the bravest work of literary scholarship I have ever read." - Deborah Levy
"A fascinating mix of literary criticism, cultural history and memoir so exposing that it can almost make you blush. Feigel writes with singing clarity in prose that sometimes verges on the hypnotic. Her reimagining of Lessing's home and childhood in what was then Rhodesia is vivid and enthralling . . . Absorbing and highly enjoyable . . . Breathtakingly frank." - The Sunday Times
"The prolific scholar and reviewer on the life and works of Doris Lessing." - Guardian, "Picks of 2018"
"Lara Feigel's Free Woman has taken on the formidable Doris for a new generation . . . Feigel has the gift of converting complex thoughts into coherent sentences that delight." - The Times
"Free Woman is worth reading as a piece of complicated thought, and one that's funny and sexy and frank, to boot." - NPR.org
"Combining memoir, biography, and sensitive close readings of Lessing's fiction and autobiography, Feigel creates an unusually intimate exploration of the intertwining of Lessing's life with her own . . . A graceful, absorbing meditation on two lives." - Kirkus Reviews
"Feigel is a fine writer and renders Lessing's quest in riveting fashion." - Publishers Weekly
"Much of Free Woman is beautiful--in particular, Feigel's descriptions of the pleasures of swimming in the ocean, and a focus on sensuality that comes as much from glorying in the body as from sexual opportunity." - Newsday
"Ironic, beautiful and rather moving." - Joanna Kavenna, Literary Review
"Feigel examines Lessing primarily through her own experiences, an approach that introduces Lessing to a new audience and dulls her edge. The genre of the 'bibliomemoir' has grown in recent years, in part because its combination of close readings and contemporary inquiry often leads to new and lively interpretations of classic works . . . Feigel reads thoroughly and carefully . . . More than Lessing's adventures, what comes across most strongly in the book is Feigel's sensitivity and thoughtfulness." - New York Review of Books
"Feigel treats the close readings of Lessing's novel [The Golden Notebook] and life with tenderness and compassion. While the biography she puts forward is factually interesting, the emotional nuance and ambivalence she imbues it with elevates her portrait of Lessing to one of intimate importance, for the reader as well as the writer. Stylistically, Free Woman is elegantly written, gracefully balancing Feigel's depth and breadth of research with her incisive, personal perceptions and awareness . . . Exploring the life and work of Doris Lessing, Lara Feigel combines biography, literary criticism and memoir to create a mesmerizing meditation on womanhood." - Starred review, Shelf Awareness
"Free Woman is a rare and unusual book. It is part literary criticism, part memoir. Wholly engaging . . . Free Woman is a brave book, written by and about a brave woman, Feigel's willingness to lay bare her own life allows the world of Doris Lessing, in all her complicated, contradictory, self-centered, generous genius, to come to life." - Irish Times
"In Free Woman, Lara Feigel charts her decision, prompted by rereading Doris Lessing, to experiment with sexual, intellectual and political freedom." - New Statesman, "What to Read in 2018"
"Wonderfully evocative . . . [Feigel] is an accomplished writer . . . Free Woman is not a biography, but the same artistic process is at work: as a biographer, you think you are going to possess your subject, but they always end up possessing you. It's fertile ground, and Feigel a fine explorer. I really enjoyed this book." - Sara Wheeler, Spectator
"[Feigel] is an exceptional storyteller, braiding the chronicles of exiled writers with life back in Germany. And the move is an intelligent way of showing that postwar cultural history has to be considered in a transcontinental light. . . . Feigel's book is one of the most original recreations of postwar Germany we have." - The Los Angeles Review of Books on THE BITTER TASTE OF VICTORY
"Essential for those interested in postwar Germany; the impact World War II had on the arts; and the role that individuals such as filmmaker Billy Wilder, writer Martha Gellhorn, and actress Marlene Dietrich had in rebuilding Germany." - Library Journal starred review on THE BITTER TASTE OF VICTORY
"Feigel powerfully describes the destruction and suffering that these Americans and Brits confronted . . . She also skillfully represents the predicament faced by these figures--and indeed by the civilized world." - The Wall Street Journal on THE BITTER TASTE OF VICTORY
"Many individuals had to come to terms with the evil they saw and with themselves, and Feigel does a masterful job in sorting it out. This is uniquely nuanced history." - Booklist on THE BITTER TASTE OF VICTORY