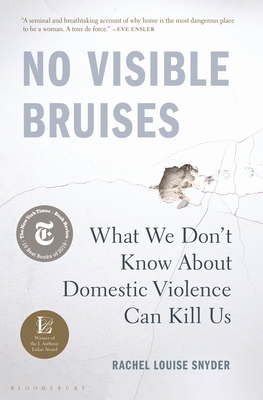 No Visible Bruises
What We Don't Know About Domestic Violence Can Kill Us
Hardcover

* Individual store prices may vary.
Other Editions of This Title:
Digital Audiobook (3/17/2021)
Paperback (6/9/2020)
MP3 CD (9/3/2019)
Description
WINNER OF THE HILLMAN PRIZE FOR BOOK JOURNALISM, THE HELEN BERNSTEIN BOOK AWARD, AND THE LUKAS WORK-IN-PROGRESS AWARD * A NEW YORK TIMES TOP 10 BOOKS OF THE YEAR * NATIONAL BOOK CRITICS CIRCLE AWARD FINALIST * LOS ANGELES TIMES BOOK PRIZE FINALIST * ABA SILVER GAVEL AWARD FINALIST * KIRKUS PRIZE FINALIST

NAMED ONE OF THE BEST BOOKS OF 2019 BY: Esquire, Amazon, Kirkus, Library Journal, Publishers Weekly, BookPage, BookRiot, Economist, New York Times Staff Critics

"A seminal and breathtaking account of why home is the most dangerous place to be a woman . . . A tour de force." —Eve Ensler

"Terrifying, courageous reportage from our internal war zone." —Andrew Solomon

"Extraordinary." —New York Times ,"Editors' Choice"

"Gut-wrenching, required reading." —Esquire

"Compulsively readable . . . It will save lives." —Washington Post

"Essential, devastating reading." —Cheryl Strayed, New York Times Book Review

An award-winning journalist's intimate investigation of the true scope of domestic violence, revealing how the roots of America's most pressing social crises are buried in abuse that happens behind closed doors.

We call it domestic violence. We call it private violence. Sometimes we call it intimate terrorism. But whatever we call it, we generally do not believe it has anything at all to do with us, despite the World Health Organization deeming it a "global epidemic." In America, domestic violence accounts for 15 percent of all violent crime, and yet it remains locked in silence, even as its tendrils reach unseen into so many of our most pressing national issues, from our economy to our education system, from mass shootings to mass incarceration to #MeToo. We still have not taken the true measure of this problem.

In No Visible Bruises, journalist Rachel Louise Snyder gives context for what we don't know we're seeing. She frames this urgent and immersive account of the scale of domestic violence in our country around key stories that explode the common myths—that if things were bad enough, victims would just leave; that a violent person cannot become nonviolent; that shelter is an adequate response; and most insidiously that violence inside the home is a private matter, sealed from the public sphere and disconnected from other forms of violence. Through the stories of victims, perpetrators, law enforcement, and reform movements from across the country, Snyder explores the real roots of private violence, its far-reaching consequences for society, and what it will take to truly address it.
Praise For No Visible Bruises: What We Don't Know About Domestic Violence Can Kill Us…
"Extraordinary . . . [No Visible Bruises] takes apart the myths that surround domestic violence. . . In its scope and seriousness--its palpable desire to spur change--this book invites reflection not only about violence but about writing itself . . . [Snyder] brings all of fiction's techniques to this new book--canny pacing, an eye for the animating detail and bursts of quick, confident characterization. There is a fullness and density to every one of her subjects . . . She glides from history to the present day, from scene to analysis, with a relaxed virtuosity that filled me with admiration. This is a writer using every tool at her disposal to make this story come alive, to make it matter." - Parul Sehgal, New York Times, "Editors' Choice"

"[Snyder] has written a book about everything: about men who beat and kill their wives or girlfriends; about people who work to predict murder, and those who try to heal the abusers; and also, deeply, about gender, poverty, depression, despair, privilege, law enforcement, incarceration, justice, mental health, and politics . . . It takes a writer of uncommon talent and confidence to pull this off. Snyder's stories are about people, every single one of whom is drawn empathically. Her investigation is intellectual and unsparingly complex." - Masha Gessen, New Yorker's "Page-Turner" blog

"Compulsively readable . . . In a writing style that's as gripping as good fiction, as intimate as memoir and deeply informed, [Snyder] takes us into the lives of the abused, the abusers and the survivors. . . The stories are devastating, but Snyder keeps us reading by pointing us toward possible solutions . . . After a few chapters, I was telling a prosecutor friend that everyone in her office--no, everyone in the state who deals with family violence--had to read this book. Because it will save lives." - The Washington Post

"Powerful . . . Snyder exposes this hidden crisis by combining her own careful analysis with deeply upsetting and thoughtfully told accounts of the victims . . . [An] important book." - New York Times Book Review

"Gut-wrenching, required reading." - Esquire,"Best of the Year"

"Snyder [goes] both wide and deep . . . her empathy for the victims is powerful, and infectious. But so is her interest in the perpetrators, some of whom may be able to recover, to change and atone. And as she makes very clear, those who undertake reform -- studying and quantifying risk, asking smart questions about whether women's shelters help or hurt, counseling survivors and getting them the support they need -- are heroes." - Los Angeles Times

"A brilliant work . . . what makes it move with the suspense of a beach novel is Snyder's passionate storytelling, [which] often soars to the point of lyricism but remains unfailingly honest." - Ms. Magazine

"Should be required reading for lawmakers across the country." - Minneapolis Star Tribune

"Snyder's in-depth reporting and vivid writing imbue the book with drama and tension . . . A welcome addition to the efforts that bring this brutal crime out from behind closed doors and provide hope for the future." - Los Angeles Review of Books

"A powerful exploration of the sinister, insidious nature of domestic violence in America… Bracing and gut-wrenching, with slivers of hope throughout, this is exemplary, moving reportage on an important subject that often remains in the dark due to shame and/or fear." - Kirkus Reviews, starred review

"[A] powerful investigation into intimate partner abuse . . . with closely observed, compassionate portraits of victims, advocates, abusers and police. Penetrating and wise, and written in sometimes novelistic prose, Snyder's sobering analysis will reward readers' attention." - Publishers Weekly, "Best of the Year," starred review

"A searing examination of domestic violence in the U.S." - Melissa Jeltsen, The Huffington Post

"Snyder's willingness to tell the intimate stories of domestic violence sheds light on an often neglected subject. All of us have a stake in becoming more aware of and responsive to private violence, and this book proves why." - BookPage, starred review

"This sympathetic look at victims, perpetrators, and intervention efforts by law enforcement and social agencies makes for compelling reading. . . Snyder's chilling body of evidence shows that domestic abuse is a pervasive epidemic that can and does happen everywhere." - Booklist

"We can't afford not to be talking about domestic violence. Snyder argues that it has reached epidemic proportions in the country -- it accounts for 15 percent of all violent crimes -- with devastating effect. She combines her analysis with interviews with survivors, advocates, and occasionally, the perpetrators themselves." - New York Times, "Books To Watch For In May"

"An incredible piece of reporting" - BookRiot, "Best of the Year So Far"

"By focusing on case studies--individuals' stories--Snyder returns humanity to the horrifying larger issue . . . placing domestic violence in relationship to issues of economics, education, employment, the criminal justice system and other, more 'public' types of violence . . . No Visible Bruises speaks with urgency about solving a problem that, however invisible, affects us all." - Shelf Awareness

"No Visible Bruises is a seminal and breathtaking account of why home is the most dangerous place to be a woman. Through brilliant insights and myth-busting research, compelling storytelling, and a passionate focus on truth-telling, Rachel Louise Snyder places domestic violence exactly where it should be, smack in the center of everything. A tour de force." - Eve Ensler, author of THE VAGINA MONOLOGUES and THE APOLOGY

"This is terrifying, courageous reportage from our internal war zone, a fair and balanced telling of an unfair and unbalanced crisis in American family life. Snyder writes with stark lucidity and great compassion, and tells stories of utmost urgency with considerable narrative skill." - Andrew Solomon, National Book Award-winning, bestselling author of THE NOONDAY DEMON, FAR FROM THE TREE, and FAR AND AWAY

"Snyder's singular achievement is that she illuminates the dark corners of this specter as a way to understand it and thus eliminate it." - J. Anthony Lukas Prize, Judges' Citation for NO VISIBLE BRUISES

"I cannot imagine how Rachel Louise Snyder had the strength to write this book—it's like the journal of a war correspondent. By witnessing the toll of family violence, she wants to take public this private horror. No Visible Bruises is a keening for the battered and a shout of outrage for the lost, a case for the higher awareness that could make us better humans." - Ted Conover, author of NEWJACK, and director of NYU's Arthur L. Carter Journalism Institute

"No Visible Bruises snapped open my eyes to the direct link between patriarchal entitlement and violence against women, between the way men are raised to the way women are treated. From her dismantling of the term 'domestic violence,' which not only couches a pervasive public menace in homey, private terms, but echoes a sick culture in denial, to her connecting the dots between acts of terror and acts of domestic terror, Snyder's is an indispensable, important book." - Carina Chocano, author of YOU PLAY THE GIRL

"There is a compelling determination to Snyder's writing as well as to her suggestion that if we tell these stories enough, that if we find the right way to tell them, then maybe someday we won't have to tell them anymore." - Ploughshares
Bloomsbury Publishing, 9781635570977, 320pp.
Publication Date: May 7, 2019
About the Author
Rachel Louise Snyder's work has appeared in the New Yorker, the New York Times Magazine, the Washington Post, the New Republic, the Atlantic, and elsewhere. The recipient of an Overseas Press Award for her work on This American Life, she is the author of Fugitive Denim and the novel What We've Lost is Nothing. No Visible Bruises received the J. Anthony Lukas Work-in-Progress Award. An associate professor at American University, Snyder lives in Washington, D.C. Follow her on Twitter at @RLSWrites
1. Did the book change your mind or alter any preconceived notions you may have had about domestic violence? Which ones and how?
2. Consider Snyder's recounting of Rocky and Michelle's story. Discuss your feelings toward the friends and relatives that surrounded the couple. What is your response to their interactions with Rocky and Michelle?
3. Snyder mentions that there is no law against "psychological abuse" in the US. Do you believe such a law needs to exist? Why or why not?
4. Snyder examines how domestic violence is linked to other issues like poverty, education, health care, and others. Discuss how this correlation plays out, as well as any personal experiences you may have had or observations you have made that illustrate how these issues are connected.
5. Were there any statistics or anecdotes in the book that you found particularly surprising or upsetting, or any personal stories that you found particularly moving or relatable? If so, which ones and why?
6. Snyder discusses cultural and societal norms, especially around gender, that may reinforce or even encourage the dynamics that lead to domestic violence. Do you think this is a fair assessment? Why or why not? Discuss the ways you believe societal mores do or do not contribute to a broader culture of violence and misogyny.
7. Of all the interventions and techniques Snyder investigates as possible ways to slow or halt the cycle of domestic violence, which one(s) do you think are the most crucial and why?
8. Were there any aspects of domestic violence not discussed in No Visible Bruises that you wish had been? If so, which?
9. Snyder writes, "Whatever we envision when we envision a victim . . . none of us ever picture ourselves." Did this statement resonate with you? Do you think that is an accurate assertion? Why or why not?
10. Did the book leave you feeling hopeful or pessimistic about the future in terms of domestic violence rates and justice for the victims of domestic violence?
Coverage from NPR