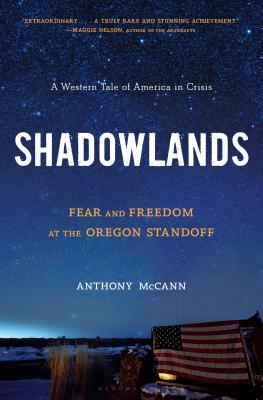 Shadowlands
Fear and Freedom at the Oregon Standoff
Hardcover

* Individual store prices may vary.
Description
Los Angeles Times Bestseller

An "epic exploration" of the 2016 right-wing Oregon Occupation—"an excellent microcosm by which we might better understand our difficult national history and distressing political moment" (Maggie Nelson).

In 2016, a group of armed, divinely inspired right-wing protestors led by Ammon Bundy occupied the Malheur National Wildlife Refuge in the high desert of eastern Oregon. Encamped in the shadowlands of the republic, insisting that the Federal government had no right to own public land, the occupiers were seen by a divided country as either dangerous extremists dressed up as cowboys, or as heroes insisting on restoring the rule of the Constitution. From the Occupation's beginnings, to the trials of the occupiers in federal court in downtown Portland and their tumultuous aftermaths, Shadowlands is the resonant, multifaceted story of one of the most dramatic flashpoints in the year that gave us Donald Trump.

Sharing the expansive stage with the occupiers are a host of others—Native American tribal leaders, public-lands ranchers, militia members, environmentalists, federal defense attorneys, and Black Lives Matter activists—each contending in their different ways with the meaning of the American promise of Liberty. Gathering into its vortex the realities of social media technology, history, religion, race, and the environment—this piercing work by Anthony McCann offers us a combination of beautiful writing and high-stakes analysis of our current cultural and political moment. Shadowlands is a clarifying, exhilarating story of a nation facing an uncertain future and a murky past in a time of great collective reckoning.
Praise For Shadowlands: Fear and Freedom at the Oregon Standoff…
"Strikingly empathetic . . . [Shadowlands] is that rare beast these days--a chronicle of and a meditation on an intensely politicized affair that delves beneath merely partisan concerns to touch its subject's absurd and tragic heart. As such, it's a work of almost foolish courage. . . . Scene by scene and act by act, in a range of literary registers that moves from the lyrical to the satirical, from theory-laced deconstruction to meat-and-potatoes reportage, he tells the tale of doomed, homemade rebellion against a force much larger than bureaucracy: the meaning-destroying, resource-gulping juggernaut of capitalist economics." - New York Times Book Review, Editor's Choice

"A riveting in-depth investigation . . . McCann's arresting and brilliant firsthand account is required reading for anyone interested in the ideological gap between the American Left and Right." - starred review, Publishers Weekly

"A momentous and important non-fiction debut . . . The core subject is nothing less than the nature of American identity and the concept of freedom. Admirably, McCann's ethos is not that of a neutral bystander but of a truth seeker. He thinks through viewpoints with depth and empathy, but he also takes stands and calls out the problematic for what it is. . . . This is a heavily researched and thoughtful book, written with detail and care, that asks big questions of the reader and of the country." - starred review, Booklist

"Shadowlands effects an entertaining, sweeping tone, developing cinematically as a colorful latticework of characters are introduced, documented, and pored over. There is no shortage of fascination in this story." - Los Angeles Review of Books

"An insider account of the Malheur occupation. From the lead-up to the occupation, through the trials and the aftermath, this will be the defining chronicle of a cultural and political moment we could all do better to understand." - Source Weekly

"McCann's account of the 2016 standoff known as the 'Oregon Occupation' defies categorization but is built out of a non-fiction tradition that stretches back to Joan Didion's California essays, Capote's In Cold Blood, and other ambitious works that begin with a violent transgression and radiate outward to take in large swaths of society during a flashpoint crisis. McCann breaks through the accepted narratives of the standoff to get at deeper truths about land in the west, ranching traditions, activist causes, and a host of other issues so central to today's national divide." - CrimeReads

"The story Shadowlands tells is compulsively fascinating, and an excellent microcosm by which we might better understand our difficult national history and distressing political moment. McCann's magnificent prose, ever-questing intellect, wry humor, and uncommon empathy for human and non-human forms of life alike make Shadowlands a truly rare and stunning achievement." - Maggie Nelson, National Book Critics Circle Award winning author of THE ARGONAUTS

"Elegantly rendered and deeply researched, Shadowlands brings seriousness to characters that are easily caricatured, and substance to a subject easily marginalized." - Literary Hub

"Rewarding . . . shreds the reductive narrative foisted upon the occupation, retrieving its participants from caricature." - The Oregonian

"SHADOWLANDS offers fascinating insights and poses interesting questions. . . . a valuable glimpse at a group of often overlooked people contributing to the great divide in American life." - Minneapolis Star Tribune

"It is a different tone. If those [other books] are more from that immersion journalism, seat-of-the-pants, gonzo journalism this is more a poetic touch. . . . He takes a different approach that readers might find 'refreshing'." - State of Nevada, Nevada Public Radio

"Wonderful journalistic detailed history, with deep-rooted significance that the writer helps us comprehend both intellectually and viscerally." - Shawangunk Journal

"The SoCal-based poet brings vivid lyricism to Shadowlands, an account of the 2016 right-wing occupation at the Malheur National Wildlife Refuge." - Portland Monthly

"A nuanced account of the occupation and its aftermath . . . McCann provides plenty of perspectives from locals who thought their uninvited visitors were an aggravating and sometimes scary nuisance. But with an impressive act of imaginative sympathy, McCann also sees and describes an admirable humanity in the rebels, even as he finds many of their ideas perplexing, absurd, or dangerous . . . it's possible this book could help some Americans see past that hate and begin to understand one another." - Reason

"Marvelous . . . an essential book about our weird, current American moment." - Poetry Magazine

"With empathy, poetry, and a keen, clear-eyed sense of the weirdness of it all, Anthony McCann goes far beyond the cartoon version of the Malheur occupation that we all watched on the news. Shadowlands is a powerful reckoning with history and all the Big American Words—freedom, democracy, sovereignty—that echo through the silence and violence of the American West." - Ben Ehrenreich, author of THE WAY TO THE SPRING

"Anthony McCann knows the Western past has not vanished; it has just gotten weirder. Shadowlands takes us down a Western rabbit hole where a delusional settler story staged for the internet on sacred Native ground illuminates the United States we now inhabit. This is a classic American story." - Richard White, Pulitzer Prize finalist for Railroaded

"As cable-news programmers and even congressmen find their profit in driving ordinary Americans and right-wing paramilitaries ever closer to civil war, Anthony McCann's provocative, empathetic, and patriotic Shadowlands is our alarm bell in the night." - Woody Holton, author of National Book Award finalist Unruly Americans and the Origins of the Constitution

"What makes Shadowlands exceptional is not only that it provides a critically informed look at the Oregon standoff, but how it offers a clear exegesis of the accumulated history that has gone into forming the American West and, by extension, America itself." - Brian Evenson, author of A Collapse of Horses and The Wavering Knife

"Shadowlands is an extraordinarily thoughtful exploration of division in this country that treats the Malheur Standoff for what it was: a reckoning over what kind of country we should, or shouldn't, be living in." - Nick Reding, author of Methland: The Death and Life of an American Small Town

"A vivid and exciting account of a telling historic event." - Arlie Hochschild, author of National Book Award finalist Strangers in Their Own Land

"A nuanced account . . . McCann has a sharp eye for detail, he knows the historical and natural settings, and he also understands how to get out of the way of his characters." - Alta
Bloomsbury Publishing, 9781635571202, 448pp.
Publication Date: July 2, 2019
About the Author
Anthony McCann is the author of the poetry collections Thing Music, I Heart Your Fate and Moongarden. He currently teaches creative writing at the California Institute of the Arts and in the Low-Residency MFA program of the University of California, Riverside. Born and raised in the Hudson Valley, McCann now lives in the Mojave Desert.