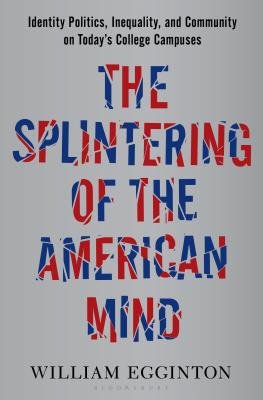 The Splintering of the American Mind
Identity Politics, Inequality, and Community on Today's College Campuses
Hardcover

* Individual store prices may vary.
Description
A timely, provocative, necessary look at how identity politics has come to dominate college campuses and higher education in America at the expense of a more essential commitment to equality.

Thirty years after the culture wars, identity politics is now the norm on college campuses-and it hasn't been an unalloyed good for our education system or the country. Though the civil rights movement, feminism, and gay pride led to profoundly positive social changes, William Egginton argues that our culture's increasingly narrow focus on individual rights puts us in a dangerous place. The goal of our education system, and particularly the liberal arts, was originally to strengthen community; but the exclusive focus on individualism has led to a new kind of intolerance, degrades our civic discourse, and fatally distracts progressive politics from its commitment to equality.

Egginton argues that our colleges and universities have become exclusive, expensive clubs for the cultural and economic elite instead of a national, publicly funded project for the betterment of the country. Only a return to the goals of community, and the egalitarian values underlying a liberal arts education, can head off the further fracturing of the body politic and the splintering of the American mind.


With lively, on-the-ground reporting and trenchant analysis, The Splintering of the American Mind is a powerful book that is guaranteed to be controversial within academia and beyond. At this critical juncture, the book challenges higher education and every American to reengage with our history and its contexts, and to imagine our nation in new and more inclusive ways.
Praise For The Splintering of the American Mind: Identity Politics, Inequality, and Community on Today's College Campuses…
"Timely . . . The Splintering of the American Mind examines the competing costs and benefits of the country's continuing shift away from a commonly accepted--albeit white--canon of shared narratives to an 'exploration and celebration of marginalized racial and sexual identities.' Egginton devotes a large section of the book to one of the most vexing problems of our time--rampant inequality of both economic and social capital--and demonstrates the complicated and sometimes inadvertent ways in which our winner-take-all higher education system exacerbates and locks this in." - New York Times Book Review

"Provocative . . . Egginton's pot-stirring prose . . . will delight some readers and rile others, but his book will interest anyone wanting a better sense of the current mood surrounding American higher education." - Publishers Weekly

"An eloquent and moving defense of higher education's contribution to the public good. Insisting that identity politics isn't the enemy of community, and democracy is still a revolutionary idea, he steps nimbly around either/or choices, pointing the way forward to a more truly equitable campus--and country." - Laura Kipnis, author of UNWANTED ADVANCES

"An incisive and nuanced diagnosis of the ruptures in our society that so challenge higher education today. His call for a universal experience of the liberal arts as essential to democracy is as compelling as any I have seen." - Adam Falk, President of the Alfred P. Sloan Foundation

"The Splintering of the American Mind challenges all those working in higher education to return to first principles. Egginton offers constructive criticism delivered with wit, learning, and a welcome glimpse at where the 'culture wars' of the 1980s and 90s wound up, even as his account points in helpful new directions." - Christopher S. Celenza, Ph.D., Dean of Georgetown College at Georgetown University

"A compassionate clarion call for academia to help reconstruct a national community sundered by divisions of class, geography, and education. He provides a convincing blueprint for how educators can promote community through changes in curriculum, particularly through a re-emphasis on the humanities, and public policy." - David Goldfield, Robert Lee Bailey Professor of History and author of THE GIFTED GENERATION

"A must-read book. For anyone concerned about the state of modern America and Higher Education's role in it, Egginton provides an artful and passionate plea for America to revive its public sphere, and to renew our collective sense of commonwealth. Challenging all viewpoints and taking no prisoners, there is a dynamic and arresting urgency to his prose." - Ben Vinson III, Dean, Columbian College of Arts & Sciences, George Washington University, and author of BEFORE MESTIZAJE
Bloomsbury Publishing, 9781635571332, 272pp.
Publication Date: August 28, 2018
About the Author
William Egginton is a philosopher and literary scholar at the Johns Hopkins University, where he is the inaugural director of the Alexander Grass Humanities Institute, holds the Andrew W. Mellon Chair in the Humanities, and chairs the department of German and Romance Languages and Literatures. He is the author, editor, or translator of more than a dozen books, including How the World Became a Stage (2003), Perversity and Ethics (2006), A Wrinkle in History (2007), The Philosopher's Desire (2007), The Theater of Truth (2010), In Defense of Religious Moderation (2011), and The Man Who Invented Fiction: How Cervantes Ushered In the Modern World (2016).
or
Not Currently Available for Direct Purchase