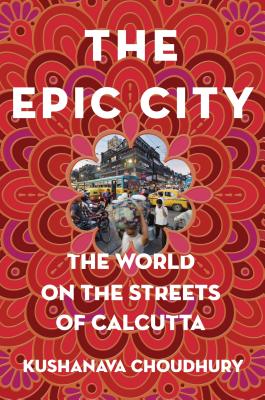 The Epic City (Hardcover)
The World on the Streets of Calcutta
Bloomsbury USA, 9781635571561, 272pp.
Publication Date: January 9, 2018
Other Editions of This Title:
MP3 CD (4/10/2018)
* Individual store prices may vary.
Description
Shortlisted for the 2018 Ondaatje Prize
Shortlisted for the Stanford Dolman Travel Book of the Year
A masterful and entirely fresh portrait of great hopes and dashed dreams in a mythical city from a major new literary voice.
Everything that could possibly be wrong with a city was wrong with Calcutta.
When Kushanava Choudhury arrived in New Jersey at the age of twelve, he had already migrated halfway around the world four times. After graduating from Princeton, he moved back to the world which his immigrant parents had abandoned, to a city built between a river and a swamp, where the moisture-drenched air swarms with mosquitos after sundown.
Once the capital of the British Raj, and then India's industrial and cultural hub, by 2001 Calcutta was clearly past its prime. Why, his relatives beseeched him, had he returned? Surely, he could have moved to Delhi, Bombay or Bangalore, where a new Golden Age of consumption was being born.
Yet fifteen million people still lived in Calcutta. Working for the Statesman, its leading English newspaper, Kushanava Choudhury found the streets of his childhood unchanged by time. Shouting hawkers still overran the footpaths, fish-sellers squatted on bazaar floors; politics still meant barricades and bus burnings, while Communist ministers travelled in motorcades.
Sifting through the chaos for the stories that never make the papers, Kushanava Choudhury paints a soulful, compelling portrait of the everyday lives that make Calcutta. Written with humanity, wit and insight, The Epic City is an unforgettable depiction of an era, and a city which is a world unto itself.
About the Author
Kushanava Choudhury grew up in Calcutta and New Jersey. After graduating from Princeton University he worked as a reporter at the Statesman in Calcutta. He went on to receive a PhD in Political Theory from Yale University before returning to Calcutta to write a book about the city. The Epic City is his first book.
Praise For The Epic City: The World on the Streets of Calcutta…
"Passionate and pugnacious, Choudhury's Epic City reveals a man head over heels in love with a badly behaved but alluring metropolis." - New York Times Book Review
"This searching memoir charts the American-born author's relationship with Calcutta . . . 'an impossible place.'" - New Yorker
"It's not a good book--it's a great book . . . I'm filled with enthusiasm." - John McPhee, quoted in Barnes & Noble Review
"Choudhury unearths Calcutta's haunted past--exploring the Bengal famine, Partition, and the Naxalite revolution--and, in beautiful prose, he brings the city to life." - Starred Review, Publishers Weekly
"An insightful melding of family memoir, autobiography, and history that illuminates the politics, society, and culture of 'dirty, disorderly, teeming' Calcutta . . . A candid and often moving history of a city's dramatic past and roiling present." - Kirkus Reviews
"A beautifully observed and even more beautifully written new study of Calcutta. In its author, Kushanava Choudhury, we clearly have an important new talent." - William Dalrymple, The Guardian, "Best Holiday Reads 2017"
"Witty, polished, honest and insightful, The Epic City is likely to become for Calcutta what Suketu Mehta's classic Maximum City is for Mumbai." - The Observer
"[A]s The Epic City continues, it opens out into some beautifully drawn out episodes . . . the end of Chaudhuri's story slows down to note Calcutta's river, the Ganges, which he described tenderly as the colour of 'milky tea', and in a lovely ending, he transmits the self-renewing, infinitely modern energy of the city, which seems everywhere decaying but in fact is always 'just beginning'." - Spectator, "Books of the Year"
"As the city's rich and varied history swirls about him along the lively streets and sidewalks . . . the author remains an adept, wonder-filled and thoughtful tour guide . . . Choudhury's passion never wanes." - BookPage
"[Choudhury] reveal[s] the living, breathing urban organism that is Calcutta . . . Like all good epics, Choudhury's heartfelt and well-observed portrait of the city of his birth promises to stand the test of time." - Literary Review
"Author Kushanava Choudhury's forte is history, well and freshly told . . . He sharply draws individuals, and the city is experienced as an imprint on their characters, both from experiences that happened that morning and as palimpsests." - The Christian Science Monitor
"He writes sparingly, a literary style interspersed with a journalistic streak, a satisfying blend that embraces the reader and makes the noise and squalor of Calcutta almost inviting." - Seattle Book Review
"Kushanava Choudhury takes readers inside Calcutta, through the chaos of its 'taxi-rickshaw-human traffic,' the splendor of its street symphonies. The Epic City is a vivid tale of migration by an author at home in the world. It is a story of a city, yes, but also of a young man coming of age and a young couple finding their life together. A beautiful book." - Adam Bradley, author of BOOK OF RHYMES
"In a book filled with love, fascination and frustration [Choudhury] explores street scenes, delves into the seeming chaos and memorably reveals the minutiae of real people's lives." - Choice Magazine