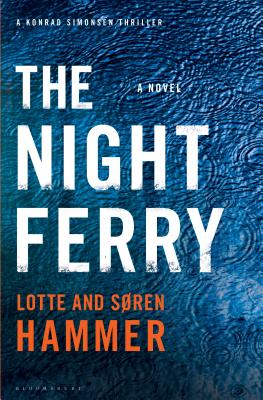 The Night Ferry (A Konrad Simonsen Thriller) (Hardcover)
Bloomsbury Publishing, 9781635571622, 352pp.
Publication Date: July 3, 2018
* Individual store prices may vary.
Description
A riveting crime novel from the internationally bestselling authors of The Hanging and The Girl in the Ice--the fifth book in the Konrad Simonsen series.
Sixteen children and four adults are killed in a devastating boat crash in Copenhagen. Detective Chief Superintendent Konrad Simonsen is called in, only to discover that this was no accident and that one of the passengers has a very personal connection to the homicide team.
Reeling from this revelation and not knowing who to trust, Simonsen follows a trail that eventually leads him to Bosnia and a network of criminal misconduct. All evidence points towards one shady figure: a high-ranking army specialist with a suspicious past. But the more Simonsen digs, the further the truth slips from his grasp.
About the Author
LOTTE AND SOREN HAMMER are siblings. A Price for Everything is the second book in a series following Detective Konrad Simonsen and his team. Their first book, The Hanging, was published in English in 2013. The writing pair have a huge following throughout Europe.
Praise For The Night Ferry (A Konrad Simonsen Thriller)…
"Harrowing . . . [a] tour de force . . . This masterly indictment of bureaucratic ineptitude, mismanagement, and corruption is a must-read." - Publishers Weekly, starred review
"Combines the fascinations of a police investigation with the suspense of a courtroom novel and the intrigue of a spy thriller. This satisfying book fulfills its ambitious mandate on every level." - The Wall Street Journal
"The Night Ferry is the Hammers' most complex and challenging work to date, taking the usual cast--and some other characters--into unexpected places for unpredictable reasons. It zigs and zags delightfully before ending in a satisfying place." - Bookreporter.com
"Several factors elevate The Girl in the Ice above the run-of-the-mill police-procedural maniac-murderer hunt . . . Cultural and personal wisdom . . . permeates the book." - The Wall Street Journal on THE GIRL IN THE ICE
"Nordic noir that will leave readers chilled to the bone . . . Enthralling." - Booklist on THE LAKE
"A deftly written procedural with clear appeal for fans of Scandinavian crime fiction, particularly those who delight in riveting investigative detail and psychological intricacies." - Booklist on THE VANISHED
"Outstanding . . . Intelligent and complex." - Publishers Weekly on THE HANGING
"Searing . . . The Hammers (a brother-sister writing team) expose the moral turpitude of a country lacking a national law that criminalizes the buying of sex." - starred review, Publishers Weekly on THE LAKE