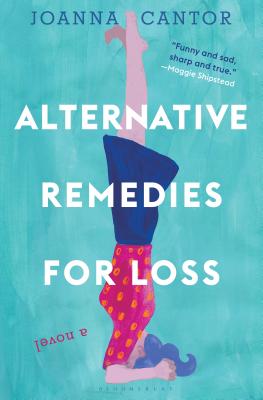 Alternative Remedies for Loss
Hardcover

* Individual store prices may vary.
Other Editions of This Title:
Paperback (5/7/2019)
Description
An Amazon Best of the Month Selection for May 2018

A slyly funny coming-of-age novel about a young woman fumbling her way into the mysteries of loss and the travails of adulthood as she tries to make sense of a vanished mother's legacy.

When 22-year-old Olivia learned that her mother had only months to live, she pulled up roots, leaving Vassar and her career plans far behind to be with her mother for her last days. And yet, just four months after her mother's death, everyone in Olivia's family already seems ready to move on. Her brothers are settled comfortably in careers and families of their own; her father has already started to date again, inviting a woman named June on a family trip. Still reeling from the loss, Olivia looks for a new start of her own, throwing herself headlong into Manhattan's fast-moving media world, where she is alternately demeaned by bosses and pursued by men.

But as Olivia tries to piece together an adulthood without her mother to guide her, she makes a shocking discovery: a secret romantic correspondence her mother had with a man who only signed each letter "F." As she tries to untangle the mystery of F, Olivia will journey halfway across the world, to an ashram in rural India, on a quest that will reconfigure everything Olivia thought she knew about her family and her own place in an increasingly complex world.


A profoundly moving and keenly observed contemplation of the debts we owe to the past and the ways we discover our futures, Alternative Remedies for Loss is the rare sort of book that can break and mend your heart in a single and unforgettable read.
Praise For Alternative Remedies for Loss…
"[A] stellar debut . . . Cantor's novel is not only full of unexpected turns but hits all the right emotional notes." - Publishers Weekly

"A sharp and witty glimpse inside a functionally dysfunctional family, Cantor's first novel is heartbreakingly honest. Fans of Helen Fielding, Emma Straub, and Maggie Shipstead will appreciate Olivia's zest for life and capacity for personal growth. With a delightfully imperfect heroine, vibrant settings, and snappy dialogue, this is a whip-smart debut." - Booklist

"Joanna Cantor's debut novel is sure to become the Eat, Pray, Love for the millennial generation." - Real Simple, "Best Books of 2018 (So Far)"

"Funny, heartbreaking, and incredibly intimate." - Hello Giggles

"Joanna Cantor's debut deals with parental loss and the many ways in which we search for our true selves, even though we have no idea what we're looking for or what exactly we might find. In the book, Olivia is just 22 when her mother dies, and this event leads her on a journey of self-discovery (why, yes, there are many bad experiences with men along the way). Along the way, Olivia realizes what things from her earlier life she should hold onto and learn from, and what is okay to surrender to the past." - NYLON

"This debut coming-of-age story focuses on a young woman coming to terms with a life without her mother. As most of her family has seemed to move on, she tries to create a path for herself in the cutthroat world of Manhattan media. As she begins to cope, she unravels a mystery about her mother that takes her on an unexpected journey halfway around the world." - Fodor's Travel

"Though this is her debut, Cantor's novel actually tackles some of the hardest things to write about clearly: the contradiction of life in your early 20s, where everything seems to be standing still yet happening too fast and all at once; grief and the feeling of permanent loss; and recovery, acceptance of our lives the way they are. And she manages to do all this effortlessly" - BookTrib

"In Joanna Cantor's first novel, a young woman grieving her mother finds herself grappling with an unexpected secondary loss: her sense of her place in the world. So begins Olivia's quest for solace and purpose, a journey that will lead her through toxic love affairs and Indian ashrams and places in between. Funny and sad, sharp and true, Alternative Remedies for Loss kept me reading late into the night, riveted by the unfolding of a life." - Maggie Shipstead, bestselling author of SEATING ARRANGEMENTS and ASTONISH ME

"A young woman reeling from her mother's death. A father who has moved on too soon. A mysterious lover living continents away. From these strands, Joanna Cantor has woven a beautiful tapestry. Alternative Remedies For Loss is wise, moving, and funny. It's a compelling, memorable debut." - Joshua Henkin, author of MATRIMONY

"With this sharp and lovely debut, Joanna Cantor weaves a spell of what it feels like to be unmoored by grief but also by the mysterious process of becoming an adult. This is a sexy, smart and subtly moving book about youth and loss and, ultimately, grace." - Joanna Hershon, author of SWIMMING

"Alternative Remedies for Loss is a tender, juicy novel about family, failures, and finding one's place in the world. Bright, unpredictable Olivia captures perfectly what it feels like to be young and searching, all while caught in the psychic whirlpool of grief. Get ready to fly through this book, and be prepared for Cantor's prose to charm and surprise you the whole way." - Molly Prentiss, author of TUESDAY NIGHTS IN 1980

"Cantor's debut is a sharp, unflinching, and entire study of a life as it changes." - Rebecca Dinerstein, author of THE SUNLIT NIGHT
Bloomsbury Publishing, 9781635571714, 320pp.
Publication Date: May 8, 2018
About the Author
Joanna Cantor holds an MFA from Brooklyn College. She was awarded a Vermont Studio Center Fellowship. She lives in Brooklyn with her husband and dog.
1. Olivia believes that she's affected by her mother's death more than any other member of her family. Do you believe that's true? Why or why not?
2. Did you empathize with Olivia's grief process? Why or why not? Did your feelings towards her change throughout the book? If so, how?
3. What prompts Olivia to change her mind about wanting to meet Franco?
4. Do you think Olivia regrets finding out about her mother and Franco's relationship? The information she uncovers makes her see her mother in a different light. Is the effect it has on her negative or positive?
5. How does Olivia change between her first and second trips to India? How are those changes reflected in her experiences of the country during her two visits?
6. Have you ever traveled to a foreign place that had the same effect on you as India seems to have on Olivia? If so, describe your experience. Why do you think Olivia has such strong reactions—both emotional and physical—to being in India?
7. Compare and contrast Olivia and Ty's reactions to their mother's death in the year after it happens.
8. Do you agree with Olivia's decision not to tell her brothers what she finds out about her mother? Why or why not? What impact do you think that knowledge would have had on Ty and Alec?
9. Olivia has various romantic relationships/encounters throughout the novel, starting with Geoffrey. Discuss how each of these contributes to her grief process and ability (or lack thereof) to move forward after the loss of her mother, and vice versa.
10. How does June's relationship to Olivia and the other family members evolve as the novel progresses? Do you think it was appropriate for June to accompany them on the trip to India? Why or why not?
11. Discuss Bridget's reaction to Olivia when Olivia stays at her apartment upon returning from India. Why do you think Bridget spoke to Olivia the way she did?
12. We only get a sense of Eleanor's characters through other people's memories of her. Did you feel that you got a full portrait of her character? What can we discern about Eleanor based on other people's recollections of her? How do Franco's memories of Eleanor differ from those of her husband and children?
13. Discuss your feelings about Eleanor's decision to keep her illness a secret from her family and seek treatment independently.
14. Based on what we know about Eleanor, Franco, and their relationship, why do you think Eleanor decided to have an affair with Franco? Do you empathize with her decision or not?
15. Why does Olivia change the concept of her thesis project? How do you think her thesis helps her recover from the loss of her mother?
or
Not Currently Available for Direct Purchase