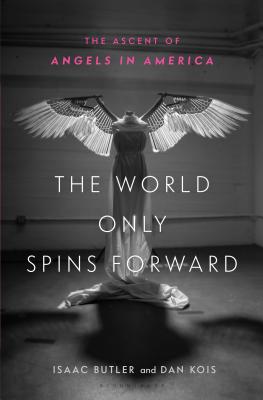 The World Only Spins Forward
The Ascent of Angels in America
Hardcover

* Individual store prices may vary.
Other Editions of This Title:
Paperback (1/7/2020)
Description
"Marvelous . . . A vital book about how to make political art that offers lasting solace in times of great trouble, and wisdom to audiences in the years that follow."— Washington Post

NAMED ONE OF THE BEST BOOKS OF THE YEAR BY NPR

The oral history of Angels in America, as told by the artists who created it and the audiences forever changed by it--a moving account of the AIDS era, essential queer history, and an exuberant backstage tale.

When Tony Kushner's Angels in America hit Broadway in 1993, it won the Pulitzer Prize, swept the Tonys, launched a score of major careers, and changed the way gay lives were represented in popular culture. Mike Nichols's 2003 HBO adaptation starring Meryl Streep, Al Pacino, and Mary-Louise Parker was itself a tour de force, winning Golden Globes and eleven Emmys, and introducing the play to an even wider public. This generation-defining classic continues to shock, move, and inspire viewers worldwide.

Now, on the 25th anniversary of that Broadway premiere, Isaac Butler and Dan Kois offer the definitive account of Angels in America in the most fitting way possible: through oral history, the vibrant conversation and debate of actors (including Streep, Parker, Nathan Lane, and Jeffrey Wright), directors, producers, crew, and Kushner himself. Their intimate storytelling reveals the on- and offstage turmoil of the play's birth--a hard-won miracle beset by artistic roadblocks, technical disasters, and disputes both legal and creative. And historians and critics help to situate the play in the arc of American culture, from the staunch activism of the AIDS crisis through civil rights triumphs to our current era, whose politics are a dark echo of the Reagan '80s.

Expanded from a popular Slate cover story and built from nearly 250 interviews, The World Only Spins Forward is both a rollicking theater saga and an uplifting testament to one of the great works of American art of the past century, from its gritty San Francisco premiere to its starry, much-anticipated Broadway revival in 2018.
Praise For The World Only Spins Forward: The Ascent of Angels in America…
"Best Books to Gift for 2018" - The Cut

"Best Books of the Year" - NPR

"Best Nonfiction Books of the Year" - Electric Literature

"[An] epic oral history. . .Hundreds of interviewees--from playright Tony Kushner to Meryl Streep, who starred in the HBO adaption--lend their insight into both the themes of the play as well as the creative acts required to bring it so stunningly to life." - Maris Kreizman, The Cut, "Best Gifts for Book Lovers"

"A full-bodied portrait of Angels and the many people who nurtured it . . . A vivid, intelligently organized oral history . . . More than just the masterful story of one brilliant play, The World Only Moves Forward demonstrates the essentially collaborative nature of theater as an art form." - Wendy Smith, Washington Post

"The definitive account of a definitive work of American drama. A-." - Entertainment Weekly, "Books to Read, February 2018"

"A fascinating, backstage tour . . . The point is not just to show how this play found its voice, but also to place it in context . . . Theater magic. You've got to love it. And Dan Kois and Isaac Butler have captured a lot of it in The World Only Spins Forward." - Bob Mondello, NPR "Best Books of the Year"

"Like Angels in America itself, this oral history of Tony Kushner's two-part, seven-hour theatrical masterwork contains multitudes . . . capturing the ongoing reverberance and currency of Angels. It also conveys, on a granular level, the determination, heartbreak and competitive fire that go into making great theater . . . The World Only Spins Forward both celebrates and illuminates a great work." - San Francisco Chronicle

"An illuminating assemblage of anecdotes, commentary, and nitty-gritty rehearsal notes . . . The World Only Spins Forward will stand as the definitive account of the birth, life, and legacy of Angels." - American Theatre

"Marvelous . . . a vital book about how to make political art that offers lasting solace in times of great trouble, and wisdom to audiences in the years that follow." - Washington Post

"[A] fascinating oral history." - Vogue

"The World Only Spins Forward is a tribute to a masterwork as well as evidence that Angels in America is as urgent today as it was when it premiered." - Esquire

"The definitive history of this now iconic play in oral history format . . . This gathering of the voices of actors, writers, and others is exceptional . . . Highly recommended for anyone interested in performance, cultural history, and theater." - Starred review, Library Journal

"A brash and buoyant oral history of Angels in America . . . This invaluable origin story also examines the AIDS era and queer history in general." - Starred review, Booklist

"Even those who have never seen Angels will certainly be entertained and will come away with a great appreciation for the play." - Publishers Weekly

"A rich historical resource, the book chronicles the emergence of AIDS and the nation's changing attitudes toward homosexuality from 1978 to 2018, when Angels is set to be revived yet again . . . A chorus of candid, emotional, and often moving testimonies." - Kirkus Reviews

"Compelling, surprising and inspiring . . . The World Only Spins Forward has everything you want in an oral history of Angels in America: historical context, funny and thoughtful memories from hundreds of eyewitnesses and a celebration of an enduring, powerful theater piece." - Shelf Awareness

"Ingenious . . . Captures all the twists and turns of fate that went into the two-part epic's creation with a sense of suspense and drama--from the joy and exuberance to the heartache . . . Butler and Kois place us on intimate terms with the play's characters, ideas, and humanity--and their book, a prescient reminder of the need to follow one's truth in the face of oppression and intolerance, will be an invaluable text for years to come." - Lambda Literary Review

"Butler and Kois have done stellar work here... this isn't just a history of this play, it's a history of a time in America, and the absolute sea change that this play was instrumental in causing." - Tor.com

"We can more than guarantee that you won't read anything quite like this phenomenal collection all year." - PopSugar

"A kaleidoscopic and fabulously entertaining book . . . Even the uninitiated are sure to be moved." - Los Angeles Review of Books

"A must-read historical account for theater lovers, history buffs, and actors alike." - Backstage

"[A] prodigiously reported and deeply engaging book by Isaac Butler and Dan Kois that traces the evolution of Tony Kushner's landmark two-part play about the AIDS crisis. This oral history is, like the play it chronicles, a masterpiece of its art form... the overall effect is like eavesdropping at a reunion of old friends once the boring folks have left and the good booze has been poured." - National Book Review

"[A] superbly paced, enthralling oral history of this now-classic work of theater, Butler and Kois splice interviews with more than 200 figures including Kushner, Meryl Streep, critic Frank Rich, director Oskar Eustis, and Kushner's husband, writer Mark Harris, into an extraordinary narrative of the origin and evolution of a groundbreaking work of genius." - National Book Review

"The World Only Spins Forward is funny, moving, and utterly fascinating, a portrait of artists coming together to make something radically new and beautiful." - Thrillist, "Best Books of 2018"

"Fascinating." - Newsweek

"[A] beautiful literary homage to [Kushner's] theatrical sensation... Its true heart is found in the perspectives and opinions of hundreds of people associated with the play... The resounding voices of actors, authors, playwrights, critics, scholars, and many more echo throughout this impressive historical retrospective." - Bay Area Reporter

"Kois and Butler's sharp pruning and assembly of these lively conversations recreates a living, breathing version of the truth only possible via crowdsourcing . . . The story that emerges is not only one of unbelievable talent and hard work, or even the who's-getting-fired/who's-getting-hired gossip that thickens the broth of any good origin story; no, the real story is the sheer tenuousness of the play's grip on success. Its narrative reveals a number of turning points which, out of either happenstance or angelic interference, all went the right direction . . . Finishing the book . . . leaves the reader feeling as though they've been through something." - Milwaukee Magazine

"Tony Kushner's Angels in America is a significant accomplishment. Significant as well were the tremendous efforts that went into the making of it: the setbacks, doubts, battles, scenes considered and reconsidered, as well as the revelations and epiphanies. All of it is here in The World Only Spins Forward, a vital contribution to our understanding that a great play does not simply descend to Earth, fully formed, like an angel on a wire. This book should be required reading for anyone who cares about art in all its forms." - Michael Cunningham

"A meticulously textured oral history about an extraordinary work of art and the era of its creation, woven out of the words of the genius who created it and all of the artists, producers, and friends whose love, talent, and dedication made it possible." - Anna Deavere Smith

"A wildly entertaining and definitive chronicle of the most important play of its era, The World Only Spins Forward manages to be a fascinating look at the artistic process, a sophisticated case study in how politics informs art, and a probing, lively work of criticism. In digging deep into the singular achievement of Angels in America, Isaac Butler and Dan Kois also make a persuasive case for the oral history itself, a deceptively tricky form that, as they demonstrate, can be as ambitious as any other. An essential part of any culturally-engaged person's library." - Jason Zinoman, New York Times-bestselling author of LETTERMAN: THE LAST GIANT OF LATE NIGHT

"Several people interviewed in this book called Angels in America 'the Hamilton of its time'--which makes reading The World Only Spins Forward the next best thing to being in the room where it happened. It's deep. It's dishy. It's a must-read for theater fans and engaged Americans." - Tim Federle, author of BETTER NATE THAN EVER

"Theater fans, preorder this book right now! It's basically free compared to your Angels in America tickets and it will deepen your experience exponentially." - Rachel Fershleiser

"Extraordinary." - Terry Teachout

"A truly astounding read and worth your time." - Cheryl Strayed, on Twitter, of the Slate feature

"Required reading that kept me up late." - Lin-Manuel Miranda, on Twitter, of the Slate feature

"Offers new perspectives on the creation and legacy of a dramatic masterpiece … I was especially moved by firsthand accounts of the queer community in the shadow of AIDS … [The World Only Spins Forward] had me constantly underlining passages and/or reading them aloud to a friend. Oral histories call out to be shared and appreciated by as many people as possible." - Hank Stephenson, Shelf Awareness

"The World Only Spins Forward chronicles the play's birth, reception, and surprising afterlife in the words of those who made it, and it paints a compelling picture of the community of actors, producers, activists, and stage professionals who transformed a playwright's private vision into a theatrical and cultural event rivaled in our time only by Hamilton. The result is a valuable document of its era, a treasure trove of gossip and creative insight, and a handbook for surviving as an artist in the face of indifference and oppression, and its message urgently deserves to be heard at a moment when what Kushner calls "the Great Work" prepares to begin yet again." - Alec Nevala-Lee, author of ASTOUNDING: JOHN W. CAMPBELL, ISAAC ASIMOV, ROBERT A. HEINLEIN, L. RON HUBBARD, AND THE GOLDEN AGE OF SCIENCE FICTION
Bloomsbury USA, 9781635571769, 448pp.
Publication Date: February 13, 2018
About the Author
Isaac Butler is the coauthor (with Dan Kois) of The World Only Spins Forward: The Ascent of Angels in America, which NPR named one of the best books of 2018. Butler's writing has appeared in New York magazine, Slate, the Guardian, American Theatre, and other publications. For Slate, he created and hosted Lend Me Your Ears, a podcast about Shakespeare and politics, and currently co-hosts Working, a podcast about the creative process. His work as a director has been seen on stages throughout the United States. He is the co-creator, with Darcy James Argue and Peter Nigrini, of Real Enemies, a multimedia exploration of conspiracy theories in the American psyche, which was named one of the best live events of 2015 by the New York Times and has been adapted into a feature-length film. Butler holds an MFA in creative nonfiction from the University of Minnesota and teaches theater history and performance at the New School and elsewhere. He lives in Brooklyn.
Coverage from NPR
or
Not Currently Available for Direct Purchase