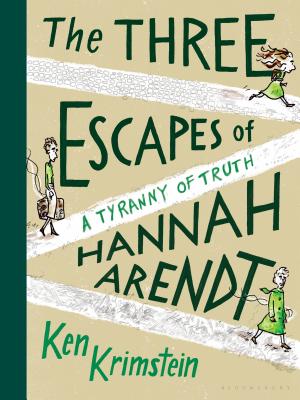 The Three Escapes of Hannah Arendt
A Tyranny of Truth
Hardcover

* Individual store prices may vary.
Description
Winner of the Bernard J. Brommel Award for Biography & Memoir
Best Graphic Novels of the Year--Forbes
Jewish Book Award Finalist
Finalist for the Chautauqua Prize

For Persepolis and Logicomix fans, a New Yorker cartoonist's page-turning graphic biography of the fascinating Hannah Arendt, the most prominent philosopher of the twentieth century.

One of the greatest philosophers of the twentieth century and a hero of political thought, the largely unsung and often misunderstood Hannah Arendt is best known for her landmark 1951 book on openness in political life,The Origins of Totalitarianism, which, with its powerful and timely lessons for today, has become newly relevant.

She led an extraordinary life. This was a woman who endured Nazi persecution firsthand, survived harrowing "escapes" from country to country in Europe, and befriended such luminaries as Walter Benjamin and Mary McCarthy, in a world inhabited by everyone from Marc Chagall and Marlene Dietrich to Albert Einstein and Sigmund Freud. A woman who finally had to give up her unique genius for philosophy, and her love of a very compromised man--the philosopher and Nazi-sympathizer Martin Heidegger--for what she called "love of the world."

Compassionate and enlightening, playful and page-turning, New Yorker cartoonist Ken Krimstein's The Three Escapes of Hannah Arendt is a strikingly illustrated portrait of a complex, controversial, deeply flawed, and irrefutably courageous woman whose intelligence and "virulent truth telling" led her to breathtaking insights into the human condition, and whose experience continues to shine a light on how to live as an individual and a public citizen in troubled times.
Praise For The Three Escapes of Hannah Arendt: A Tyranny of Truth…
"Gorgeous . . . despite the often dark subject matter, it's packed with wit . . . it's a fun and, especially in a final illustration that encapsulates Arendt's hopes for a better world, inspiring work." - Minneapolis Star Tribune

"[The Three Escapes of Hannah Arendt] depicts Arendt in a way no other book has--bringing her passion and physicality to life using the medium of comics to distill Arendt's dense writings to their essence and to make us feel the passion of her thinking . . . intimate, immediate and real." - The Forward

"Krimstein brings brilliant political theorist Arendt to life in his artful and compelling biographical collage." - 5 Hot Books, The National Book Review

"The astounding life of a 20th-century original as told by a skillful cartoonist frolicking in long form . . . A compelling performance with great pacing that makes abstruse political theory both intelligible and memorable." - Kirkus (Starred Review)

"As Krimstein deftly weaves Arendt's life and thought, he captures the excitement of the philosophical enterprise in both word and image. . . Both smart and entertaining; highly recommended and not just for graphic novels readers." - Starred Review, Library Journal

"A graphic novel that plays with memory and thought . . . What's certainly clear is how deeply the author respects and understands his subject, beautifully elucidating key arguments in [Arendt's] work as well as defending her robust reputation as a thinker during her lifetime . . . A wonderful honoring of one of the greatest minds of the 20th century." - Starred Review, Shelf Awareness

"The Three Escapes of Hannah Arendt: A Tyranny of Truth is startlingly original and offers us insights that traditional literary criticism can't. [Krimstein's] wonderful drawings and provocative and unconventional text illuminates unfamiliar aspects of philosopher Hannah Arendt's controversial life." - The Jerusalem Post

"It's remarkable how lively Krimstein makes thought look in the book . . . cafe society scenes in Weimar Berlin in particular show how propulsive Krimstein's style is, how fluidly he conveys freewheeling conversations, how nimbly he switches gears." - The Chicago Reader

"Krimstein tells Arendt's story with eloquence in his text and illustrations, as she continues her quest for truth and understanding, through difficult times." - The New York Jewish Week

"A bold and lovely graphic biography . . . Krimstein's original look at Arendt--thoughtful, entertaining and provocative--will answer a number of questions and inspire many others." - Book Reporter

"The book that will make me a graphic-format reader." - Library Journal

"Ken Krimstein's deeply moving graphic memoir about the life and thoughts of philosopher Hannah Arendt is not only about Hannah Arendt. It's also, through her words, about how to live in the world, the meaning of freedom, the perils of totalitarianism, and our power as human beings to think about things and not just act blindly. Krimstein explains Arendt's ideas with clarity, wit, and enormous erudition, and they still resonate." - Roz Chast

"As an émigré intellectual who lived through dark times, Hannah Arendt led a life that was the stuff of legend, yet it was largely a life of the mind. In a remarkable feat of imagination, Ken Krimstein has condensed and envisioned it into a fully dimensional graphic novel, at once the story of an iconic figure and a requiem for a generation." - Morris Dickstein

"In this brilliant, beautiful, and all-too-timely reimagining of the life of Hannah Arendt, Ken Krimstein has invented a new way to chronicle one of the 20th century's most inventive thinkers. The Three Escapes of Hannah Arendt is in turns a wartime adventure tale, coming-of-age story, graphic novel of ideas, political biography, and love letter to truth-telling. There is magic on these pages." - Michael Tisserand, author of KRAZY

"Riveting, engaging, and enlightening, Ken Krimstein's graphic biography is the most intimate and imaginative dive to date into Arendt's personal and political lives." - Roger Berkowitz, Academic Director, Hannah Arendt Center for Politics and Humanities, Bard College

"Krimstein makes his account engrossing and even entertaining, thanks to his breezily wispy drawing style
and freewheeling layouts as well as the unexpected humor he brings to Arendt's story." - Booklist

"As an admirer of Hannah Arendt, I appreciate the significant enrichment that this book offers to an understanding of her life and times. Ken Krimstein brings his spare and elegant aesthetic to the depiction of a profound life lived in the shadow of fascism." - Emil Ferris, author of MY FAVORITE THING IS MONSTERS

"It seems counterintuitive that Hannah Arendt, known for her fiercely independent and pioneering philosophical writings, should be the subject of a cartoon biography, but Ken Krimstein has captured her epic life comprehensively. This by turns whimsical and poignant work is irresistible." - Joseph Berger, author of DISPLACED PERSONS

"Ken Krimstein conveys a fundamental, crucial message regarding Arendt's thinking about the world and the possibility of a recurrence of the thoughtless, meaningless evil of destruction that appeared in 20th century totalitarian regimes. The Three Escapes of Hannah Arendt is beguiling, unsettling, and marvelous." - Jerome Kohn, Trustee, Hannah Arendt Bluecher Literary Trust

"This is an incredible story, artfully told with exuberance, humor, and compassion." - Deborah Levy, two-time Booker Prize finalist
Bloomsbury Publishing, 9781635571882, 240pp.
Publication Date: September 25, 2018
About the Author
Ken Krimstein has published cartoons in the New Yorker, Punch, the Wall Street Journal, and more. He has written for New York Observer's "New Yorker's Diary" and has published pieces on websites including McSweeney's Internet Tendency, Yankee Pot Roast, and Mr. Beller's Neighborhood. He is the author of Kvetch as Kvetch Can, and teaches at De Paul University and the School of the Art Institute of Chicago. He lives in Evanston, Illinois.