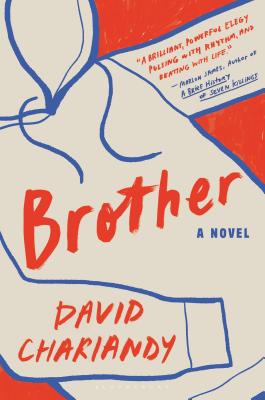 Brother
Hardcover

* Individual store prices may vary.
Other Editions of This Title:
Digital Audiobook (3/7/2018)
Digital Audiobook (9/25/2017)
Paperback (11/12/2019)
Description
"A brilliant, powerful elegy from a living brother to a lost one, yet pulsing with rhythm, and beating with life." --Marlon James

"Highly recommend Brother by David Chariandy--concise and intense, elegiac short novel of devastation and hope." --Joyce Carol Oates, via Twitter

WINNER--Toronto Book Award
WINNER--Rogers' Writers' Trust Fiction Prize
WINNER--Ethel Wilson Prize for Fiction

Esquire Best Books of the Year
Kirkus Best Books of the Year
Guardian Best Books of the Year
New York Public Library Best Books of the Year

Aspen Words Literary Prize Finalist
PEN Open Book Awards Longlist
Orwell Prize for Political Fiction Longlist
The Believer Book Awards Longlist

"Every sentence feels like a polished stone." —Entertainment Weekly

"Elegiac and incendiary" —Boston Globe

"A dwarf star of mourning and regret" —Wall Street Journal

"Elegant, vital, indubitably dope" —Guardian

"An important, vital and groundbreaking book" —Medium

"An absolutely mammoth literary talent" —KIESE LAYMON

"Riveting, composed, charged with feeling" —MADELEINE THIEN

In luminous, incisive prose, a startling new literary talent explores masculinity, race, and sexuality against a backdrop of simmering violence during the summer of 1991.

One sweltering summer in the Park, a housing complex outside of Toronto, Michael and Francis are coming of age and learning to stomach the careless prejudices and low expectations that confront them as young men of black and brown ancestry. While their Trinidadian single mother works double, sometimes triple shifts so her boys might fulfill the elusive promise of their adopted home, Francis helps the days pass by inventing games and challenges, bringing Michael to his crew's barbershop hangout, and leading escapes into the cool air of the Rouge Valley, a scar of green wilderness where they are free to imagine better lives for themselves.

Propelled by the beats and styles of hip hop, Francis dreams of a future in music. Michael's dreams are of Aisha, the smartest girl in their high school whose own eyes are firmly set on a life elsewhere. But the bright hopes of all three are violently, irrevocably thwarted by a tragic shooting, and the police crackdown and suffocating suspicion that follow.

Honest and insightful in its portrayal of kinship, community, and lives cut short, David Chariandy's Brother is an emotional tour de force that marks the arrival of a stunning new literary voice.
Praise For Brother…
"Skillfully, by travelling at once inward, into the intimate lives of his characters, and outward, connecting the diasporic community to a wider world of postcolonial migration . . . Chariandy suggests it may be possible to endure, and even to thrive." - New York Times Book Review

"With shrewd insight and graceful economy, [Chariandy traces] loss in paragraphs so clean and pared down, every sentence feels like a polished stone." - Entertainment Weekly

"A sobering account . . . [and a] searing novel about the two sons of Trinidadian immigrants who dream of better lives." - Time

"An exquisite novel, crafted by a writer as talented and precise as Junot Díaz and Dinaw Mengestu. It has a beating heart and a sharp tongue. It is elegant, vital, indubitably dope--the most moving book I've read in a year." - Dina Nayeri, Guardian

"Crackles with electric energy . . . An important, vital and groundbreaking book. You really need to read it. It's that good." - Medium

"In this time of gross American injustice, summer's breakout immigrant tearjerker comes from an unexpected place . . . the Toronto neighborhood of Scarborough. Wide-eyed Michael and his cynical brother Francis are taught by their Trinidadian mother to strive against the odds, even as her own broken state belies her cherished ideals." - Vulture

"A tightly constructed and powerful novel." - The Millions

"An enthralling and timely read." - Independent

"A breathtaking achievement . . . A compulsive, brutal and flawless novel that is full of accomplished storytelling with not a word spare." - Observer

"In a time of gross American injustice, Chariandy's poignant novel of immigrant struggle plumbs prejudice and the limits of social mobility in an unexpected place." - New York Magazine

"Chariandy paints his characters with such clarity and sensitivity, it is impossible not to feel every disappointment and frustration with them. This is an evocative study of brotherhood, belonging, masculinity and race, powerful and believable enough to provoke sorrow and anger." - Big Issue

"What can fiction do for us at a time when we are looking to understand other people's truths? As it turns out in this book, everything . . . Brother is filled with moments of swagger and bravery, of recklessness and love that sparks against the dull pain of tragedy." - The Globe and Mail

"Chariandy's often elegiac tone and stately but spare prose establish a compelling melancholic mood. [This] revisitation of familiar territory pays off with its singular observations and insights. A novel with sentences to savour, Brother also rewards an unhurried reader with a poetic vision that while sad is also lovely." - The Toronto Star

"In exquisitely precise, burningly felt prose, Chariandy illuminates persistent vulnerabilities and also memory as 'the muscle sting of now." - The Windham-Campbell Literature Prize for Fiction (Winner)

"Chariandy's powerful and incendiary second novel probes the ramifications of police violence on marginalized communities and delivers a nuanced portrait of a family struggling to stay afloat . . . Chariandy imbues his resilient characters and their stories with strength, dignity, and hope. This is an impressive novel written by an author in total command of his story." - Starred review, Publishers Weekly

"Brother is a surprising, and really shocking novel, unafraid of exploring the overlaps in love, loss, sexuality, race, place, terror and class. It is bold. It is brilliant. It marks the beginning of an absolutely mammoth literary talent." - Kiese Laymon, author of LONG DIVISION and HEAVY

"An important, riveting novel about dreams, families, and the systems holding them back." - Starred review,"Best Fiction of 2018", Kirkus

"A brilliant, powerful elegy from a living brother to a lost one, yet pulsing with rhythm, and beating with life." - Marlon James, Man Booker Prizewinning author of A BRIEF HISTORY OF SEVEN KILLINGS

"Elegiac . . . The characters are well drawn, and the setting is beautifully realized. The result is a haunting story that will linger in readers' memories." - Booklist

"Chariandy packs a slim novel with an incredible amount of weight. Here are young boys hoping for a future . . . a family wracked with grief . . . promises broken and dreams denied. And in the middle, perfectly captured by Chariandy's sparse and moving prose, one boy trying to make sense of it all" - Shelf Awareness

"Brother delivers an epic impact . . . Chariandy has something vital to share about what occurs when young lives are cut down. As readers, it is our duty to listen." - BookPage

"Mesmerizing. Poetic. Achingly soulful. Brother is a pitch-perfect song of masculinity and tenderness, and of the ties of family and community." - Lawrence Hill, author of THE BOOK OF NEGROES

"Riveting, composed, charged with feeling, Brother surrounds us with music and aspiration, fidelity and beauty." - Madeleine Thien, Man Booker Prize-shortlisted author of DO NOT SAY WE HAVE NOTHING

"Brother diffracts the spare light toward feeling again, after tragedy. Chariandy deftly assembles that which has come apart in the life of a Black family; their privacies assaulted, their desires unmet. Such a timbrous novel. Such a tender work." - Dionne Brand, author of WHAT WE ALL LONG FOR

"Beautifully written. Subtle, yet sharp. David Chariandy is an incredible writer" - Reni Eddo-Lodge, author of Why I'm No Longer Talking About Race
Bloomsbury Publishing, 9781635572049, 192pp.
Publication Date: July 31, 2018
About the Author
David Chariandy grew up in Toronto and lives and teaches in Vancouver. He is the author of I've Been Meaning to Tell You: A Letter to My Daughter, and the novels Soucouyant, which received nominations from eleven literary awards juries, and Brother, winner of the Rogers Writers' Trust Fiction Prize, the Ethel Wilson Fiction Prize, and the Toronto Book Award.