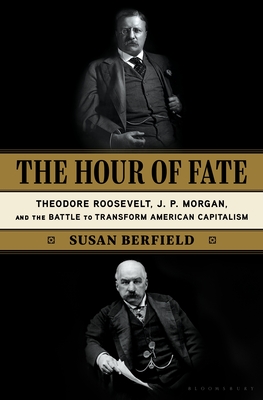 The Hour of Fate
Theodore Roosevelt, J.P. Morgan, and the Battle to Transform American Capitalism
Hardcover

* Individual store prices may vary.
Other Editions of This Title:
Paperback (4/12/2022)
Description
A riveting narrative of Wall Street buccaneering, political intrigue, and two of American history's most colossal characters, struggling for mastery in an era of social upheaval and rampant inequality.

It seemed like no force in the world could slow J. P. Morgan's drive to power. In the summer of 1901, the financier was assembling his next mega-deal: Northern Securities, an enterprise that would affirm his dominance in America's most important industry-the railroads.

Then, a bullet from an anarchist's gun put an end to the business-friendly presidency of William McKinley. A new chief executive bounded into office: Theodore Roosevelt. He was convinced that as big business got bigger, the government had to check the influence of the wealthiest or the country would inch ever closer to collapse. By March 1902, battle lines were drawn: the government sued Northern Securities for antitrust violations. But as the case ramped up, the coal miners' union went on strike and the anthracite pits that fueled Morgan's trains and heated the homes of Roosevelt's citizens went silent. With millions of dollars on the line, winter bearing down, and revolution in the air, it was a crisis that neither man alone could solve.

Richly detailed and propulsively told, The Hour of Fate is the gripping story of a banker and a president thrown together in the crucible of national emergency even as they fought in court. The outcome of the strike and the case would change the course of our history. Today, as the country again asks whether saving democracy means taming capital, the lessons of Roosevelt and Morgan's time are more urgent than ever.
Praise For The Hour of Fate: Theodore Roosevelt, J.P. Morgan, and the Battle to Transform American Capitalism…
"Wonderfully detailed . . . [Berfield's] story is about the past but also very much about the present, as our own Gilded Age raises old questions about inequality, plutocracy and what Roosevelt once called 'that most dangerous of all classes, the wealthy criminal class' . . . The book may make you both sad and mad, because it serves as a poignant, painful reminder of what a real leader does." - The Washington Post

"Berfield's wide-angle lens encompasses antitrust law, the details of railroad reorganization, investment banking, politics, coal mining and high living. . . . she can do a lot with only a few words." - The Wall Street Journal

"Most authors might be content to write about either John Pierpont Morgan, possibly the world's most famous banker, or Theodore Roosevelt, one of America's best-loved presidents. But The Hour of Fate by Susan Berfield is richer for tackling them together. . . . Her book vividly brings both men to life." - The Economist

"An extremely skillful blend of wide-canvas exposition and small-scale personal drama. [Berfield's] characters, particularly Roosevelt and Morgan, come alive in all their multifaceted natures . . . impossible to read this clash between big government and big business without thinking about our own century, when American wealth inequality is greater than it was even in Morgan's day." - Christian Science Monitor

"It's no easy task to write a dual biography while also incorporating the feelings and emotions of the historical moment, yet Berfield accomplishes all of this. An extremely readable work that will engage American history and business readers everywhere." - Library Journal, starred review

"A tale of greed, power, and accountability, an epic story of a clash of titans, one a political dynamo, the other unparalleled in business savvy. Out of their struggle, a new nation emerged, one that could flex its muscles and cause private enterprise to shudder, instead of the other way around as it had been before. . . Today, as the United States barrels its way into the 21st century, with business behemoths like Amazon and Apple treading in the footsteps of Morgan's Northern Securities, one can only wonder when and where the next trust buster will arise." - The New York Journal of Books

"[The Hour of Fate] ambitiously juggles several historic threads from a turbulent time in America: soaring immigration, labor unrest in the face of low wages and dangerous conditions, the seemingly untrammeled ambitions of big business, and the clamor for public accountability and oversight . . . An engaging historical work involving truly larger-than-life American characters." - Kirkus Reviews

"Susan Berfield has written the rare book that makes you look at both the past and present in a new light. Deeply researched and beautifully written, The Hour of Fate tells the gripping tale of how a clash between the most powerful force in the history of Wall Street and a young, popular president set the stage for our current debates over the role and limits of wealth in a democracy." - David K. Randall, New York Times bestselling author of BLACK DEATH AT THE GOLDEN GATE

"The Hour of Fate is narrative nonfiction at its best. Susan Berfield brings to life the conflict between two of America's most powerful men, J.P. Morgan and Theodore Roosevelt, and reveals how their battle over democracy and corporate power reshaped America." - Adam Winkler, author of WE THE CORPORATIONS

"Susan Berfield has captured a critical moment in American history with a ripping good yarn. Written with verve and a perceptive eye for detail, The Hour of Fate artfully brings to life two of our nation's most celebrated personalities, caught in an astonishing drama even larger than themselves. It is impossible to read Berfield's fast-paced and entertaining account of events a century ago without gaining deeper insight into the momentous events we wrestle with today." - SCOTT MILLER, author of THE PRESIDENT AND THE ASSASSIN and AGENT 110

"The Gilded Age meets the Progressive Era head-on in Susan Berfield's gripping account of the Northern Securities case and of the 1902 coal famine crisis, when unlikely allies J.P. Morgan and Theodore Roosevelt joined forces against a looming winter without warmth or fuel. Well-researched and expertly told, this story of haves and have-nots—and a country at the precipice—speaks to our own precarious times, and will fascinate readers of financial and labor history." - Philip Dray, author of THERE IS POWER IN A UNION and AT THE HANDS OF PERSONS UNKNOWN

"The Gilded Age created many a millionaire and many an impoverished worker. Between those opposites stood American politicians, some corrupted by wealth, others determined to redress the economic gulfs that American industry might have created . . . Berfield well portrays the major characters of this struggle without excessive detail, and her insights into both Roosevelt and Morgan make them seem quite contemporary. - Booklist

"A vivid account of the early 20th-century battle of wills between President Theodore Roosevelt and financier J.P. Morgan. . . Weaving together the perspectives of labor, capital, and government, Berfield . . . finds drama in complex and potentially dry business transactions, and makes insightful comparisons to today's progressive movement. This entertaining account will resonate with American history buffs and those who agree with Berfield that 'the battle to make American capitalism more fair rages just as furiously' today as it did at the turn of the last century." - Publishers Weekly

"Excellent topic. Excellent scope. Excellent writing. Susan Berfield's THE HOUR OF FATE takes on an explosive time of transition in our nation by focusing on the two titans most central to the fight: Theodore Roosevelt and J.P. Morgan. . . . Finely nuanced . . . The focused scope of the book impresses immediately." - Book Reporter

"A lively epic . . . [Berfield's] language flows beautifully and weaves between choice quotations, which have been painstakingly researched and plotted throughout the book . . . novelistic in tone and historical in substance." - The National Review
Bloomsbury Publishing, 9781635572490, 416pp.
Publication Date: May 5, 2020
About the Author
Susan Berfield is an award-winning investigative reporter for Bloomberg Businessweek and Bloomberg News, where she has covered some of America's largest corporations. She has been interviewed on PBS NewsHour, NPR's All Things Considered, Marketplace, On Point, and elsewhere. Her research for The Hour of Fate, her first book, took her to archives in New York, St. Paul, Washington, D.C., and Cambridge, Massachusetts, and was supported by a Logan Nonfiction Fellowship. She lives in Brooklyn with her family.