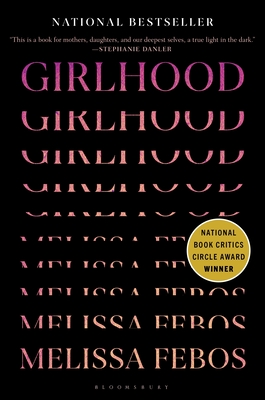 Girlhood
Hardcover

* Individual store prices may vary.
Description
A gripping set of stories about the forces that shape girls and the adults they become. A wise and brilliant guide to transforming the self and our society.

In her powerful new book, critically acclaimed author Melissa Febos examines the narratives women are told about what it means to be female and what it takes to free oneself from them.

When her body began to change at eleven years old, Febos understood immediately that her meaning to other people had changed with it. By her teens, she defined herself based on these perceptions and by the romantic relationships she threw herself into headlong. Over time, Febos increasingly questioned the stories she'd been told about herself and the habits and defenses she'd developed over years of trying to meet others' expectations. The values she and so many other women had learned in girlhood did not prioritize their personal safety, happiness, or freedom, and she set out to reframe those values and beliefs.

Blending investigative reporting, memoir, and scholarship, Febos charts how she and others like her have reimagined relationships and made room for the anger, grief, power, and pleasure women have long been taught to deny.
Written with Febos' characteristic precision, lyricism, and insight, Girlhood is a philosophical treatise, an anthem for women, and a searing study of the transitions into and away from girlhood, toward a chosen self.
Praise For Girlhood…
"Girlhood is an exquisite collection. In lapidary, lucid prose, Melissa Febos dissects the traumas, terrors, and pleasures of the fraught passage from girl to woman. Febos's insight is devastating, the examinations of her world – from the female body, queerness, consent, slut-shaming, and intimacy – are rigorous and compassionate. This is a book for mothers, daughters, and our deepest selves, a true light in the dark." —Stephanie Danler, author of SWEETBITTER

"In this book, Febos proves herself to be one of the great documenters of the terrible and exquisite depths of girlhood. Here, that terrible and beautiful aeon is dissected, sung over, explored like ancient ruins. These essays are moss and iron-hard and beautiful-and struck through with Febos' signature brilliance and power and grace. An essential, heartbreaking project." —Carmen Maria Machado, author of IN THE DREAM HOUSE and HER BODY AND OTHER PARTIES

"Melissa Febos is part poet, part theorist, and all writer. In this lyrical, searching, profound, and personal collection, Febos examines childhood, femaleness, and love in its many forms with a sensuous ferocity that is all her own." —Ariel Levy, author of The Rules Do Not Apply and Female Chauvinist Pigs

"Drawing on personal history, cultural analysis, and investigative reporting, Melissa Febos interrogates the meaning of girlhood, the narratives we've been sold, and the realities of growing up a woman." —Buzzfeed, most anticipated books of 2021

"Melissa Febos brings lyric and merciless scrutiny to how women are conditioned to accept misogyny as their due. . . By drawing upon cultural materials for her kaleidoscopic investigation, Febos does for girlhood what Maggie Nelson did for pregnancy in The Argonauts." —The Rumpus

"Melissa Febos just revived me in the most spectacular way. Girlhood blazes through the stories we've been told with a dazzling fury and a brilliant beauty. Whatever we are or were, this is a map to a new becoming. Between the intellect and the body a third term emerges, dissolving binaries and reinventing the space of erotic power and creativity. A fuck-all guide to resilience and reclamation, a breathtaking reimagination of who we might be in spite of what we've been told. Girlhood will bring you back to life." —Lidia Yuknavitch, author of VERGE

"At once intimate and didactic, lyric and wise, Girlhood is a must-read hybrid text for women looking to define themselves from the inside. This book is an exorcism of social messaging and external gazes, and Febos is a warm and erudite exorcist." —Melissa Broder, author of THE PISCES

"Reading Girlhood felt like having a spell whispered into my ear. You carve yourself, Melissa Febos writes, and the phrase becomes command, elegy, incantation. In these pages she conjures not only the past, but an allegory of experience at once universal and exquisitely personal. Intimate, urgent, and stunningly beautiful, this is a book that will be passed from hand to hand, from heart to heart." —Alex Marzano-Lesnevich, author THE FACT OF A BODY

"American patriarchy teaches so many of us to hate our own bodies and stifle our own desires-to make ourselves smaller in every way. Girlhood is a smart, fierce, gloriously sensual critique of these lessons by a writer who has fought hard to unlearn them. Thank you, Melissa Febos, for charting this magnificent route of queer feminist resistance!" —Leni Zumas, author of RED CLOCKS

"A gorgeously written, perfectly calibrated investigation into the traps, paths, and challenges of being female in this world. It's a stunner of a book." —Jami Attenberg, author of ALL THIS COULD BE YOURS

"Lucid and timely...The great surprise of Girlhood is how masterfully Febos reinvents the path to womanhood, a philosopher's eye turned protectively towards the tenderest parts of the writer's former self." —Wendy S. Walters, author of MULTIPLY/ DIVIDE

"Raw and unflinching, this dark coming-of-age story impresses at every turn." —Publishers Weekly

"[Girlhood] is an invitation to all people who grew up female, to plunge their own depths and not rescue, but rather recognize and mourn, their former selves, and the selves they could have been if not born into a body the world deemed less worthy than other bodies. Within its pages there are windows, air, sky, from which others can retrieve their own memories, rewrite them, let them go." —Columbia Journal

"Intellectual and erotic, engaging and empowering, Girlhood lays bare the process of unlearning the most deeply ingrained lesson of female adolescence-that we ourselves are not masters of our own domain-and offers us exquisite, ferocious language for embracing self-pleasure and self-love." —O, the Oprah Magazine

"Profound and gloriously provocative, this book. . . transforms the wounds and scars of lived female experience into an occasion for self-understanding that is both honest and lyrical. Consistently illuminating, unabashedly ferocious writing." —Kirkus Reviews

"This is a book you'll wish you had in your youth, but one you'll be glad to have now." —OprahMag.com, Most Anticipated Books of 2021

"Melissa Febos is a precise, visceral chronicler of what it means to be a woman in the world…[Girlhood] is fierce and lyrical, furious and tender; a vital read for anyone figuring out who they really are, and have always been." —Refinery29, Best New Books to Read In 2021

"[Febos] picks at the ways women are taught to be "female" - and what it means to remove oneself from such expectations. Febos' lyrical, meditative writing makes it all the easier to ponder her critical questions and explorations." —San Francisco Chronicle

"Melissa Febos's writing is always luminous, fearless, and blazing with intelligence." —Lit Hub, Most Anticipated Books of 2021

"In this book of liberating inquiry and divine depth, Febos again and again connects the constellations of herself and the world she and all women must learn to live in." —Booklist, starred review

"To counter society's patriarchal standards and stereotypes enmesh girls in a web of unreachable expectations of mind, body and soul, Melissa Febos offers ideas to disrupt the normative narratives surrounding girlhood and encourages us to recreate ourselves according to ourselves." —Ms.
Bloomsbury Publishing, 9781635572520, 336pp.
Publication Date: March 30, 2021
About the Author
Melissa Febos is the author of the memoirs Whip Smart and Abandon Me. Her essays have appeared in Tin House, The Believer, The New York Times, The Kenyon Review, Lenny Letter, and elsewhere. Portions from Abandon Me have won prizes from Prairie Schooner, StoryQuarterly, and twice earned notice in the 2015 Best American Essays anthology. The recipient of fellowships from The MacDowell Colony, Ragdale, Virginia Center for Creative Arts, Vermont Studio Center, The Lower Manhattan Cultural Council, and The Barbara Deming Memorial Fund, Febos serves on the directorial board of VIDA: Women in Literary Arts, and is an assistant professor of creative writing at Monmouth University. She lives in Brooklyn. melissafebos.com