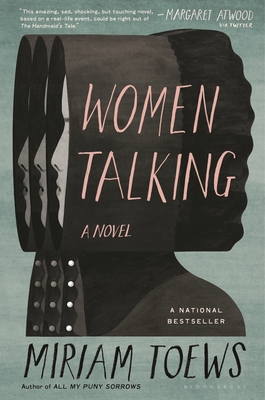 Women Talking (Hardcover)
Bloomsbury Publishing, 9781635572582, 240pp.
Publication Date: April 2, 2019
* Individual store prices may vary.
Description
NAMED ONE OF THE MOST ANTICIPATED BOOKS OF 2019 BY
ENTERTAINMENT WEEKLY * VULTURE * BUZZFEED * BOSTON GLOBE * AV CLUB's * NYLON * MEDIUM * THE MILLIONS * HUFFINGTON POST * THE RUMPUS * LIT HUB * PUBLISHERS WEEKLY * THE WEEK * AM New York
"This amazing, sad, shocking, but touching novel, based on a real-life event, could be right out of The Handmaid's Tale." --Margaret Atwood, on Twitter
One evening, eight Mennonite women climb into a hay loft to conduct a secret meeting. For the past two years, each of these women, and more than a hundred other girls in their colony, has been repeatedly violated in the night by demons coming to punish them for their sins. Now that the women have learned they were in fact drugged and attacked by a group of men from their own community, they are determined to protect themselves and their daughters from future harm.
While the men of the colony are off in the city, attempting to raise enough money to bail out the rapists and bring them home, these women-all illiterate, without any knowledge of the world outside their community and unable even to speak the language of the country they live in-have very little time to make a choice: Should they stay in the only world they've ever known or should they dare to escape?
Based on real events and told through the "minutes" of the women's all-female symposium, Toews's masterful novel uses wry, politically engaged humor to relate this tale of women claiming their own power to decide.
About the Author
Miriam Toews is the author of six previous bestselling novels, All My Puny Sorrows, Summer of My Amazing Luck, A Boy of Good Breeding, A Complicated Kindness, The Flying Troutmans, and Irma Voth, and one work of nonfiction, Swing Low: A Life. She is winner of the Governor General's Award for Fiction, the Libris Award for Fiction Book of the Year, the Rogers Writers' Trust Fiction Prize, and the Writers' Trust Engel/Findley Award. She lives in Toronto.
Praise For Women Talking…
"Wickedly funny and fearlessly honest" —The New Yorker
"An astonishment, a volcano of a novel with slowly and furiously mounting pressures of anguish and love and rage. No other book I've read in the past year has spoken so lucidly about our current moment, and yet none has felt as timeless; the always-wondrous Miriam Toews has written a book as close to a Greek tragedy as a contemporary Western novelist can come." —Lauren Groff, author of FATES AND FURIES and FLORIDA
"The award-winning novelist returns with what may be her most experimental work yet, giving voice to eight women as they grapple with the trauma and power of patriarchy." —Entertainment Weekly, "50 Most Anticipated Books of 2019"
"I am in awe of this novel. In Toews's brilliant design, eight women in a Mennonite hayloft manage to lay bare the rancid global root system of patriarchy. Their story is terrifying, joyful, gruesome, and magnetic. What a reckoning--and what a gift." —Leni Zumas, author of RED CLOCKS
"I would follow the Canadian author anywhere she leads - this time to a remote Mennonite colony in Bolivia where the women have been subjected to brutal attacks in the night first believed to be the work of demons. When they discover the atrocities were committed by men in their community, the women - who cannot read or write and require the group's schoolteacher to write down their conversations - must decide whether they will leave, exiting the only world they've known, or remain." —Huffington Post, "61 Books We're Looking Forward to Reading in 2019"
"One of the most exciting novels coming out this year." —LitHub, "Most Anticipated Books of 2019"
"A testament to the power of women's collective voices." —Buzzfeed, "66 Books Coming In 2019 That You'll Want To Keep On Your Radar"
"Toews nimbly navigates this complicated story, laden with relevant political overtones, offering a scathing condemnation of the patriarchy, as well as a sense of hope for a future run by those who won't stay silent about the horrors around them." —Nylon, "50 Books You'll Want to Read in 2019"
"A flawless, ferocious work of art. I have yet to read a more scathing indictment of patriarchal violence, or a more illuminating quest to comprehend the most vital contours of the human experience: what is agency, what is meaning, what is justice, what is love. This is the kind of novel that changes you. Get ready." —Laura van den Berg, author of THE THIRD HOTEL
"Miriam Toews has written a modern classic as real and warm and terrifying as a pail of fresh blood. It's a perfect work of art that will leave you ill with awe." —Catherine Lacey, author of THE ANSWERS and NOBODY IS EVER MISSING
"[A] sharp blade of a novel . . . Toews' knowing wit and grasp of dire subjects align her with Margaret Atwood, while her novel's slicing concision and nearly Socratic dialogue has the impact of a courtroom drama or a Greek tragedy." —Booklist, Starred Review
"Powerful . . . This is an inspiring and unforgettable novel." —Publishers Weekly, Starred Review
"An exquisite critique of patriarchal culture . . . riveting and revelatory . . . Stunningly original and altogether arresting." —Kirkus Reviews, starred review
"Women Talking wants another world to be possible, and in the re-scripting of reality into fiction, attempts to imagine it where it has not yet grown of its own volition . . . The novel reminds us how difficult it is to know how to live, forgive others or ourselves, seek justice, or know freedom. No matter the depth of their solidarity, we can imagine that each individual will undoubtedly spend a lifetime coming to their own answers, seeking knowledge with their own hard-won words. But we can hope that the common questions asked by women talking, by Women Talking--their listening, their anger and love, their sometimes vastly differing conclusions--might offer a further way of seeing and finally choosing." —Madeleine Thien, author of DO NOT SAY WE HAVE NOTHING, Literary Review of Canada
"WOMEN TALKING is one of the most anticipated books of the year for a reason. The story (based on true events) focuses on eight Mennonite women who - after being repeatedly drugged and attacked by a group of men in their community - meet in secret and decide how to reclaim their lives not just for their own future, but also for their daughters." —Woman's Day, Best Fiction Books of 2019