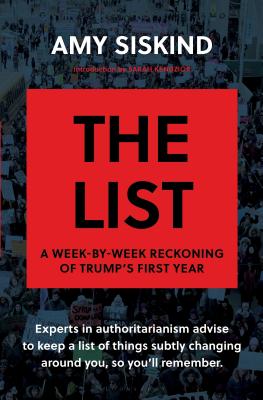 The List
A Week-by-Week Reckoning of Trump's First Year
Hardcover

* Individual store prices may vary.
Description
The shocking first-draft history of the Trump regime, and its clear authoritarian impulses, based on the viral Internet phenom "The Weekly List."

In the immediate aftermath of Donald Trump's election as president, Amy Siskind, a former Wall Street executive and the founder of The New Agenda, began compiling a list of actions taken by the Trump regime that pose a threat to our democratic norms. Under the headline: "Experts in authoritarianism advise to keep a list of things subtly changing around you, so you'll remember" Siskind's "Weekly List" began as a project she shared with friends, but it soon went viral and now has more than half a million viewers every week.

Compiled in one volume for the first time, The List is a first draft history and a comprehensive accounting of Donald Trump's first year. Beginning with Trump's acceptance of white supremacists the week after the election and concluding a year to the day later, we watch as Trump and his regime chips away at the rights and protections of marginalized communities, of women, of us all, via Twitter storms, unchecked executive action, and shifting rules and standards. The List chronicles not only the scandals that made headlines but just as important, the myriad smaller but still consequential unprecedented acts that otherwise fall through cracks. It is this granular detail that makes The List such a powerful and important book.

For everyone hoping to #resistTrump, The List is a must-have guide to what we as a country have lost in the wake of Trump's election. #Thisisnotnormal
Praise For The List: A Week-by-Week Reckoning of Trump's First Year…
"The List reminds us Trump is not normal, and he's imposing incalculable harm on America. Not only must he be resisted, but we must never again allow our democracy to be imperiled by a demagogue. Our first line of defense is knowledge of what he's doing to America and the world. Here it is." - Robert Reich, former Secretary of Labor and author of SAVING CAPITALISM

"Someday The List will be used as a high school history text book and those students are going to think "what the F@#$." Honestly, I think that too." - Samantha Bee

"A Homeric catalog, in numbered lists, of all the wrongs the current occupant of the White House has done unto the republic... An astonishing roster, documenting history as it is being made and democracy as it is being unmade." - starred review, Kirkus

"An unusual and essential book. It's hard to read it straight through, except that's the whole point . . . I hope Siskind writes 'The List, Vol. II,' and a third and fourth as well. I would read them all. There is strength in the immutability of the exercise, a counter to government by alternative facts." - Washington Post

"More than just required reading for the panicky Resistance, her accounts have become a real-time record of the Trump era, one fallen norm at a time." - Politico

"This document makes clear, in black and white, how norms have changed and the ways in which checks and balances have become frayed." - Booklist

"Illuminating work . . . a worrying document of the current state of American affairs." - Publishers Weekly

"Siskind's compulsively readable book is the real first draft of history." - National Book Review

"A rarely important addition to the existing and growing literature on current American politics. Amy Siskind has done a highly commendable job of writing what can be described [as] the outline of our current history . . . a necessary read not only for students and experts of American politics and history, but also all Americans who care for their country." - The Washington Book Review

"Amy Siskind's The List is a document of how, millimeter by millimeter, truth, democracy, and the rule of law, WERE beaten down. Not a few fought back--including Siskind. The act of remembering, of not losing one's bearings, is itself a form of resistance that matters, and this book is a testament to that strategy." - Rebecca Solnit, author of HOPE IN THE DARK

"In great detail and with skillful precision, Amy Siskind sounds the alarm on how the United States becomes more authoritarian under Donald Trump by the week. The List enrages but also informs, turning anger into action. It is nothing short of a call to arms for a time in which citizens must become organized. Siskind is keeping track, making sure we never forget, so that we beat back this horrific tide and make sure a turn toward extremism never happens again. Use it to inform and inspire, and as a guide for the way forward." - Michelangelo Signorile, author of IT'S NOT OVER, SiriusXM host, and HuffPost Editor-at-Large

"Amy's work of cataloging our shattered civic and ethical norms will prove vitally important when we seek to restore them after the current assault on the institutions of our representative form of government ends." - Walter Shaub, former Director of the United States Office of Government Ethics

"The most helpful book I read in 2018." - Carlos Lozada, The Washington Post
Bloomsbury Publishing, 9781635572711, 528pp.
Publication Date: March 27, 2018
About the Author
Amy Siskind is a national spokesperson, writer and expert on helping women and girls advance and succeed. A former Wall Street executive, she's President and Co-founder of The New Agenda, a national organization working on issues including economic independence and advancement, gender representation and bias, and campus sexual assault. She is a frequent source for the national press, including The Washington Post, The Wall Street Journal, and The New York Times.
or
Not Currently Available for Direct Purchase