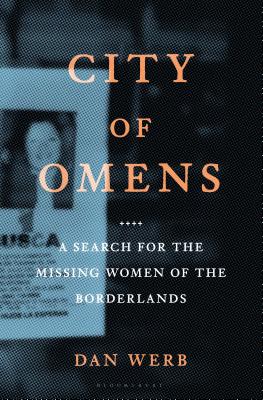 City of Omens (Hardcover)
A Search for the Missing Women of the Borderlands
Bloomsbury Publishing, 9781635572995, 304pp.
Publication Date: June 4, 2019
* Individual store prices may vary.
Description
For decades, American hungers sustained Tijuana. In this scientific detective story, a public health expert reveals what happens when a border city's lifeline is brutally severed.
Despite its reputation as a carnival of vice, Tijuana was, until recently, no more or less violent than neighboring San Diego, its sister city across the border wall. But then something changed. Over the past ten years, Mexico's third-largest city became one of the world's most dangerous. Tijuana's murder rate skyrocketed and produced a staggering number of female victims. Hundreds of women are now found dead in the city each year, or bound and mutilated along the highway that lines the Baja coast.
When Dan Werb began to study these murders in 2013, rather than viewing them in isolation, he discovered that they could only be understood as one symptom among many. Environmental toxins, drug overdoses, HIV transmission: all were killing women at overwhelming rates. As an epidemiologist, trained to track epidemics by mining data, Werb sensed the presence of a deeper contagion targeting Tijuana's women. Not a virus, but some awful wrong buried in the city's social order, cutting down its most vulnerable inhabitants from multiple directions.
Werb's search for the ultimate causes of Tijuana's femicide casts new light on immigration, human trafficking, addiction, and the true cost of American empire-building. It leads Werb all the way from factory slums to drug dens to the corridors of police corruption, as he follows a thread that ultimately leads to a surprising turn back over the border, looking northward.
"City of Omens is a compelling and disturbing tour of a border world that outsiders rarely see — and simultaneously, a clear guide to a field of public health that offers an essential framework for understanding how both ideas and diseases can spread." -- MAIA SZALAVITZ, author of Unbroken Brain
"Dan Werb combines his expertise as a trained epidemiologist with his keen discernment as an investigative journalist to depict what happens when poverty, human desperation, and unfathomable greed at the highest levels of a society mix with imperial ambition and a criminally ill-conceived policy towards drug use. It is a riveting and heartbreaking story, told with eloquence and compassion." -- GABOR MATÉ, MD, bestselling author of In the Realm of Hungry Ghosts: Close Encounters with Addiction
"City of Omens is an urgent and needed account of a desperate problem. The perils that Mexico's women face haunt the conscience of a nation." -- ALFREDO CORCHADO, author of Homelands and Midnight in Mexico
About the Author
Dan Werb, PhD, is an assistant professor in epidemiology at the University of California San Diego and the University of Toronto. He has received major grants from the National Institute on Drug Abuse, the Pierre Elliott Trudeau Foundation, and other organizations. His writing has appeared in publications such as the Believer and the Walrus, where his feature "The Fix" on new tactics for treating injection drug use won a Canadian National Magazine Award. He is based in San Diego and Toronto.
Praise For City of Omens: A Search for the Missing Women of the Borderlands…
"Hundreds of women die each year in the city of Tijuana and along the highway of the Baja coast, many of them from domestic violence, drug overdoses and H.I.V.-related diseases associated with the sex trade. Other bodies, often teenagers, turn up 'bound and mutilated.' Still others simply disappear . . . Werb is determined to give them back some humanity" - Marilyn Stasio, New York Times Book Review
"[A] riveting scientific detective story." - Scientific American
"Werb shines a light on an outbreak of brutal crimes against Tijuana's most vulnerable population. This is a well-researched, pressing study relevant to a wide audience" - Publishers Weekly
"The author's steely focus and smooth, vivid prose make his encounters, which are often heartbreaking, come fully to life. . . . his text shines a necessary light on Tijuana's epidemic of 'femicide' and its unrivaled drug and poverty problems . . . Werb cuts through the desolation to get at the truth of the region's vexing problem." - Kirkus Reviews
"Werb's personal odyssey and unique approach offer valuable insights into the tragedy of femicide on the border, where communities on both sides are inescapably interdependent. A powerful addition to investigative coverage of the volatile borderland." - Booklist
"Dan Werb combines his expertise as a trained epidemiologist with his keen discernment as an investigative journalist to depict what happens when poverty, human desperation, and unfathomable greed at the highest levels of a society mix with imperial ambition and a criminally ill-conceived policy towards drug use. It is a riveting and heartbreaking story, told with eloquence and compassion." - Gabor Maté, MD, bestselling author of IN THE REALM OF HUNGRY GHOSTS
"City of Omens is an urgent and needed account of a desperate problem. The perils that Mexico's women face haunt the conscience of a nation." - Alfredo Corchado, author of HOMELANDS and MIDNIGHT IN MEXICO
"[Werb's] writing is vivid . . . He has crafted a finely wrought exploration of public health sleuthing and social justice activism. His analysis is animated by many voices, but the most stunningly powerful are those of the IV drug user sex workers who are participants in this study." - New York Journal of Books