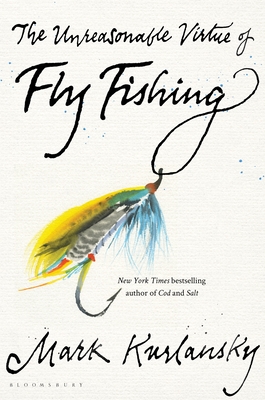 The Unreasonable Virtue of Fly Fishing
Hardcover

* Individual store prices may vary.
Other Editions of This Title:
Paperback (3/1/2022)
Description
From the award-winning, bestselling author of Cod--the irresistible story of the science, history, art, and culture of the least efficient way to catch a fish.

Fly fishing, historian Mark Kurlansky has found, is a battle of wits, fly fisher vs. fish--and the fly fisher does not always (or often) win. The targets--salmon, trout, and char; and for some, bass, tarpon, tuna, bonefish, and even marlin--are highly intelligent, wily, strong, and athletic animals. The allure, Kurlansky learns, is that fly fishing makes catching a fish as difficult as possible. There is an art, too, in the crafting of flies. Beautiful and intricate, some are made with more than two dozen pieces of feather and fur from a wide range of animals. The cast as well is a matter of grace and rhythm, with different casts and rods yielding varying results.

Kurlansky is known for his deep dives into the history of specific subjects, from cod to oysters to salt. But he spent his boyhood days on the shore of a shallow pond. Here, where tiny fish weaved under a rocky waterfall, he first tied string to a branch, dangled a worm into the water, and unleashed his passion for fishing. Since then, a lifelong love of the sport has led him around the world to many countries, coasts, and rivers--from the wilds of Alaska to Basque country, from the Catskills in New York to Oregon's Columbia River, from Ireland and Norway to Russia and Japan. And, in true Kurlansky fashion, he absorbed every fact, detail, and anecdote along the way.

The Unreasonable Virtue of Fly Fishing marries Kurlansky's signature wide-ranging reach with a subject that has captivated him for a lifetime--combining history, craft, and personal memoir to show readers, devotees of the sport or not, the necessity of experiencing nature's balm first-hand.
Praise For The Unreasonable Virtue of Fly Fishing…
"Mark Kurlansky employs his fact-packed writing style to braid the history of fly fishing and the fish, his personal life of fishing from boyhood pond to rivers around the globe, and literary and ethics perspectives on the sport into 'A Good Line,' which will draw in those already enamored of fly fishing and at least tantalize those puzzled by the attraction of going fly fishing." - Bowling Green Daily News

"Mr. Kurlansky is a veteran writer. Over the course of 34 books—including bestsellers on such seemingly mundane subjects as salt, cod and paper—he has come to be known for his ability to weave history, philosophy and personal experience into compelling narratives. His latest, The Unreasonable Virtue of Fly Fishing, is on a subject that is clearly dear to his heart. . . . The book offers fascinating chapters on the history of fly fishing and tackle—flies, rods, reels, lines, even waders. . . . The fishing trivia Mr. Kurlansky cites is often marvelous." - Wall Street Journal

"This being a book by Kurlansky, who never met a fact he didn't like, the narrative turns from his experiences as a fisherman to a more universal history. . . . Stuffed full of trivia, data, lore, and anecdote—a pleasure for any fan of trout fishing." - Kirkus Reviews (starred review)

"[A] vibrant treatise on fly-fishing . . . This is a thoroughly enjoyable mash-up of vivid memoir and fastidious, eccentric history." - Publishers Weekly

"A couple of acclaimed books on fly fishing that are perfect for your favorite angler and gifts all around." - Napa Valley Register's "Fishing Report"

"This is not your typical fly-fishing book, because it's not a 'how-to' nor does it document the author's fishing adventures. It truly is a book of virtues, a refreshing blend of autobiographical, scientific, and historical angles to a sport that continues to gain popularity. . . . If you are looking to read and learn about "the what and whys" of fly fishing and less about 'the how' this is a great book." - Portland Book Review

"Kurlansky's fans will enjoy sharing his passion." - Library Journal

"A highly personal and gloriously digressive read that mingles memoir with lore of the craft and a deep appreciation for the experience of nature." - Zoomer Magazine

"The sort of book that Proust might have written had Proust become distracted by the madeleine . . . you step away from this book with a new vantage on history, a working knowledge of exotic milk and cheese, acceptance of your mom, a sense of what makes Mark Kurlansky tick and a weird craving for buffalo mozzarella." - Editors' Choice, New York Times Book Review on MILK!

"Elegant . . . related with vast brio and wit." - Los Angeles Times on COD

"Magnificent . . . a towering achievement." - Associated Press on THE BIG OYSTER

"Kurlansky finds the world in a grain of salt." - New York Times Book Review on SALT

"[A] readable and almost unreasonably fascinating book." - The Times on MILK!

"Milk! A 10,000-Year Food Fracas is a feat of investigation, compilation and organization . . . Altogether a complex and rich survey, "Milk!" is a book well worth nursing." - Wall Street Journal on MILK!

"This is a book about fishing that isn't a book about fishing at all. To be clear, Kurlansky has been a fisherman his entire life. But this fresh, revealing memoir reflects on the life lessons he has learned from fish … and the many things that make the pursuit such a special part of his life." —Arizona Daily Star
Bloomsbury Publishing, 9781635573077, 304pp.
Publication Date: March 2, 2021
About the Author
Mark Kurlansky is the New York Times bestselling author of Cod, Salt, Paper, The Basque History of the World, 1968, The Big Oyster, International Night, The Eastern Stars, A Continent of Islands, and The White Man in the Tree and Other Stories. He received the Dayton Literary Peace Prize for Nonviolence, Bon Appetit's Food Writer of the Year Award, the James Beard Award, and the Glenfiddich Award. Salt was a Los Angeles Times Book Prize finalist. He spent ten years as Caribbean correspondent for the Chicago Tribune. He lives in New York City. www.markkurlansky.com.