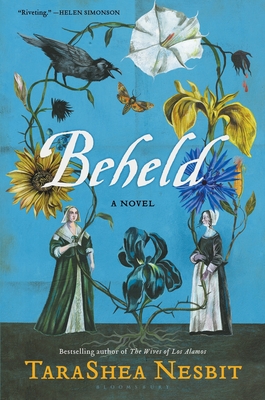 Beheld (Hardcover)
Bloomsbury Publishing, 9781635573220, 288pp.
Publication Date: March 17, 2020
* Individual store prices may vary.
Description
From the bestselling author of The Wives of Los Alamos comes a riveting story of the first murder in Plymouth, Massachusetts--a crime that shook the fledging colony to its core.
It begins with a killing. Ten years after the Mayflower struck shore on rocky, unfamiliar soil, Plymouth is not the land its residents had imagined. Seemingly established on a dream of religious freedom, the town is led by fervent Puritans who prevent the Anglican residents from worshiping as they choose. The Billingtons--Anglicans, outsiders, and rebels--have just about had enough, and that's when a stranger arrives.
With gripping, immersive details and beautiful prose, TaraShea Nesbit reframes the story of the pilgrims in the historically under-recorded voices of two women of very different status and means. She evokes a vivid, ominous Plymouth, populated by famous and unknown characters alike, each with conflicting desires and questionable behavior. Suspenseful and literary, Beheld is about a murder and a trial; but it's also about the motivations--personal and political--that cause people to act in unsavory ways.
Whose stories get told over time, who gets believed--and subsequently, who gets punished? Beheld is an intimate, personal portrait of love, motherhood, and friendship, and an exploration of what people lose and what they struggle to maintain.
About the Author
TaraShea Nesbit is the author of The Wives of Los Alamos, which was a national bestseller, a finalist for the PEN/Bingham Prize, and a New York Times Editors' Choice, among other accolades. Her writing has been featured in Granta, Ninth Letter, The Guardian, Fourth Genre, Salon, Quarterly West, and elsewhere. She holds a PhD in literature and creative writing from the University of Denver. An assistant professor and Altman Scholar at Miami University, she lives in southern Ohio with her family.
Praise For Beheld…
"In a gripping retelling of the Plymouth colony's first murder, we finally hear the voices of women--and they speak an unvarnished truth that turns history on its pointy-hatted head. Truly a riveting read." —Helen Simonson, author of MAJOR PETTIGREW'S LAST STAND and THE SUMMER BEFORE THE WAR
"TaraShea Nesbit's Puritans are passionate and vengeful and entrancing. Part mystery, part love story, beautifully told and meticulously researched, Beheld reanimates and complicates the mythologies of America's earliest settlers. I was sad when it ended." —Anton DiSclafani, author of THE YONAHLOSSEE RIDING CAMP FOR GIRLS
"Beheld breathes fresh life into a world grown still and murky beneath the scrim of legend--rife with intrigue, fractured by difference, marked by violence, and full of haunting images. With gorgeous, period-inflected prose, Nesbit takes us back to the earliest days of New England to look through the eyes and over the shoulders of historical characters both remembered and not. I read it at a gallop. What a marvel this novel is." —Laird Hunt, author of IN THE HOUSE IN THE DARK OF THE WOODS
"A great story, and Nesbit boldly uses the first person plural to tell it . . . . She evokes the women's days in lyrical, hypnotic detail." —People on THE WIVES OF LOS ALAMOS
"The story is told by all of the women . . . together in unison as one haunting, communal voice. Impressive . . . . Together and alone and each in her separate way, the wives are left to celebrate or lament the wonder or the horror of what their town had done." —New York Times Book Review (Editors' Choice) on THE WIVES OF LOS ALAMOS
"The novel is historical but also intensely personal, and makes masterful use of third person plural narration. It is a must-read for anyone with an appetite for historical fiction or just a well told story . . . intimate and yet universal . . . The women in Nesbit's novel and the calm, reflective voice they embody will captivate readers from the first page to the last." —Bustle on THE WIVES OF LOS ALAMOS
"Haunting . . . fascinating . . . A powerful testament to women's strength and ability to hold a community together during a disturbing time." —Wall Street Journal on THE WIVES OF LOS ALAMOS