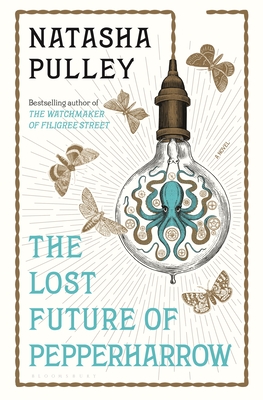 The Lost Future of Pepperharrow
Hardcover

* Individual store prices may vary.
Other Editions of This Title:
Paperback (5/25/2021)
Description
Natasha Pulley's Watchmaker of Filigree Street captivated readers with its charming blend of historical fiction, fantasy, and steampunk. Now, Pulley revisits her beloved characters in a sequel that sweeps readers off to Japan in the 1880s, where nationalism is on the rise and ghosts roam the streets.

1888. Five years after they met in The Watchmaker of Filigree Street, Thaniel Steepleton, an unassuming translator, and Keita Mori, the watchmaker who remembers the future, are traveling to Japan. Thaniel has received an unexpected posting to the British legation in Tokyo, and Mori has business that is taking him to Yokohama.

Thaniel's brief is odd: the legation staff have been seeing ghosts, and Thaniel's first task is to find out what's really going on. But while staying with Mori, he starts to experience ghostly happenings himself. For reasons Mori won't--or can't--share, he is frightened. Then he vanishes.

Meanwhile, something strange is happening in a frozen labor camp in Northern Japan. Takiko Pepperharrow, an old friend of Mori's, must investigate.

As the weather turns bizarrely electrical and ghosts haunt the country from Tokyo to Aokigahara forest, Thaniel grows convinced that it all has something to do with Mori's disappearance--and that Mori may be in serious danger.

"Wonderful... A lovely blending of steam punk ether science, Japanese historical figures, and a time-defying thriller." Robin Hobb, author of THE FARSEER TRILOGY
Praise For The Lost Future of Pepperharrow…
"Phenomenal … Pulley's intricate plot, vibrant setting, entrancing magic, and dynamic ensemble of characters make for an un-put-downable historical fantasy. New readers will be pulled in and series fans will be delighted by this tour de force." —Publishers Weekly, Starred Review

"This latest book marks another grand whirl of magical realism, playful oddities, and deep humanity." —Library Journal

"Atmospheric and compelling. I wept multiple times and resented every moment I wasn't reading it." —Mary Robinette Kowal, author of THE CALCULATING STARS

"Pulley's witty writing and enthusiastically deployed steampunk motifs-clockwork, owls, a mechanical pet, Tesla-inspired electrical drama-enliven." —Kirkus Reviews

"Again Pulley mixes supernatural intrigue, politics, and romance to create an absorbing adventure." —Booklist

"Combining a wondrous romp through the world of magical clockwork mechanisms and octopus automatons with an environmental thriller that fascinates and shocks in equal measure, this is an adventure not be missed." —Historical Novels Review

"[I]t is difficult to put the book down. At times, it is a love story, a story about a family doing their best, a ghost story, and a science experiment gone awry. Pulley has created an amazing world in THE LOST FUTURE OF PEPPERHARROW." - Bookreporter

"engrossing… Rich descriptions of Japan and intriguing character development shine in this intricately wrought fantasy of history making." - Shelf Awareness, Starred Review

"The magical atmosphere of Watchmaker continues to delight in its sequel as Pulley's world matures into a sprawling exploration of morality during political and personal upheaval. Grounded in the reality of marginalized experiences in the nineteenth century, Pepperharrow, like Watchmaker, offers a heightened version of our own history in which fantasy elucidates the human capacity for love, acceptance, and sacrifice. In its examination of goodness amid the evils of nationalism, The Lost Future of Pepperharrow is an electrifying page-turner that proves that the nineteenth century, even imagined as a steampunk past, is closer to our current moment than we thought." - World Literature Today
Bloomsbury Publishing, 9781635573305, 512pp.
Publication Date: February 18, 2020
About the Author
Natasha Pulley's first novel The Watchmaker of Filigree Street was a Sunday Times bestseller, won a Betty Trask Award and was shortlisted for the Authors' Club Best First Novel Award. Her second novel,The Bedlam Stacks was shortlisted for the Royal Society of Literature's Encore Award and longlisted for the Walter Scott Prize while The Lost Future of Pepperharrow was published in 2020 to widespread critical acclaim, cementing her reputation as one of the most original and exciting writers at work. She lives in Bristol.

@natasha_pulley
or
Not Currently Available for Direct Purchase