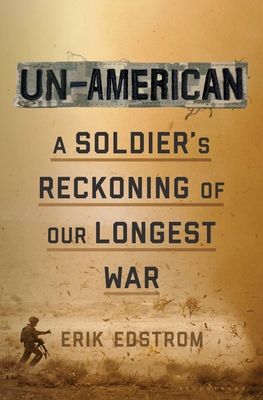 Un-American
A Soldier's Reckoning of Our Longest War
Hardcover

* Individual store prices may vary.
Description
"Eloquent, devastating . . . packed with gimlet-eyed analysis — cultural, economic, historical — of how American life came to look the way it does . . . Edstrom's keen observational powers encompass both the physical world and social nuance." —Los Angeles Review of Books

A manifesto about America's unchallenged war machine, from an Afghanistan veteran and new kind of military hero.

Before engaging in war, Erik Edstrom asks us to imagine three, rarely imagined scenarios: First, imagine your own death. Second, imagine war from "the other side." Third: Imagine what might have been if the war had never been fought. Pursuing these realities through his own combat experience, Erik reaches the unavoidable conclusion about America at war. But that realization came too late—the damage had been done.

Erik Edstrom grew up in suburban Massachusetts with an idealistic desire to make an impact, ultimately leading him to the gates of West Point. Five years later, he was deployed to Afghanistan as an infantry lieutenant. Throughout his military career, he confronted atrocities, buried his friends, wrestled with depression, and struggled with an understanding that the war he fought in, and the youth he traded to prepare for it, was in contribution to a bitter truth: The War on Terror is not just a tragedy, but a crime. The deeper tragedy is that our country lacks the courage and conviction to say so.

Un-American is a hybrid of social commentary and memoir that exposes how blind support for war exacerbates the problems it's intended to resolve, devastates the people allegedly being helped, and diverts assets from far larger threats like climate change. Un-American is a revolutionary act, offering a blueprint for redressing America's relationship with patriotism, the military, and military spending.
Praise For Un-American: A Soldier's Reckoning of Our Longest War…
"Eloquent, devastating . . . packed with gimlet-eyed analysis — cultural, economic, historical — of how American life came to look the way it does . . . Edstrom's keen observational powers encompass both the physical world and social nuance." - Los Angeles Review of Books

"Boiling mad . . . There have been several excellent memoirs by veterans of our current wars, but this is the first one that reminded me of the disillusioned writings of British veterans after World War I, grounded in a deep new distrust of the nation that sent them to war and in the officers who led them in combat . . . Edstrom is asking hard questions that both the American people and their leaders have sidestepped for years." - The New York Times

"Erik Edstrom is a gifted writer, and Un-American is not just a good book, but a great book. It's not easy to read and, for that reason, should be required at the highest levels of government." - Washington Independent Review of Books

"[In] my survey . . . of new books of military history . . . I especially liked the Afghan War memoir by Erik Edstrom." - Thomas E. Ricks, Twitter

"Exceptional . . . Un-American is most extraordinary because even after the indoctrination of West Point, Edstrom dared to question some of the decisions and the presence of US military as invaders not saviors. For a real look at the marketing of and true cost of war, this is a must-read." - New York Journal of Books

"A thoughtful, thought-provoking, iconoclastic, informed and informative contribution to our on-going national dialogue concerning the American military's role against the kind of asymmetrical warfare presented by global and state supported terrorism." - Midwest Book Review

"A gripping firsthand account of the inefficiencies, hazards, and moral vacuity of continued political violence . . . a passionate account that eschews patronizing the reader, relieves the tensest moments with the darkest humor, and reflects the experience of a generation of junior officers doing their small, brief part in a big, endless war." - War on the Rocks

"A decade of reflection culminated in this well-researched meditation on a basic question: Why is it so difficult for Americans to reckon with the reasons, costs, and impact of our wars? . . . Edstrom's bracing inquiry should be at the forefront of the debate about our national perspective on patriotism, the military, defense spending, and, most challenging, our lack of courage to question these crucial issues." - Booklist, starred review

"Unflinching and powerful." - Library Journal

"An insider's you-are-there look at modern war. Veterans will love it or hate it, but there will be few in between." - Kirkus Reviews

"A searing indictment of American militarism . . . this outraged, well-informed jeremiad will galvanize readers who agree with Edstrom's assessment that the 'war on terror' is 'self-perpetuating, self-defeating, and immoral." - Publishers Weekly

"[A] bright-eyed, scathing indictment of not only the systemic governmental failures that led to our GWOT quagmires but also of an American culture that still somehow deifies the insanity of dying in a pointless war." - Matt Young, author of EAT THE APPLE

"An act of significant patriotism and civic courage . . . a fierce, ferocious debut, a book anyone who seeks to be an engaged citizen should read today." - Matt Gallagher, author of EMPIRE CITY and YOUNGBLOOD

"It isn't Edstrom's anger that gives Un-American its staggering power—although there's plenty of that—but rather the profound thoughtfulness and perception of his observations, earned at such awful cost. Every chickenhawk president, politician and pundit who has had a hand in blithely casting American soldiers into our futile wars should be made to read this book—and to then seek forgiveness." - Scott Anderson, author of LAWRENCE IN ARABIA

"Edstrom illuminates his personal experiences with apropos quotes from a wide range of sources and contextualizes anecdotes with supporting data . . . [Un-American] forces acknowledgment of our shared culpability in an ongoing if slow-moving tragedy, which is painful – but deeply necessary if we are to learn any lessons about how – and whether – to wage war." - Kayla Williams, director of the Military, Veterans and Society Program at the Center for a New American Security

"Personal, raw, very critical, soul-bearing, obscene, profound, and seething with underlying ire in places . . . the candor and the moral courage of the author are compelling and this book should be required reading for all general officers and senior national security practitioners because it reveals the grave and harmful consequences of throwing young leaders and soldiers into a series of wars without end." - Modern War Institute, West Point, via Robert Cassidy, PhD, retired US Army colonel and Andersen Fellow in Defense and Foreign Policy, Wesleyan University

"A memoir of harrowing loss. What unites the anger and the grief is the belief that the people of the United States ought to understand what war has meant to the people of those countries . . . [Un-American] asks us to imagine trading places with ordinary Afghans, who see our troops as invaders." - America: The Jesuit Review

"An honest, evidence based evaluation that puts you in the boots of a soldier during America's futile War on Terror, exposing the corrupt military industrial complex for its blatant disregard for human life and the planet." - Sunrise Blue Hills

"Trenchantly questions the lack of moral vision in tabulating the cost of America's longest war. It's every bit as critical as anything by esteemed academics, while written in accessible language and hewing closer to the bone of lived experience. We owe it to ourselves to read it." - Plough Quarterly
Bloomsbury Publishing, 9781635573749, 304pp.
Publication Date: May 19, 2020
About the Author
Erik Edstrom graduated from West Point in 2007. He was then deployed to Afghanistan, where he served as infantry platoon leader. Erik spent the remainder of his military service as the Presidential Escort Platoon Leader during the Obama administration. He is a graduate of U.S. Army Ranger school, was selected for the U.S. Special Forces (SFAS), and was awarded the Bronze Star Medal. After the military, Erik went on to earn an MBA and Master of Science at Oxford University. He lives in Boston.
or
Not Currently Available for Direct Purchase